This is the third post in the "Level 100" Inventor BOM blog series. These blogs focus on foundational concepts related to the Inventor BOM capability, and it's intended use.
The Level 100 topics include:
102b – 5 Types of BOM structure- This post!
103 – Quantity
There are five BOM structure types that communicate a component's use to the Bill of Materials.  BOM Structure for a component can be found by going to the Document Settings and selecting the Bill of Materials Tab.  Each of the BOM Structure types is described below.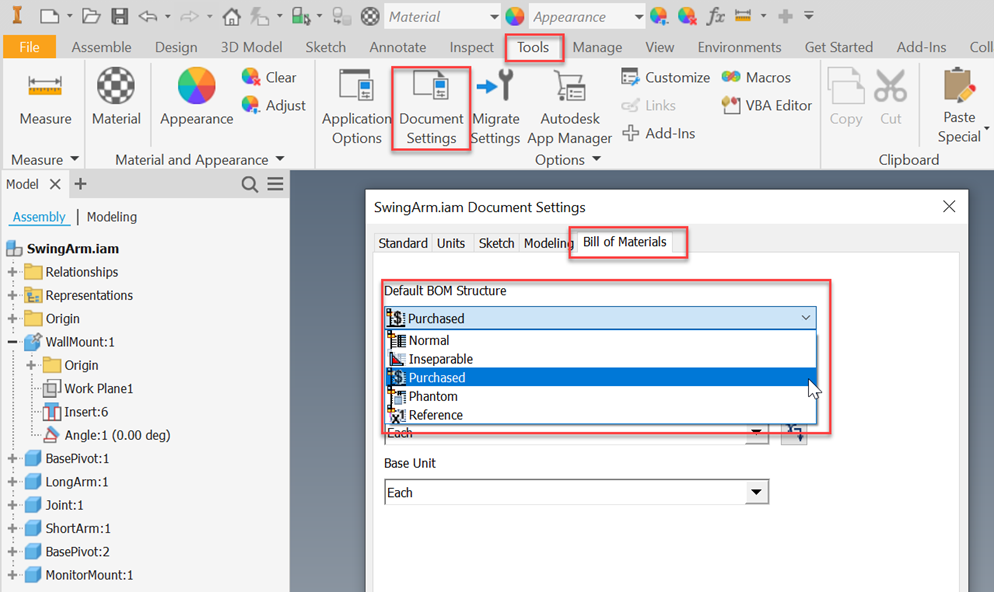 5 types of Bill of Materials structures
Normal
Another type of bill of materials is Normal component. Normal component has no special handling in the Bill of Materials.  This is the default structure for a component. Most manufactured parts and assemblies are "Normal" components.
Phantom
A Phantom component is a physical part of a design that does not show up in Inventor Bill of Materials. An example is an assembly made for placing components.  It's easier to place an assembly with a nut, washer, and bolt 50 times rather than place 3 components 50 times each.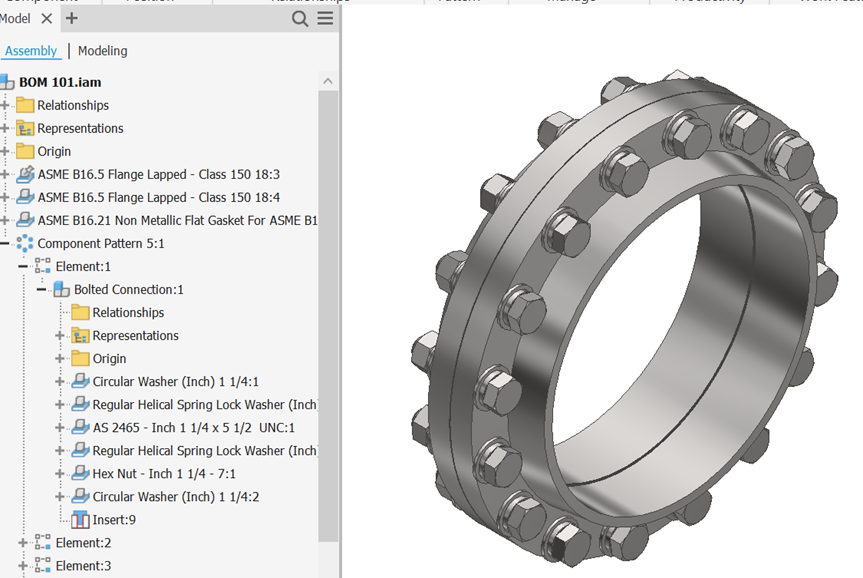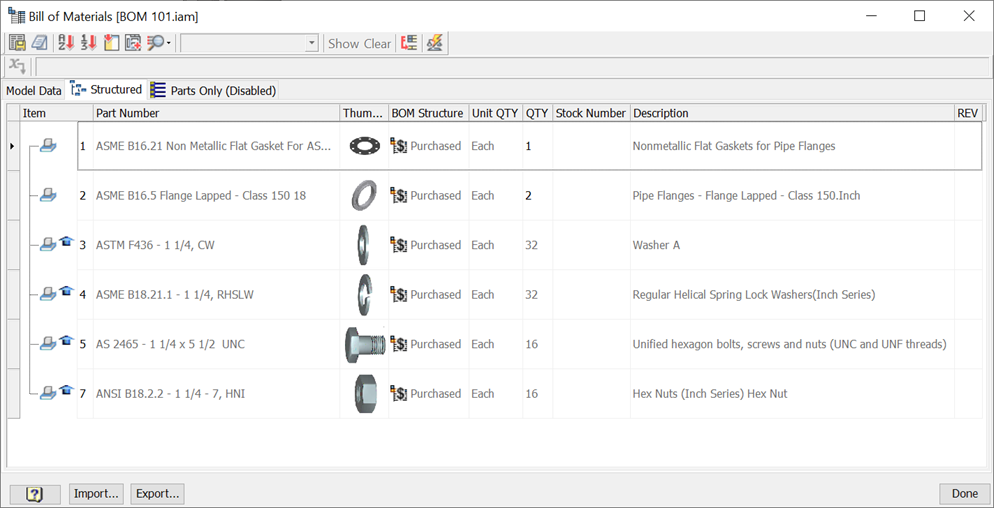 As can be seen in the images above, a Bolted Connection Assembly holds a bolt, a nut, and 4 washers (2 flat, 2 locking).  It is a Phantom Assembly, so it does not show up in the BOM, only the children do, at the correct patterned quantities.
All children of a phantom assembly are shown in the BOM Structure as if they were assembled one level above their actual placement.  This is indicated with an arrow on their icon in the BOM editor.
When you place a Phantom component on a drawing, it is displayed like a Normal component.
Reference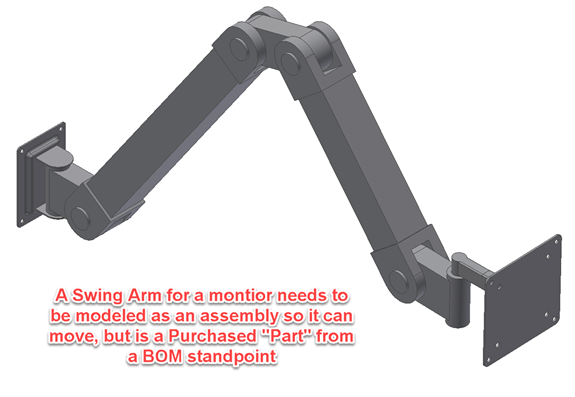 A reference component is purely a construction component, or a component used for aesthetic reasons.  Common uses for reference components are:
A skeleton part or assembly used in skeletal modeling
A visually aesthetic component like a box full of circuit boards on a work bench
A reference component like a car fender placed inside a spot-welding machine to show how the reference component is meant to be oriented while the spot welding machine is in operation.
Reference Components and all their child components are ignored by the Bill of Materials, do not participate in mass calculations, and have special drawing view properties.
Note: BOM Structure is typically set in the document settings of a component, which means all occurrences follow that structure.  Reference is the only BOM structure that can be set as an override inside an assembly.
Inseparable
An Inseparable assembly is an item like a Weldment that you cannot take apart once it is assembled, and therefore is a single line item in a BOM. You can use this BOM structure only in Parts Only views of a BOM.
In a Structured BOM Inseparable assemblies behave like Normal assemblies, showing all children.
In a Parts Only BOM, the Inseparable assembly itself shows up as a row, representing the completed assembly as a single part.  None of the children show up in the Parts Only view, except for children marked as Purchased.
Purchased
A purchased assembly is an item like a hinge, where the child components will never be purchased or assigned a part number, but are required in order to model the design correctly (such as motion).
In a Structured View, purchased assemblies behave like Normal assemblies, showing all children.
In a Parts Only View, purchased assemblies show up as a row, representing the completed assembly as a single part.
Isn't that what an Inseparable assembly does?  Yes, so what is the difference?
Purchased Child components of an Inseparable assembly WILL show up in a Parts Only BOM.  For example, Threaded Inserts in a Weldment need to be accounted for as purchased parts.
Some Data Management systems, such as Vault Professional, need to know the difference between Inseparable and Purchased assemblies.  You need to acquire Purchased, while you fabricated Inseparable. This gives you a way to show that difference.
Summary
The different structure types of bill of materials provide a method for using common construction techniques while maintaining an accurate Bill of Materials for downstream consumers like drawings and Vault Professional.