The "Inventor BOM 101" blog series is intended to help users of Autodesk Inventor understand the capabilities and use of the Autodesk Inventor Bill of Materials (BOM) capabilities, and how they relate to maintaining Parts Lists and interaction with Vault, ERP, and PLM systems.  Each section focuses on a specific topic related to Inventor Bill of Materials.
The first blogs are "Level 100", they focus on foundational concepts related to the Inventor BOM capability, and it's intended use.
The Level 100 topics include:
Stay tuned! We will have more blog posts regarding the topic of BOM use.  Level 200 will look at intermediate topics dealing with BOM management.  Level 300 will look at more advanced topics such as Virtual Component use and how to make the most out of Part List capabilities.
BOM 101 – Bill of Materials and Parts Lists
It can often be confusing to understand the Bill of Materials that are in Inventor Assemblies and Parts Lists that are in drawings.  The two are related but are not the same thing.
The Bill of Materials inside Assembly is considered the master list.  Parts Lists in drawings are considered a "report" generated from the Assembly Inventor BOM.  Systems like Vault Professional will not look at the drawing parts list when creating Items for Inventor BOM's that are used downstream in PLM or ERP systems, they will look at the Assembly BOM.
So key differences between the two related capabilities are as follows:
Bill of Materials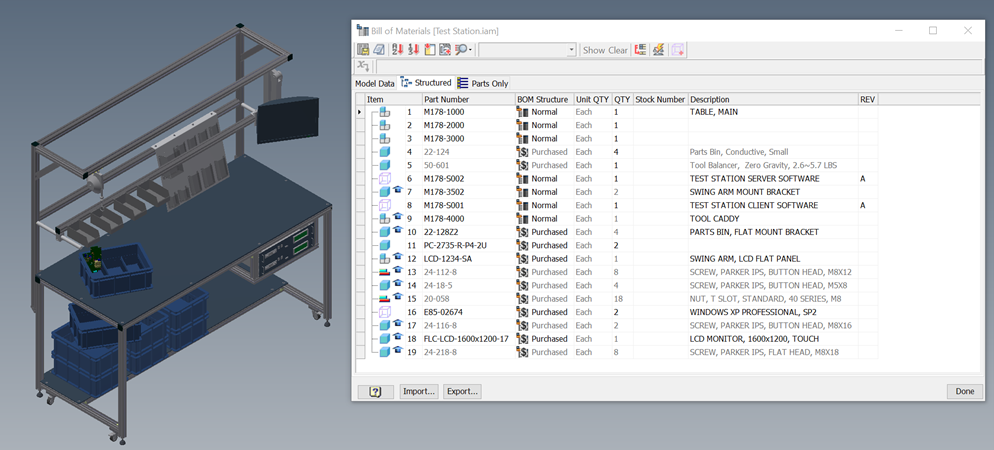 This is a master list of components and their properties that make up an assembly.
It is stored in the assembly file.  There is only one BOM per assembly.
There are 3 views of the BOM: Model, Structured, and Parts only (you can refer to BOM 102 and BOM 103 for more)
It always reflects the entire assembly and its current state. For example, all children are always accounted for, quantities are kept up to date, etc.
There is little to no formatting in an assembly BOM. You use features like formatting, filtering, etc. for editing purposes only.
It maintains the Item numbers used by Parts Lists, to make sure Item Numbers consistent across all drawing part lists and drawing files of the assembly.
You can see all edits made to the Bill of Materials in Drawings and compatible Data Management system such as Vault Professional. The edits are saved to the Assembly file.
Parts List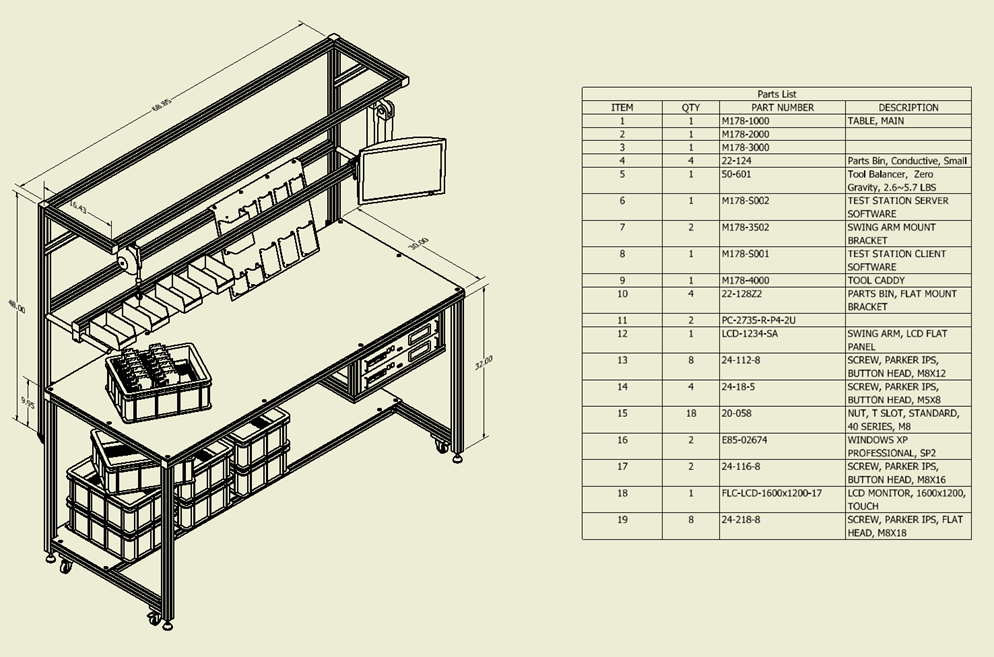 This is a drawing based "report" generated from an assembly's Bill of Materials. It is stored in the drawing file and represents the parts and assemblies displayed on the drawing.
It offers capabilities such as formatting, filtering, summaries, etc.
You can create multiple Parts Lists that have different filtering and sorting from the same BOM and get different information.
Each Parts List can have different numbering, sorting, etc.
Edits in a Parts List are local drawing overrides to the Bill of Materials. You cannot see edits in other drawings or in any Data Management application such as Vault Professional that is looking at the assembly's complete BOM.
So why can you edit Parts Lists and override information?
You can edit parts lists due to backwards compatibility with older versions of Inventor.  BOM was introduced in Inventor 10.  Before that, Inventor only had parts lists in drawings and allowed users to edit parts lists to override information. To maintain that backwards compatibility, editing had to be left in Parts Lists.  If you ever wonder whether to edit a parts list or a Bill of Materials, it is almost always correct to edit the BOM.
In conclusion
A Bill of Materials is the master list of components that make up that assembly.  This includes the properties of the components such as part number and quantity.  A Parts List is a drawing report generated from data based on the BOM.  Edits to a Parts List are not seen in other drawings or in the BOM itself. Check out our next Level 100 post on Bill of Materials here!