It's no secret that technology is transforming the manufacturing space. Each year, new digital manufacturing technologies are becoming staples of the sector–changing the industry for the better in myriad ways.
Which developments are most important for your business and what impact could they have on your operations? In this post, we'll share our predictions for the evolving role of tech in the demand side of the manufacturing industry.
Here's what we cover:
Demand-Side Manufacturing Trends in 2022
Demand-Side Manufacturing Trends in 2022–and the Role Digital Manufacturing Technologies Could Play in the Future
Depleted Workforce, Increased Demand
Employment in the manufacturing sector has decreased on a global scale, with countries like the US and UK, in particular, seeing a significant decline.
This poses a clear and immediate risk for manufacturers: orders are increasingly strong in all major subsectors, according to Deloitte, but fewer workers are available to meet that customer demand.
Combined, this can spell serious trouble for a manufacturing business. Organizations will need to find new ways to attract incoming employees and work with new technologies to meet the rising consumer demands.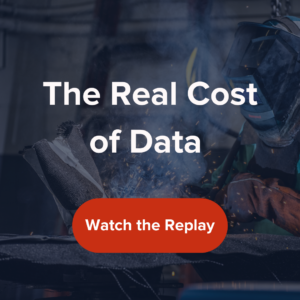 Digitization Can Help Here in a Few Ways:
It can make the daily tasks required in manufacturing easier, safer, and more fulfilling enticing more workers to this sector.

It can drive automation, which can supplement the gap between labor required to meet demand and labor that is available. Some studies have even predicted that automation can bring costs down

by as much as 16%

, and in specific instances,

that number can be even higher at 30%

. Plus, when armed with more data, businesses can reduce errors and better anticipate and meet trends and disruptions.
Supply Chain Disruptions Have Become Commonplace
When you work in the manufacturing sector, it can feel as though every other week brings a new supply chain issue, and it doesn't look like 2022 is going to bring any relief. These disruptions are then exacerbated by increased demand and worker shortages (which can partly be offset by automation, robotics, and other technologies.)
Data analytics is key here. It can help businesses anticipate supply chain disruptions, giving them time to prepare for and mitigate them. We've seen this in the fallout from COVID-19, where digital leaders in manufacturing have been able to weather the storm while digital laggards have gone under.
Globalization Brings New Competition and a Fight for Cost Leadership
One of the dominant forces at play throughout the manufacturing space is globalization. Thanks to the internet and the increasing ease and lowering cost surrounding manufacturing equipment, more and more countries and competitors are getting involved in this sector.
While the U.S. was on top of the manufacturing sector at one point in time, its activity has fallen from 29% to 18% since the 1980s. Meanwhile, China's activity and global exports have grown rapidly. And with some countries turning focus to reshoring, including China itself, it's clear that manufacturers are becoming more aware of the global competition they face.
Digital manufacturing and technologies like additive manufacturing (which are cheaper and require a fraction of the space that mass production demands) have a huge role to play here. They are empowering companies of all sizes (and in all locations) to become key players in their own niche, helping the sector as a whole meet rising consumer demand without relying on strained relationships with suppliers in China.
Labor costs account for a substantial portion of overhead spending, especially in countries like the U.S. and Switzerland, where labor costs $39/hour and $60/hour, respectively. As reshoring increases the cost of labor for these countries, digital manufacturing can be used to bring these costs back down allowing businesses in more expensive markets to maintain their competitive advantage.
Cybersecurity Threats Are at an All-Time High
Cybersecurity has become a growing issue across the global workplace. Q4 of 2021 saw an all-time peak in weekly cyber-attacks, at 900+ attacks per organization–and manufacturing is certainly not immune. In fact, according to one IMB report, the manufacturing space was "2021's most attacked industry" experiencing 23% of total attacks.
Whether you're looking at internal threats or external attacks, it's clear that improving cybersecurity measures needs to be a top priority.
Some of today's most popular attacks include ransomware, which seizes digital assets and data and refuses to release it unless a ransom is paid. Other forms of attack include DDoS, which can shut down a business's services and operations, as well as social engineering techniques that can lead to the leaking of sensitive information.
Digital manufacturing can help businesses boost security by bringing IT and OT back in sync. It provides an excellent opportunity to revisit cybersecurity and build it into processes and workflows.
This same blending of OT with IT will need to take place when it comes to IIoT technology being implemented. IIoT technology poses unique cybersecurity risks, so preparing for those sooner rather than later will help keep businesses protected.
The Increasing Need for Sustainable Practices
Sustainability is a complex and growing issue within manufacturing, with the US industry accounting for close to a quarter (23%) of direct carbon emissions, according to the Environmental Protection Agency. Both consumers and regulatory bodies are demanding higher standards, and it's up to manufacturers to meet them.
Fortunately, digital technologies can help provide the data and onsite tools required to achieve modern standards. Data can lead to more sustainable decisions, and digital tools can reduce environmental footprints. For example, Solidia Technologies is using new cement manufacturing and concrete curing technologies to reduce emissions by up to 40%. And Fortera has developed technology that turns CO2 into cement, cutting emissions per ton by more than 60%.
In the future, we can expect to see an increasing number of solutions like this available. And by investing in data and reshoring, businesses can add themselves to the roster of companies making a difference.
The Increasing Role of Digital Manufacturing Technologies in the Manufacturing Sector
While the digital manufacturing technologies covered in this post are far from comprehensive, they do give us a glimpse at the future of the manufacturing sector. Many of these solutions are perfectly suited to manufacturing, creating new opportunities for growth, productivity, and safety, while cutting emissions and reducing reliance on foreign nations for supply.