This is the second part of the Level 100 series on Autodesk Inventor Bill of Materials (BOM).
The Level 100 topics include:
Autodesk Inventor users often try to make their assembly structure represent a BOM when a 3D assembly looks so much like a BOM. They are closely related, but there are construction techniques and tools that make the assembly structure different from the true BOM.
A Skeleton Part is a single part with master geometry that drives other parts.
Space Claims, sometimes referred to as "Keep Out Zones", is typically a simple part.
A Hardware Set makes it easier to assemble. In other words, it is easier to place an assembly with a nut, washer, and bolt 50 times rather than place 3 components 50 times each.
A purchased assembly is a hinge that is modeled as two parts (to allow it to "bend"). The parts should never be in the BOM.
What are the structured, Parts Only, and Model Data View in Bill of Materials?
These types of components cause problems for Bill of Materials. You need to create a component or assembly structure in a way to make it easier to maintain the assembly model and represent it in a bill of materials differently (or have it not show up at all in the BOM). This leads to three different "views" in Autodesk Inventor.
Model Data View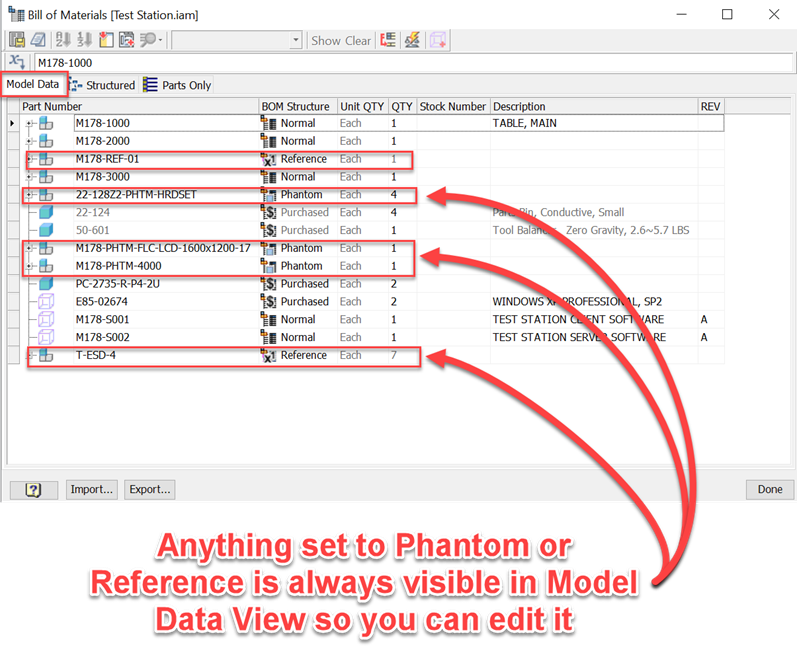 This is the internal, unmanipulated view of all the parts and assemblies in a BOM. It is never used directly by drawing Parts Lists, Vault Items, etc.
The Model Data View exists simply to make it easy to edit of BOM data. As described in BOM 103, if you set a component to "Reference" or "Phantom" as it's BOM Structure, it is removed from the Structured View and/or Parts Only View. If the component does not show up in the BOM editor, you can't edit it. Therefore, the Model Data View exists to make sure you can always get to every component while in the BOM Editor.
You can see every component, including the "fake" assemblies (Phantom), the skeleton parts (Reference), etc.
The Model Data View is never meant to represent your actual BOM. Structured Views are the most common view of a BOM.
Structured View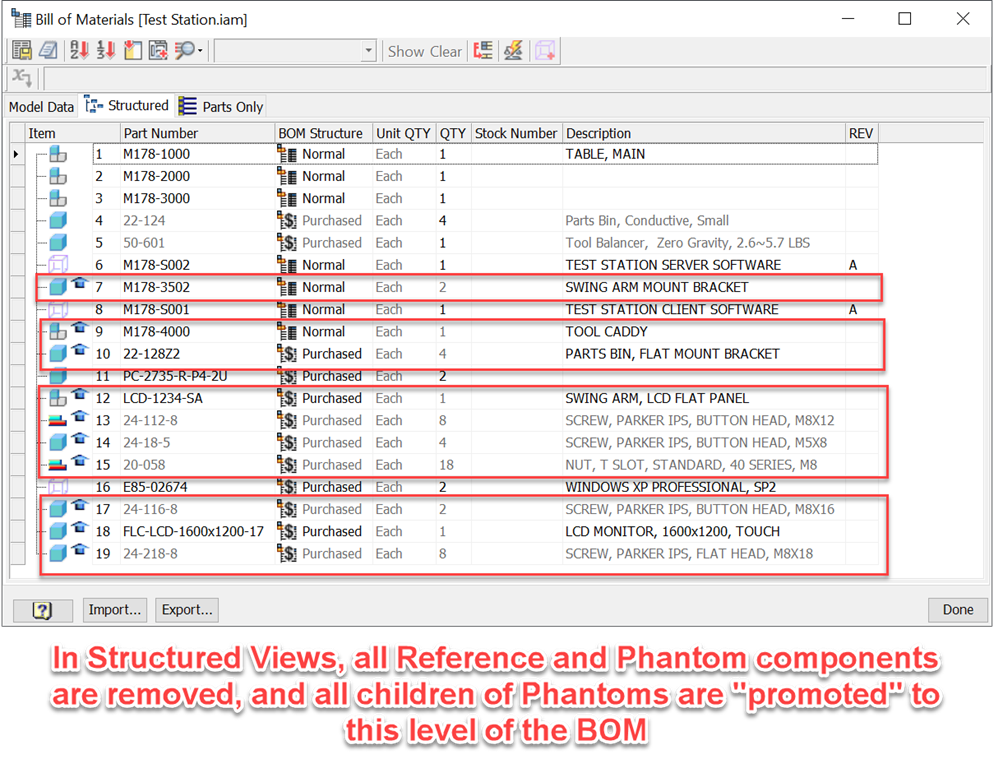 Structured Views are the most common type of Bill of Materials that represents your finished design. This is the bill of materials that Data Management systems, like Vault Professional, work with. As you can see in the image above, anything that is set to Reference (along with ALL child components) are removed entirely from this view. Anything set to Phantom is removed, but all of its children are "promoted" and Quantities are updated so they are correctly made up in BOM.
So in Structured Views:
It filters out all the "construction" items used to design the CAD model (BOM Structure = Phantom or Reference). It does not show skeleton parts (Reference). Hardware sets (Phantoms) are shown as the individual components, and child components of purchased assemblies are never accounted for.
In Inventor, a BOM Structure property is used to communicate a component use in the BOM.
This BOM is sometimes referred to as the "Design BOM"
Parts Only View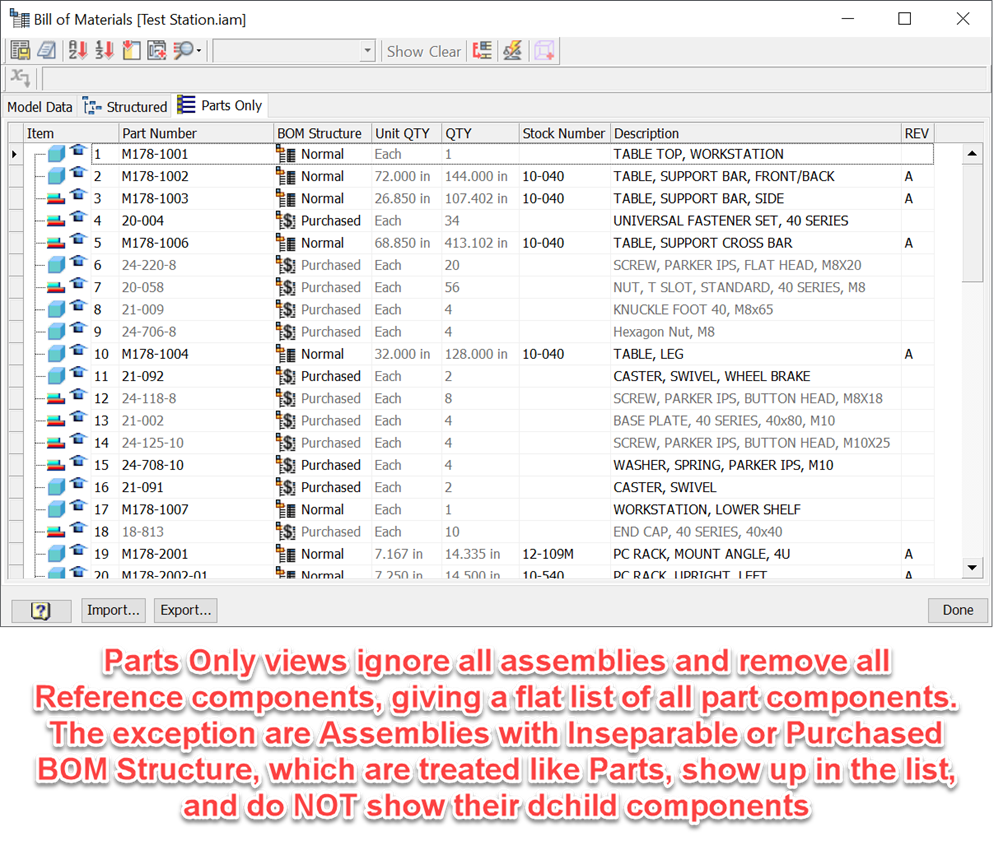 So what is a Parts Only View? There are two generic ways of looking at a BOM:
Structured – you see the parent child relationships of the assemblies/sub-assemblies. Some people call this an "Indented" BOM view
Flat – there is a single row per component; no parent/child relationship is shown, and it shows "ALL" components from the bottom to the top of the assembly. Basically, all assemblies are ignored.
Parts Only views are typically used for purchasing. While they were more common in the early days of CAD, with the advent of modern ERP/PLM systems they are used less frequently. Parts Only views require extra property caching, so they are off by default to help with file size and performance.
Reference and Phantom are also included in Parts Only View, though Phantom has no actual use because assemblies not Purchased or Inseparable are ignored.
Note: The BOM Structures "Purchased" and "Inseparable" are used exclusively with Parts Only BOM Views. See BOM 102b for more information on their use.
Summary
You can look at Bill of Materials Data with different BOM Views that are foundational to maintaining and editing the information. Model Data View is your view ignoring BOM Structure, ensuring that you can work with all information you need. Structured View is the most common and flexible BOM view. Parts Only View entirely ignores assemblies and gives a flat list of all part components in a BOM.