Introduce the Vault On-Demand webinars
At the heart of every organization lies the data that it stores. Autodesk Vault is data management software that makes it easy to manage all of your data in one central location. It empowers you to accelerate your design processes and streamline both internal and external collaboration. With Autodesk Vault, share data securely to improve engineering cycle time and reduce manufacturing errors. Vault integrates with more than 30 Autodesk design applications and provides powerful revisioning and access control capabilities.
Why do we love Autodesk Vault? It connects data, people and processes so you can do more in less time.
Data
Obtain full control of the files and metadata that make up the source code for a product or project.
People
Tackle the challenges engineering and non-engineering staff face while developing products.
Process
Maintain standard procedures and tackle changes throughout development.
Whether you're a seasoned Vault user or in the midst of overhauling your data management processes, these on-demand webinars will help you stay ahead of the game.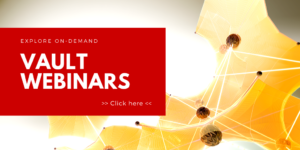 Read more other blogs here.