This is the second part in the "Level 2" BOM Series. These blogs will be focused on Bill of Materials (BOM) management.
The Level 200 topics include:
In BOM 201, we discussed when two or more components with the same Part Number need to remain as separate components.  In Autodesk Inventor, this can be done using the Stock Number iProperty and setting up Parts List formatting to account for the Stock Number.
What is a Stock Number?
Part Numbers are usually a unique way of identifying a part in Inventory.  When a component gets a Part Number, this is a way of making it unique.  However, common practices with items such as cut length components and fasteners are not straight forward.
With cut length parts, the part number is often a common "stock" that individual pieces are cut from. It is meant to represent the common stock identifying part number.
How to Use Stock Numbers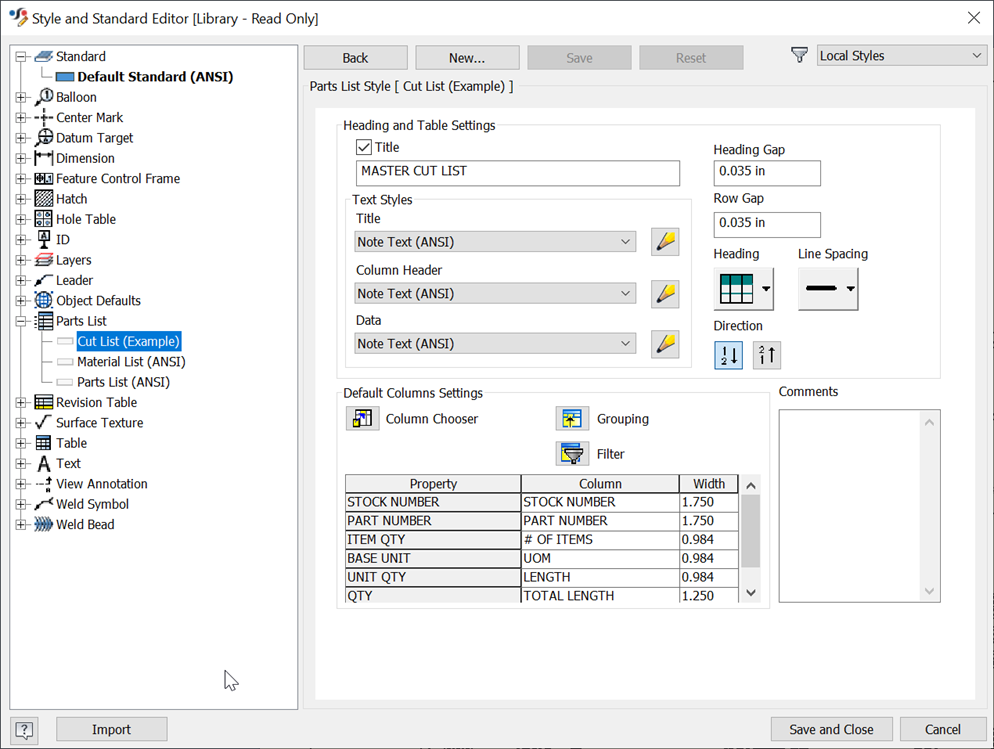 To use the iProperty requires setting up drawing Parts List styles to substitute it for Part Number.  By doing this substitution and leaving the Part Number blank in each of your cut length part files, the BOM will NOT merge the cut length stock together (so each length will be its own line item), but the Parts List will show it as the Part Number for each.  Follow these steps:
In a drawing, choose Manage -> Styles Editor…
From the Styles Editor, choose a Parts List style to edit
In the Default Column Settings group, in the Property column, double click Part Number (or right click and select Format Column).
In the Format Column dialog, select the Substitution tab.  Click Enable Value Substitution
In the "When exists, use value of" dropdown, select Stock Number if it is listed.  If it is not listed, select Browse Properties… and select Stock Number from the list of properties.
Click OK to exit the dialog and save the Parts List style.  You can now apply this style to all existing and new Parts Lists, and the Stock Number will be used if it exists.  To use it in other drawings, you can save it to a Style Library to make it available to all drawings.
iParts, Part Numbers, and Stock Numbers
If you are using iParts that do not generate unique part numbers for each iPart member, this can cause some unwanted rollup.  To clean up unwanted rollup, follow these steps:
Open the iPart Factory and open the iProperties for the factory
Copy the Part Number to it, and delete the Part Number entry
Save the iPart Factory.
On the next assembly update, all iPart members generated from the factory will update to have their Part Numbers blank and their Stock Numbers set the same as the factory.  Setup Parts Lists as described above to show the Stock Number instead of the Part Number in Parts List.
Summary
The Stock Number is a property that is used to identify components that need the same part identifying number or property but should not be considered equivalent components. Parts Lists can take advantage of it by formatting the Part Number column with a substitution.
Check out the next post where we we will discuss why equivalent components get *Varies* error for properties and how to handle this situation in the Bill of Materials.