How cool is that?
In every minute of cycle time, cooling consumes the vast majority of clock-ticks. That makes it an important factor in determining the profitability of a part. Mold and part designers understand the implications, relying on some combination of expertise, experience, intuition, prototyping and CAE analysis to develop trusted cooling system designs.
This approach helps practicing engineers maximize productivity. In other words, when you create a cooling system that works well and performs reliably for your application, you can spend more time designing high-quality molds as quickly as possible.
But pressures to reduce cycle time and increase cost-efficiency are growing more intense by the day. If you can find new ways to shorten cycle time or minimize piece part cost — without sacrificing your quality standards — it's a clear opportunity to build valuable competitive advantage.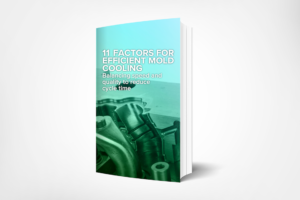 Fill out the form below to download the FREE ebook: 11 Factors for Efficient Mold Cooling
Check out Autodesk Moldflow software here.