Several people have written in about a message they received from the Autodesk Community asking them to modify the username of their account. This should not affect your access to software but is related to how you log into Autodesk Community sites.
Example of the email: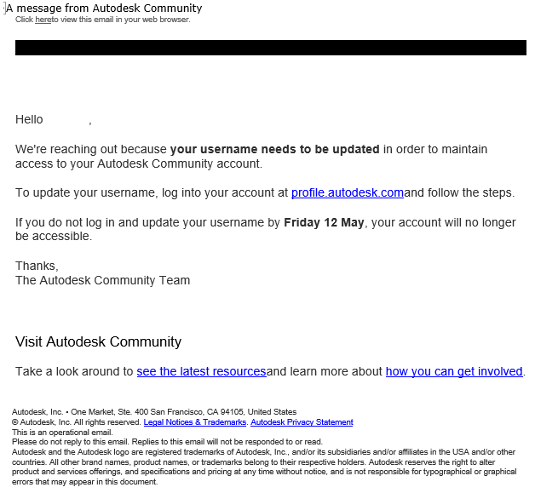 This post answers the questions you might have about this issue. Autodesk has also requested that if there is something they did not cover that you comment in the forums, so they can answer for many.
Why is Autodesk sending me this message?
Over 500,000 user accounts have duplicate usernames and should have received this email. The Username and email address combine with your password to create your unique identity in the Autodesk world, and these combinations should all be different.
Over the course of time, you might have had different emails associated with the same username or your username is common. If you log in with that username, the Autodesk system will not know which of these emails to associate with your account. Some programs rely on usernames for tagging information about who performed a transaction, one that comes to mind is Fusion 360 Manage.
What should I do with this message?
To keep your identity unique within the Autodesk Community, we recommend changing your username as directed by Autodesk, your email is fine. If you have multiple email addresses, look at the email(s) it was directly addressed to. You might have multiple emails; you will want to change your username for each.
When you log into your account, your software now asks for your email, so your login will not be affected.
If you decide to do nothing, understand that it might have unforeseen effects down the road when logging in to areas of the Autodesk Community or supporting areas.  You will also likely receive additional notifications requesting that you change your username.
What is the Autodesk Community?
If you are not familiar with Autodesk Community, I would recommend taking a look at some of the valuable resources the Autodesk Community provides, including industry-specific discussions, Live and On-demand training, hiring resources, ideas stations, user groups, and more.
How can I see where I have contributed to the Community?
Log into your account and check out your Community Profile. It will show you a ranking of how much you contribute to the community. As well as how many ideas you have submitted, how many posts, and certifications are tied to your email, etc.
Learn more about this update from Autodesk, here. For more support information and specific help with this, please contact the KETIV Support team at support@KETIV.com.