You may have these questions in mind when hearing about Fusion 360, "Why invest time in Fusion 360? Is it a glorified 3D modeler that can also create organic shapes? I hear it does CAM. Is that separate? Can I test my model with simulation? What is this thing?!"
Read on as we answer these questions and more while helping you determine how it can work with your current tool set.
So What is Fusion 360?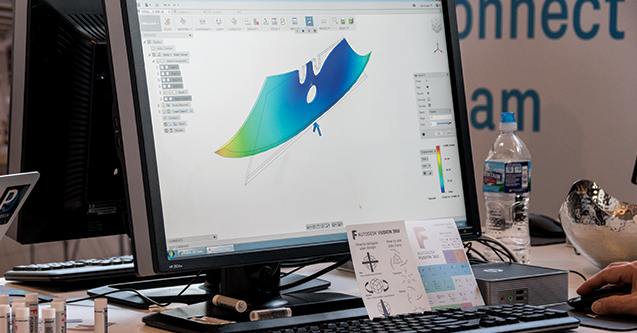 Autodesk Fusion 360 is a collaborative, cloud-enabled design platform that has all of the features mentioned above and more. It includes all the tools you need to go from design to fabrication, without having to leave the tool.
Let's say you want to design a chair. First, we need to create the design from scratch. As you can probably imagine, a chair has its fair share of geometric and ergonomic features. In Fusion 360, you can create these features in its parametric and sculpting environment. We can then run tests in the simulation environment to ensure it can withstand the necessary force. After the validation process, toolpaths can be made to machine the legs in the CAM environment. Finally, we can watertight the body and send it out to manufacturing.
How Will It Work With My Current Tool Set?
This Autodesk software works alongside your current software. If you want to create organically shaped models not supported with your current 3D modeler, you can do so in Fusion 360's sculpting environment. Further, if you want to create toolpaths for your model so the mill or lathe can cut your part, you can use Fusion 360's CAM environment.
Importing and exporting from Fusion 360 is also a breeze because it supports various file types, including SolidWorks and Inventor files. Take a look at all the different file types supported in Fusion 360.
Why Is the Cost So Low?
It has a low, competitive price. In fact, for hobbyists and enthusiasts, it's free. The team is looking to startups and entrepreneurs to have the tools they need to run their business successfully without big startup costs. There really is no reason to not test it out and see how it works for you.
What Makes Fusion 360 So Important?
Fusion 360 is important because it's a utility software tool that can do everything in one place. You can crate 3D designs, collaborate, manage data, create toolpaths, run simulation to validate your designs, and much more. It is a next generation design tool that will continue to have a huge impact on the community.
Watch below for a deeper understanding of this product and how to get started.

How Can I Get Started in Fusion 360?
Check out Fusion 360 here. Or if you need to have some free trial, you can download a Free Trial of Fusion 360 here. And for many people like startups and hobbyists, it's just free.
Want to learn more but don't know where to start? Join Autodesk Fusion Fridays! On the first Friday of each month, we hold free 30-minute webinars going over the latest updates while demonstrating modeling and software techniques.
---
We want to hear from you. If you want to suggest a topic for the next Fusion Fridays video or if you're stuck somewhere in Fusion 360 and need us to take a look, email us at Questions@KETIV.com.
————————————————————————-
About Brian Mongkolpoonsuk:
Brian graduated with a Bachelor's for Mechanical Engineering at California State University, Fullerton. He is a Certified SOLIDWORKS Associate with ROP AutoCAD, Fusion 360, 3D Printing, Rendering, Technical Support, License Management, and Fusion Team experience. Brian also is a specialist to Autodesk's Advanced CAM software FeatureCAM.