Chances are, you're one of the 92% of manufacturing decision-makers looking to improve operational efficiency through digital transformation. To achieve your transformation goal, look no further than PDM (Product Data Management) services. 
A formal PDM system collates and centralizes data, acting as a single source of truth for your product(s). It controls which files people can access and edit, tracks revisions and file histories, and helps automate design and engineering processes.  
In an era where distributed teams are becoming the norm, having a single source of truth for your product data is essential. PDM is your single source of truth.  
Not only are manufacturing teams spread around the globe, but different departments use different tools to complete their daily work. This means that a team working on one product might be located in several different regions and interacting with different file formats.  
To enable this kind of workflow without compromising on accuracy and product vision, PDM is key. PDM services ensure everyone is on the same page, saving time and money through increased efficiency and fewer mistakes. 
This article summarizes the profound benefits manufacturers experience from PDM. 
How Do PDM Services Benefit Manufacturing? 
With an idea of what PDM is, let's move forward to look at its benefits. You'll find that your business is more scalable, collaborative, and productive when implementing PDM. 
1. PDM Services Improve Visibility and Streamline Engineering Workflows
Accidentally using outdated versions of files is a huge issue for manufacturers. But it's not an issue for manufacturers leveraging PDM.  
With PDM, engineers can see exactly who is working on which files and, if it's a file they need, click to get a notification when their colleague has finished. This way, they know they're always using the latest and greatest version, and outdated parts are never sent to the shop floor. 
PDM services also allow you to exercise more control over revisions–a necessary evil. PDM tracks revisions made throughout the design cycle. It creates an audit trail and revision history, helping keep files organized and providing greater accountability.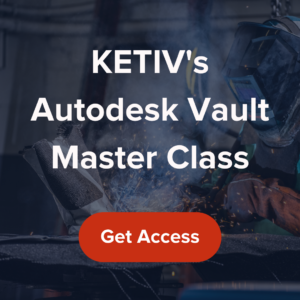 2. PDM Enhances Communication and Collaboration Inside and Outside the Engineering Department
As mentioned, your team may be spread worldwide, working with many solutions and file formats. This fragmentation can make collaboration feel impossible, even though, sometimes, it's a necessity.  
PDM services can help you close this gap. They allow you to easily share files with others, acting as a bridge between the different apps and services your team members are using. PDM enables collaboration via shared views, so engineers, designers, and other vital stakeholders can markup work-in-progress designs in real-time. 
You can also use PDM to share 2D or 3D images of your product, making it versatile for various disciplines. And with integrated access control, you can enjoy all of this collaboration without the fear that the wrong party will access your sensitive data. 
3. PDM Services Lets You Share Data Securely
Most manufacturers use email, FTP, or shared drives like Dropbox or OneDrive to share their engineering data. These solutions are really practical because everyone can easily access files. But do you really want everyone to access your files, including those outside your organization? Probably not. 
PDM services make it easy to carefully curate which files you show to specific stakeholders. You can share only the files pertinent to a particular project, maintaining your security without compromising collaboration. 
4. PDM Unifies CAD and Non-CAD Files for Everyone
Sharing the right data with team members outside engineering is a huge challenge. Sure, engineering data belongs to the engineering team, but other departments like sales, purchasing, and manufacturing need access, as well as partners and other third parties.  
PDM provides an unlimited number of assigned viewers access to a full 3D viewer. It's like they're using PDM, just without the editing privileges. Again, this ensures everyone uses the right versions at the right time. 
And what about all those associated non-CAD files–those quotes, specifications, maintenance manuals, and inspection reports that go along with an assembly? Well, with a formalized PDM, these can all be stored together, making life easier for salespeople and all the purchase managers, product managers, and program managers involved. 
5. PDM Services Help Reduce Production Waste
As any manufacturer will know, making changes and solving problems in the design phase can save a lot of resources and waste down the line. However, communication and collaboration obstacles can impair your team's ability to identify problems early and use the correct files. This means those problems make their way to the shop floor, causing lots of wasted time, cost, and materials.  
Fortunately, manufacturers can overcome this through the use of PDM services. These services make collaboration and communication much more manageable, especially across disciplines and applications. Your teams can more easily discover, describe, and ultimately solve problems that arise. And these problems can be overcome before a part hits production lines.  
6. PDM Services Improve Your Scalability
Most manufacturers want to scale their operations. But scaling is stressful and challenging, especially when your files are in disarray. As you may have guessed, PDM services can help here.  
PDM can pull data from a wide variety of services without being hindered by multiple file types, data history, or legacy systems. Instead, PDM services integrate, locate, and collect data and then put it to work. When your house is in order from a data perspective, onboarding new hires, building new partnerships, and introducing new software is more manageable. 
PwC's Digital Factory Survey 2022 found that 64% of companies are still at the early stage of their digital transformation. But if you put a PDM solution in place today, you know you're supported for the future. 
7. PDM Services Streamline Feedback Cycles
Feedback cycles are vital to refining a product, solving problems, and ensuring everyone is on the same page. But they can also be time-consuming—especially if colleagues look at inaccurate, out-of-date files. 
With PDM services, you can enjoy the benefits of feedback without worrying about how much time it's eating up. Your team members can check files and data throughout the design cycle and, thanks to full revision history, see who did what to the file and when. They can make comments inside CAD files which the team can see and respond to in real-time. 
8. Teams using PDM Services Stay Connected Around The Clock
The final benefit of PDM services is their ability to keep your team in touch with data around the clock. Wherever they're located, in whichever time zone, they'll be able to access the data they need to be effective in their role.  
In more traditional systems, team members rely on each other for data, leading to gaps in information, protracted development and design periods, and other unwanted consequences. With PDM, the software is responsible for managing your data, letting your engineers get on with the more valuable tasks that give their professional lives meaning. 
9. PDM Services: Harness the Power of Data during Digital Transformation
Many of the challenges that manufacturing designers and engineers face can be solved by PDM services. These services are the connective tissue that helps improve workflows, keep your team connected to data around the clock, and act as a bridge for collaboration. 
In today's world, data is one of your greatest assets. As manufacturing becomes more complex, PDM services are the most incredible tools for capitalizing on those assets and streamlining your development process. Stop using emails and shared drives. It's time for a formalized data management system.