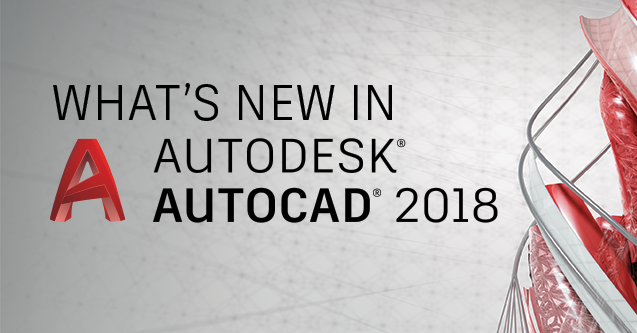 The release of AutoCAD 2018 brings new features that allow you to stay at the forefront of the design world. Create and share precise drawings with innovative productivity and collaboration tools and save time with new tools to fix broken paths for externally referenced files. The SHX text recognition tool quickly converts imported PDF geometry to text objects and you'll also notice improvements in 3D navigation when zooming and panning.
Let's dive right into all the new features in AutoCAD 2018 and discover how these features will have a drastic impact on your workflow.
Documentation
One of the major and most impressive updates with documentation comes with SHX text recognition.
SHX Text Recognition – Adobe's PDF file format doesn't recognize AutoCAD SHX fonts. When a PDF file is created from a drawing, text that was defined with SHX fonts is stored as geometry in the PDF. If the PDF file is then imported into a DWG file, the original SHX text is then imported as geometry and not recognized as text.
In the 2018 release of AutoCAD, we are offered a SHX text recognition tool that enables you to select imported PDF geometry representing SHX text and convert to the necessary text objects. You can access this from the Recognize SHX Text tool (PDFSHXTEXT command) on the Insert ribbon tab.

The way the tool works is through analyzing clusters of geometry from your selection and comparing them to characters in specified SHX cache files.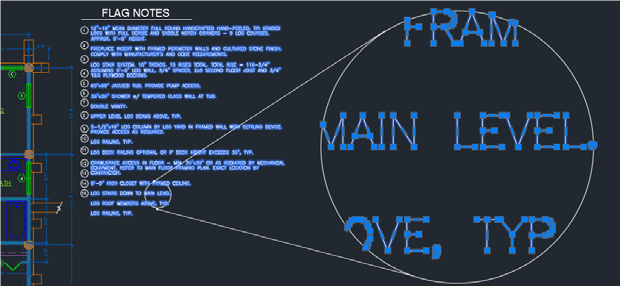 You still manage to maintain a ton of control during this process. A Settings option allows you to manage which SHX fonts you'd like to compare against and control more during the conversion. The most common SHX fonts are listed by default, and you can add or remove SHX fonts based on your needs. During the process, AutoCAD compares each of the fonts until one is found that matches the selected text. You can set your settings for AutoCAD to find the best matching font. This ensures it tries all options before choosing the best one.
When the right font is found, a message box displays the results.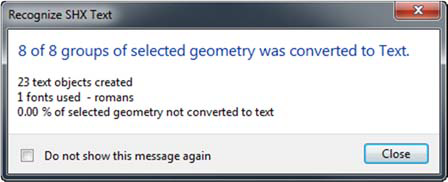 User Interaction
Many prior releases have had a focus on the way you interact and work with AutoCAD. The 2018 release of the software is no exception. Here's a highlight of new features affecting the Quick access toolbar and rubber-band line color.
Quick Access Toolbar – The Layer Control option is now part of the Quick Access Toolbar menu. While it is turned off by default, you can now set it to display in the toolbar along with other tools you frequently use.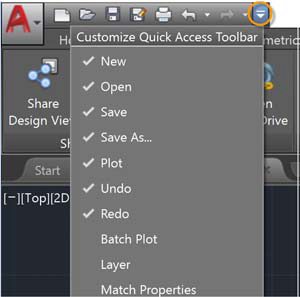 Rubber-band Line Color – When moving the cursor between two points within AutoCAD, the rubber-band line will stretch dynamically with the drawing area. The example below shows that this looks like.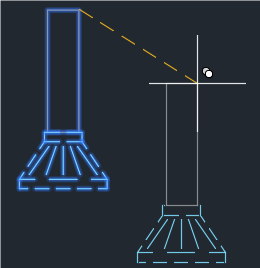 With the release of AutoCAD 2018, you can control the color along with other interface elements. You can access this control from the Colors button on the Display tab of the Options dialog box.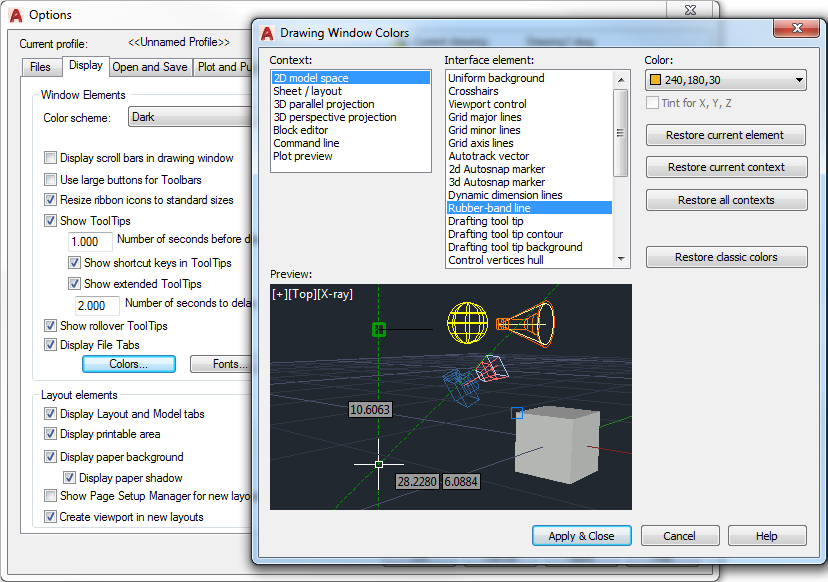 Collaboration
AutoCAD 2018 continues to improve on its ability to collaborate. Here's an overview of external references and Share Design View enhancements.
External References – Enhancements in AutoCAD 2018 help reduce issues caused by broken reference paths.
When attaching an external file to an AutoCAD drawing, the default path type is now set to Relative path instead of Full path. If this isn't the preferred path type, you can use the updated REFPATHTYPE system variable to modify the default reference path type. Set the value to 0 for No path, 1 for Relative, or 2 for Full path.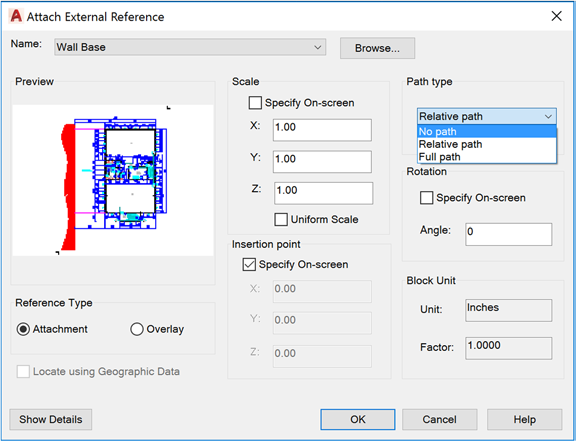 In previous releases, you were unable to assign a relative path to a reference file when the host drawing is not saved. Now, in 2018, you can assign a relative path for a file even when the host drawing is unnamed. If you select the reference file in the External References palette, the Saved Path column displays a full path with an asterisk prefix to indicate a change will take place when saving the host drawing. A property in the Details pane also indicates the reference file is pending a relative path.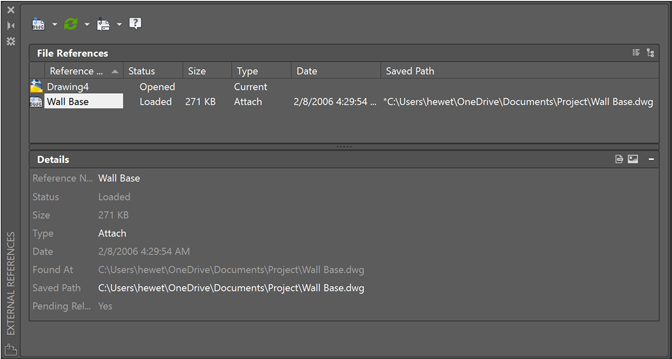 If the current drawing includes relative references and you save it to a different location, you are prompted to update the relative paths.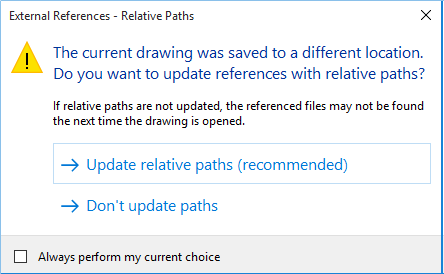 The contextual menu of the External References palette offers two new options when you right-click on a reference file that is not found.
Selecting New Path allows you to browse to a new location for a missing reference file (fix one), and then provides you with an option to apply the same new location for other missing references (fix all).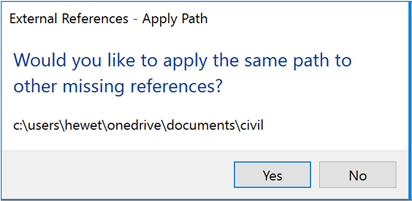 Find and Replace locates all references that use a specified path from all the references selected (multiple selection), and replaces all occurrences of that path with a new specified path.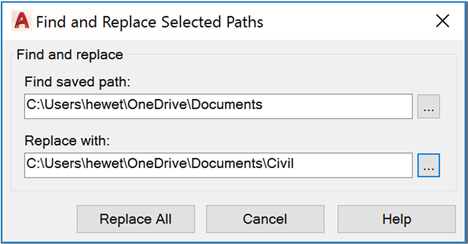 When you choose Change Path Type from the right-click or toolbar menus for a reference in the External References palette, this will disable the current path type of the selected reference. This helps in understanding which type of path is currently used.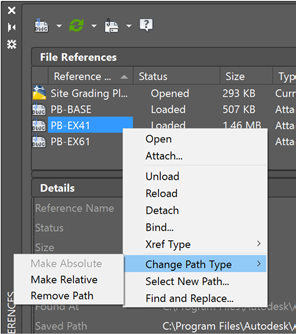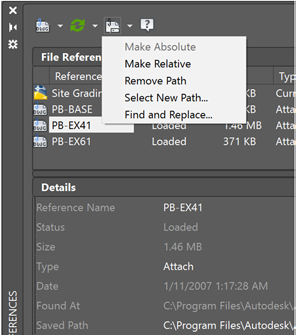 Nested references – or child references – now display as Orphaned if their parent is Unloaded or Not Found.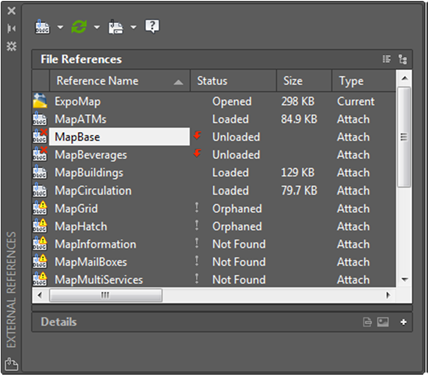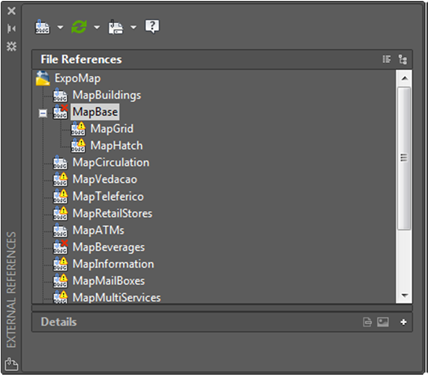 The Open option is no longer disabled when you right-click on an unloaded reference in the External References palette. This enables you to quickly open unloaded reference files as needed.
If you rename an unloaded reference in the External References palette, it no longer automatically reloads. It remains unloaded until you intentionally reload it.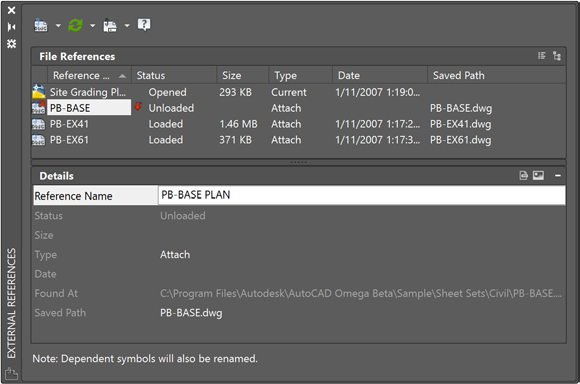 When remaining an externally referenced file from a tool outside of the External References palette, the new reference name is automatically updated in the palette. You no longer have to reload it to see the updated name.
When opening a drawing with external references that aren't found, the message terminology has been changed for clarity. It will now display "Number of references that are Not Found" instead of "Number of missing reference files."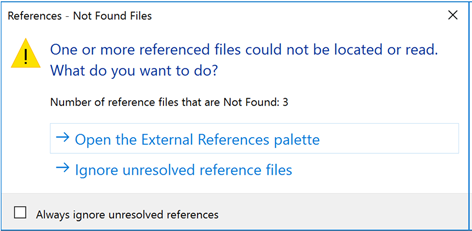 Share Design View Enhancements – As mentioned above, collaboration is a huge improvement in the 2018 release and Share Design View allows you to publish views of drawings to the cloud to collaborate with stakeholders and protecting your files.
Stakeholders viewing the design don't need to log into A360 or have AutoCAD installed. This should help you feel comfortable sharing views of your design with anyone as needed.
You can access to the new Share Design View tool from the Publish flyout on the Application menu or from the A360 ribbon tab with the ONLINEDESIGNSHARE command.

Technology and Performance Updates
The 2018 release of AutoCAD comes packed with updates offering improvements in performance and technology. These updates include Save performance, high resolution (4k) monitor support, REGEN3, BIM 360, and more. Let's look at some of our favorites.
DWG File Format – The DWG format has been updated to improve efficiency in opening and saving. This is extremely helpful when working with drawings with many annotative objects and viewports. In addition, 3D solid and surface creating now uses the newest geometric modeler which has improved security and stability.
Save Performance – Save performance has been drastically improved, especially with blocks and annotation scaling, Mtext with columns and other newer formatting, as well as attributes and attribute definitions with multilines.
High Resolution (4k) Monitor Support – AutoCAD is continuing to improve support for high resolution monitors to ensure the best user experience. User interface elements such as Start tab, Command line, palettes, dialog boxes, toolbars, ViewCube, pick box, and grips are appropriately scaled and displayed.
2D Display and Performance – An update to the Graphics Performance enables you to turn off smooth line display while taking advantage of high quality geometry.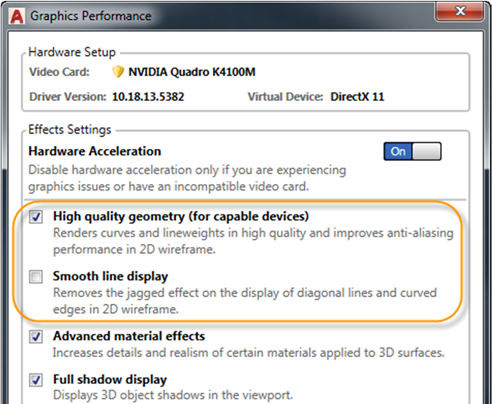 Access the Graphics Performance dialog box from the Hardware Acceleration tool on the status bar.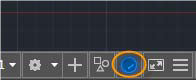 You'll notice better performance with the low-end devices and high resolution displays, as well as for regen and redraw of hatch patterns.
AutoCAD Mobile – AutoCAD Mobile comes with every subscription to AutoCAD. This is great for working on-the-go. You can view, create, edit, and share CAD drawings on a tablet or smartphone, eliminating the need to print drawings to bring to job sites or client visits.
These updates just scratch the surface. Check out the complete guide on all updates to the 2018 version of AutoCAD.
---
Join the Autodesk Virtual Academy and never stop learning new features introduced to the tools you use most.