The demand for 3D modeling is rapidly growing, as it offers shorter design cycles for faster deliverables and more detailed visualizations than 2D CAD.
And those advantages have real business value. By 2023, 3D design-based CAD is expected to generate $8,387.57 million in revenue, 196% more than 2D design.* So, it's no surprise that across the architecture, engineering, and construction (AEC) industries and design firms alike, 3D modeling is increasingly winning favor over standard 2D CAD. 3D modeling not only improves the efficiency, accuracy, and productivity of a design process, but also provides a more detailed visual representation for end users. And
it's because of this dual benefit to a business and its customers that having 3D CAD software is now a major competitive advantage.
While larger enterprises often have the resources to support the transition from 2D to 3D, most small-sized business struggle to successfully adopt 3D CAD software. In this guide, we'll share the story of how Commonwealth Engineers made the move from 2D to 3D and a step-by-step approach for how you can, too.
Fill out the form below to download the FREE white paper: Adding 3D Modeling to your 2D Drafting AutoCAD Workflow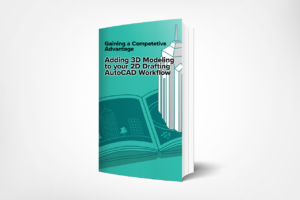 Interested in other blogs? Click here.