When I was first called in for an interview at KETIV for the position of Digital Content Specialist, the first thing I did was head to KETIV's website. I wanted to learn more about the company and the people who worked here. The one thing I felt while browsing the site was overwhelmed, and I believe I shared this same feeling with many people that were first introduced to KETIV through the website. After landing the job and in my first few weeks, I started to understand and get to know KETIV and its employees. I realized that KETIV is made up of a wide-range of experienced, knowledgeable individuals who take pride in the work they do and are passionate about helping customers find success. Especially when that success is achieved with our team standing shoulder to shoulder with today's innovators.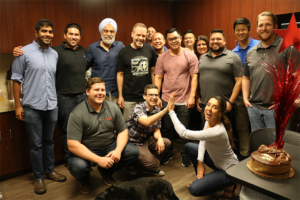 Our leadership knew that the website did not properly tell our story and it became evident that it was time for a change. It was time to show how our team is knowledgeable, confident, caring, passionate and dedicated. It was time to show how much we care about the innovations of tomorrow and the future of the manufacturing industry. This is when we took a step back and re-evaluated our purpose. We were able to put into words what we already knew; that KETIV empowers today's innovators and manufacturers for a better tomorrow. This is a purpose that guides our actions, and one we enthusiastically embrace. Once we were able to define exactly who we are, we were ready to start working on how we would present our purpose on our website.    
And so, six months ago I was appointed as the Website Project Manager and began working with Torpedo, a website developer group based in the United Kingdom. The goal was to give what we had verbally agreed on, a visual identity. Torpedo started by looking at KETIV's true voice and created new brand assets, such as our business cards and PowerPoint templates, before moving onto our website. Together, we created a website that tells the story of KETIV, both authentically and optimistically.  
Now, with great pride, I am excited to share this new website with our customers, partners, AVA community and the world. This website embraces how and why our mission is to make our partners more competitive and successful through essential guidance, technology and support. It does this by taking the successes of our customers and placing them at the forefront of our website. I believe this website shows how we have manufactured innovation with our partners for the past 35 years and how we plan to reimagine the future of manufacturing in the next 35 years. Go ahead, take a look around, message us, follow us, we're excited to interact with you!