All manufacturers make things. Some make products for people to use—like soap, food, dishwashers, toys, cars, and other consumer goods. Others make products for businesses and specialists to use.  
Then there are the manufacturers who make the machines that other manufacturers use to make whatever it is they make. These are the manufacturers of industrial machinery.  
Industrial machinery includes everything from cold planers to clinker coolers, centrifugal pumps to conveyor belts, combines to chisel plows, drill tips to boilers. They serve a wide array of industries—from civil engineering and shipbuilding to farming and food processing. What they all have in common is that they make the systems and machines that make all manufacturing possible. Their customers are other manufacturers, not end consumers.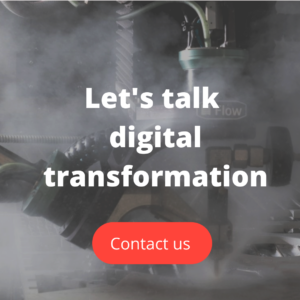 These manufacturers face the same challenges that every manufacturer faces—supply chain disruptions, a shortage of skilled workers, and competition from both established and new companies, including startups leveraging the latest digital tools and technologies. 
But makers of industrial machinery also face challenges that other manufacturers don't. Industrial machines need to stand up under rigorous, often continuous use. And the price of failure is high. If one of their machines goes offline, stand up to that manufacturer's entire operation could be jeopardized. This means not only lost revenue, but customers going without product—meaning potential impacts down the supply chain. It can quickly escalate to millions of dollars lost, and irrevocable damage done to the company's reputation. That makes quality, reliability, and predictability essential to success in this market—and to the success of every customer you serve.  
And while failure comes at a heavy cost, advances in industrial machinery design can lead to advances in all manufacturing. Better machines mean better processes, which ultimately can mean higher quality products that can be made faster for all markets. 
The Evolution
 of Industrial Machinery Design Manufacturers 
One thing makers of industrial machinery design manufacturers have in common with all manufacturers? They need to continue to digitally transform.  
That means looking at the way you're doing business now and considering what new approaches can help you move ahead. New digital tools and digitized processes are creating new possibilities not only for how machinery can be designed and made but for how companies can connect to suppliers and customers and deliver value in the market.  
Every company is at a different stage of the digital transformation journey, based on how much they've digitized their operations and integrated their departments and processes. It's an ongoing imperative that's essential to remaining competitive. Wherever you are on that journey, there's something you can do now to be ready for what's ahead.  
Data at the Center of Transformation 
As a maker of industrial machinery, you have many kinds of data—your design and engineering data, your customer data, your sales data, and your organizational data, for starters. Your manufacturing customers have all those kinds of data, too.  
In the past, these data sets were siloed and separate, created in different systems, whether they were CAD, CRM, or ERP. That made them difficult if not impossible to integrate. This meant that the sales team operated independently from the design and engineering teams. It meant that data was routinely lost in the back-and-forth between design and engineering teams. And it meant that managers had poor visibility into the effectiveness of their organizations. And since companies couldn't integrate data from their own teams, how could they even imagine integrating data flows from suppliers and customers?   
But new cloud-based platforms are changing what's possible, enabling you to share data seamlessly between internal departments and securely with partners and other external stakeholders. That creates more efficient, informed processes and integrated approaches. It empowers you to offer customers smart products that gather data as they perform and communicate with your systems in intelligent ways. It allows you to learn more about your customers all the time—how they use their products and how you can serve them better. It provides you with the knowledge of how your suppliers are faring,  so you can predict what steps you can take to overcome potential disruptions.  
Forge is Autodesk's cloud-based platform for digital transformation, equipping you with the digital tools you need to manage, analyze, visualize, integrate, and operationalize diverse data sets in new ways. Forge unlocks automation opportunities and connects your teams and workflows. Integration and connection across teams and even industries are now possible. Workflows can be customized. And new services can be offered by combining capabilities from products that were once discrete.  
Ultimately, new digital tools and processes enable a total reimagining of the value proposition you offer and the role you play in the industry.  
Simulation.

Advances in cloud-based platforms, compute power, and artificial intelligence ha

ve

created an exploratory playground for designers and engineers—allowing for experimentation and iteration through the digital simulation of physical processes. Whether it's projecting the heat distribution through thermal analysis, modeling granular flows through discrete element modeling (DEM), or creating a virtual replica of your product with a digital twin, simulation is a cost-effective and innovative way to optimize your designs before you manufacture them. 

 

Customization and configuration.

Industrial machinery has usually required a significant amount of customization and configuration to create the right solution. That work used to be done by engineers, and it could take dozens or hundreds of hours to spec out a proposal. With new digitized approaches and automation, salespeople can configure custom solutions in minutes, and can even share a 3D visualization of the product with the customer—and make changes in real time.

 

Equipment-as-a-Service.

With new kinds of sensors and intelligent networks, manufacturers have the ability to know when something is going to break before it happens. Imagine if your customers could subscribe to permanent uptime? Imagine if you could lower your business's risk profile and build trust with your customers? By offering equipment as a service (EaaS), you'll be able to respond faster to changing customer needs, develop a greater understanding of how to deliver value, and become a true partner for every customer you serve.    

 
Analyze, Optimize, Achieve
When it comes to digital transformation for industrial machinery design, everything matters—your technology, your people, your processes.  
It starts with optimizing processes that help you increase efficiency and improve quality. But ultimately, it's bigger than that—it's about reimagining your entire business. It's about unlocking new business models and finding new ways to add value for your customers.  
You've already achieved success making industrial machinery. You've won the loyalty and the business of your customers. But what made you successful twenty, ten, or even five years ago may no longer be enough. With new digital technologies, more is possible—both for you and your manufacturing customers.