It's a trying time for manufacturers. But an inspiring one too. Workforce shortages and supply chain disruption are pushing some manufacturers to the brink. Others are leveraging emerging technologies like machine learning, AI, and IIoT to achieve more than ever before with the resources they already have. Digitalization in manufacturing is moving at an astounding pace. Each year brings new challenges and, more importantly, massive opportunities. In this article, I pinpoint the trends driving the industry forward. Read on and get fully updated.
These are the biggest digitalization in manufacturing trends right now:
1. A Network of Digital Twins Is Enabling Digital Manufacturers to See the Future
Digital manufacturers are using digital twins to create virtual models of physical assets, predicting the behavior of products under stressful conditions. This real-time mirroring gives manufacturers a window into the future. But this view is about to become a lot more realistic.
Digital twins of systems, products, and built structures are steadily being networked, creating a virtual world on the internet. Manufacturers are free to test and experiment within this world, driving unforeseen efficiency and innovation.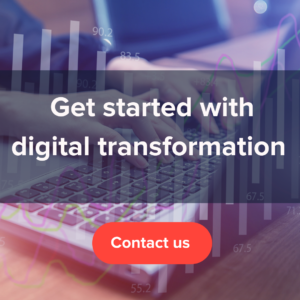 2. Augmented Intelligence Is Merging Human and AI-Powered Machine Capabilities, Generating Outsized Returns
Computerized chess players powered by AI beat human grandmasters every time. But it's computer+human (hybrid) teams that are most formidable.
The same is true for digitalization in manufacturing. Pairing humans with artificial intelligence–augmented intelligence–provides the best results.
Industry-leading digital manufacturers are using AI to automate routine tasks. But they're adopting an augmented intelligence design pattern for work that requires creativity, problem-solving, and social collaboration.
3. Manufacturers Are Connecting Their Entire Product Lifecycle by a Digital Thread
From conceptualization to engineering, sale, delivery, and even disposal, digital manufacturers are connecting every stage in the product lifecycle via a continuous stream of data (or digital thread).
The digitalization in manufacturing thread creates visibility. Business users in every department can gain a unified view of the entire manufacturing operation. They can drive continuous improvement from a single centralized dashboard, while feedback loops between phases augment the end-to-end workflow.
4. Digital Technologies Are Providing Innovative Solutions to Workforce Shortages
A severe shortage of skilled labor is limiting productivity and growth in manufacturing. This trend is set to continue. Deloitte and the Marketing Institute predict a shortfall of 2.1 million skilled jobs by 2030. For 38% of manufacturing executives, attracting new workers is their top priority for 2022, followed by retention (31%) and reskilling (13%).
Manufacturers haven't done a great job of promoting the sector. Working in manufacturing isn't seen as "sexy," unlike other industries like tech. But this could be about to change.
Manufacturers that leverage automation can offset retirements and voluntary exits. But they can also replace jobs viewed as low value with more attractive roles like data analysts, software engineers, and robotics engineers, attracting some desperately needed new blood.
5. Equipment-as-a-Service Is Skyrocketing in Popularity
The promise of "renting out" industrial machinery to customers who pay according to output or (more commonly) by use/time is finally coming to fruition. The Equipment-as-a-Service (EaaS) market will reach $131 billion by 2025 (up from $22 billion in 2019.)
EaaS is a highly profitable business model. It delivers a more reliable revenue stream and captures more revenue over the long term. It also lets manufacturers broaden their customer base by targeting smaller businesses that can't afford the substantial up-front cost of buying heavy machinery outright.
6. Mass Customization Is Overtaking Mass Production
Product customization has become table stakes in many industries. There's an expectation of personalization, especially among Millennials and the Gen Z'ers snapping at their heels. These are the demographics that are starting to dominate B2B buying roles.
Digitalization in manufacturing delivers new ways to sell instant and bespoke products, offering a near-infinite number of customization options. Online visual product configurators are empowering buyers to configure and customize products without any pre-existing product knowledge or engineering support.
Technologies like additive manufacturing (3D printing) are making single-unit production profitable for the first time. 3D printers are considerably smaller and less expensive than traditional production lines, helping decentralize and localize production. The ability to prototype products and ship them fast at a low cost makes mass customization even more realistic.
7. Digital Supply Networks Are Replacing Linear Supply Chains
Spiking demand, spiraling costs of raw materials, and driver shortages are just some challenges forcing manufacturers to rethink their fragile supply chains. Data integration is becoming the key to increasing supply chain visibility and resilience.
Digital manufacturers are centralizing, combining, and sharing data from different facilities, production lines, and sensors with digital-first suppliers who can support their digital transformation initiatives. Internal and external data integration is improving efficiency, reducing costs, enhancing logistics management, and smoothing out disruptions.
8. Manufacturers Are Shoring Up Their Cyber Defenses
Widespread digital adoption and the migration of manufacturing data to the internet have increased the risk of corporate espionage, data theft, ransomware attacks, and industrial sabotage. 84% of US organizations have reported phishing or ransomware security incidents in the last 12 months.
As a result, 82% percent of manufacturers will invest in cybersecurity protection in 2022, and 85% will invest in cybersecurity prevention. High up on the agenda is the replacement of legacy systems and technology with solutions that can stand up to today's security threats. Improving remote work security is also a priority.
9. Digital and Environmental Goals Are Merging, Enhancing Sector Sustainability
Hitting sustainability targets is a moral and financial obligation for today's manufacturers. Here are three reasons why manufacturers can no longer afford to ignore the environment:
Governments are cracking down on polluters with stricter regulations and incentivizing "green" manufacturers. These will become more stringent and generous, respectively.

Customers don't want to buy from manufacturers with shady sustainability credentials.

Manufacturers that fail to shine a light on sustainability will struggle to attract new hires. Top talent will work for companies more aligned with their values.
As investors, customers, employees, and regulators continue to shine a light on sustainability, manufacturers are forced to respond: 95% of manufacturing executives expect their organizations will invest more in sustainability in 2022 than the previous year.
Digital transformation allows manufacturers to improve sustainability and technology simultaneously, to become what Accenture calls a "Twin Transformer." Twin Transformers design their digital strategies with sustainability built-in, embedding environmental goals into their business strategies and KPIs.