As one-size-fits-all is steadily replaced by one-of-a-kind production, engineering data management has never been more integral to the manufacturing process. Engineering data drives the sales-to-manufacturing workflow, powers product configurators, and ultimately determines the profitability of your business.  
When engineering data is sound, dynamic, and accessible, sales reps can sell highly complex configurable products faster with fewer mistakes. The engineering department can automate a significant chunk of its workload and collaborate more effectively. And customers can self-serve, gaining greater autonomy and flexibility. 
In an age of ongoing complexity in the manufacturing industry, when customer expectations are sky-high, supply chains are disrupted, and skilled labor is in short supply, democratizing engineering data can ensure the long-term viability of your business. This article explains why. 
Read on for: 
Bridging the Gap Between Sales and Production with Engineering Data
The Challenge: The Engineer-to-Order Workflow Is a Mess
For most manufacturers, the engineer-to-order workflow is characterized by the back-and-forth, delays, mistakes, rework, emails, phone calls, and disgruntled buyers. It's inefficient, slow, costly, and kills the customer experience. 
Sales reps shoulder much of the burden. And in some ways, they're the least qualified. They have to be charismatic enough to sell. But they also need to be knowledgeable enough to design products with thousands of options, and accurate enough to do so without making mistakes. They also need the communication skills and "language" to relay product information to engineering. It's a huge ask. 
Life's not much easier for engineers. They have to translate the information that comes down the pike from sales. Hopefully, it's valid and complete. Then manually create sales drawings and CAD models for each quote. Life is tedious. 
Engineer-to-order is challenging for the shop floor too. Products are becoming more innovative, technical, digital, and complicated, but the workforce is getting older and less able to cope with the pace of change. Workers have to reinvent the wheel continuously. Manufacturers can't find tech-literate new hires that want to work on the shop floor, and this skill shortage is holding them back.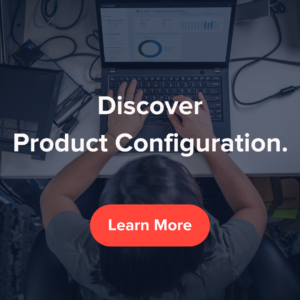 The Solution: Connecting Teams and Automating Processes with Engineering Data
The complex engineer-to-order workflow described above is heavily reliant on engineering knowledge (data): 
Sales reps need engineering knowledge to sell and design effectively. 

 

The shop floor needs BOMs and models validated by engineering knowledge.

 

Customers need engineering knowledge to configure and buy products independently in self-serve scenarios. 

 
The problem is that engineering knowledge is often in short supply, siloed–trapped inside the heads of a handful of engineers who can only dish it out at human speeds! This limitation creates a severe bottleneck (and a key person risk). It's not scalable, and it's woefully inefficient. 
Manufacturers that want to streamline their engineer-to-order process, increase revenue, reduce costs, and improve their customer experience, need to digitize their engineering knowledge and convert it into engineering data. This engineering data must be clear, concise, and usable, stored centrally and accessible organization-wide. 
When manufacturers store their engineering data centrally–in a single source of truth–it's more secure and organized. There's only one "true" version. It's more manageable. Revisions can be tracked and reversed. And everybody in every department has access. 
Employees can be more productive, collaborative, and customer-focused with engineering data at their fingertips. No more back and forth and checks and balances; staff operate at the highest level: 
Sales reps become trusted advisors to customers, answering complex technical questions without bugging the engineering department and waiting for replies.

 

Engineers become more creative, spending more time driving efficiency and automation across the business and less time supporting sales.

 

The shop floor becomes more productive–it can access engineering information in real-time and have total confidence in its accuracy.

 
How Engineers Should Work with Their Files, Collaborate, and Use the Cloud
Managing engineering data is a considerable challenge. In 2019, Autodesk carried out a customer survey to find out which aspect of product data management cause the most problems, and the results were as follows:  
Finding the right information (48% of respondents struggled with this)

 

Wasted time searching for data (45%)

 

Reusing data (31%)

 

Working on wrong or outdated data (30%)

 
Engineers need a solution for managing, tracking, and organizing data without inhibiting the workflow. They need to share and collaborate on all the data created inside their design or CAD system, as well as all the auxiliary files such as Word and Excel files, PDFs, and email templates. 
PDM/PLM software, like Autodesk Vault PLM, mitigates these problems. It helps office-based and distributed workforces keep data synced, organized, and up-to-date.  
One of the most popular features of Vault is Copy Designs. Copy Designs lets users store a tried and tested design and use it as a baseline for subsequent designs that are the "same, except…" (i.e., they feature minor modifications.) Copy Designs lets engineers hit the ground running without starting from scratch every time. 
Other valuable features include: 
Automatic File Management: When a user uploads a file to Vault, it's automatically versioned, indexed, and classified so that everything is organized and easily searchable. 
Automatic File Renaming: Every file uploaded to Vault is automatically named following a pre-defined scheme—no more duplicates or confusing codes in brackets. 
Duplicate Detection: Vault searches the actual content inside existing engineering files and identifies duplicates with different names. 
Shared Views: Vault creates 2D or 3D visuals for colleagues, customers, suppliers, and contractors that want to see images but don't have the skills or software required to open and interpret the native file.
Vault in the Cloud
With Autodesk Vault as a Service by KETIV, businesses use Autodesk Vault in the cloud, improving access (always-on availability,) keeping data safe and secure and streamlining collaboration. You can reduce the headaches and capital expenses associated with the internal support and management of Autodesk Vault. 
In Summary
Engineer-to-order manufacturing is in ascendancy. It has increased by over 100% in the past 15 years. But often, engineering data is trapped inside the heads of the engineering team, who have limited capacity to share it.  
As a production approach, engineer-to-order is far more demanding of engineering resources than make-to-stock. If engineering data is siloed, it hinders the efficiency and profitability of your business. 
Digital manufacturers digitize their engineering data, store it centrally, and make it accessible to every stakeholder in the engineer-to-order process. They have a single source of truth for engineering data which drives automation and makes storing, managing, collaborating, and revisioning more efficient.