In the past weeks we have covered a lot of info for the new 2017 products such as new features, updating LMTools, and generating new Network License files. Now it's finally time to go over how to get your hands on the new 2017 software so you can try it out for yourself.
To start you (the user) need to first make sure that you have been granted access to the new software by your Autodesk Account administrator or Contract Manager. Once your Contract Manager has gone in and made the necessary changes you will receive an email notifying you that there has been a change to your account. For info on how to give users access follow this link.
Downloading Direct From Your Autodesk Account
Once you have been given access, log in to your Autodesk Account at manage.autodesk.com.

When you log in you'll see the Management screen, which displays the products available to you. Locate the software you wish to download under Products & Services. Click the dropdown arrow you see next to the product name to expand the product details tray.
From here click Downloads to activate the download window.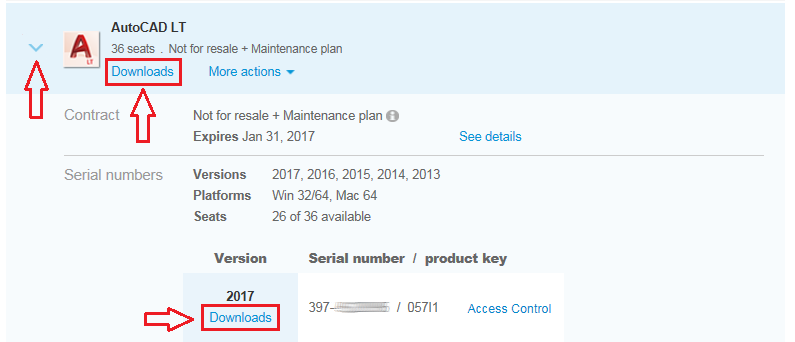 The download window will ask you to Select your Version, Platform, and Language to see available options.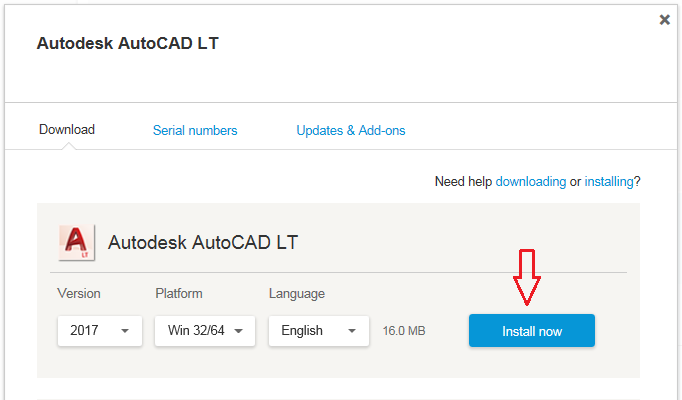 Not all of the download options are available for each version and platform. You may have to select a different platform to see additional download options.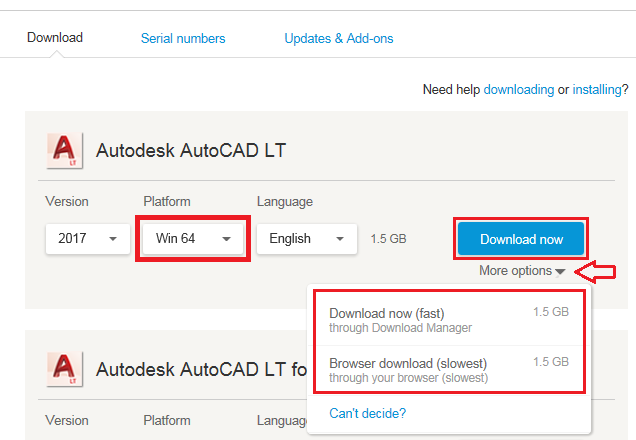 Download Methods in Autodesk Account
Now that you know how to download the new software, let's go over three different methods you can use. These methods include the Install Now, Download Now, and Browser Download options. The availability of the methods are dependent on product, version, and/or operating system.
For example, below you see the download options for Autodesk Inventor LT and it has all of the download methods available.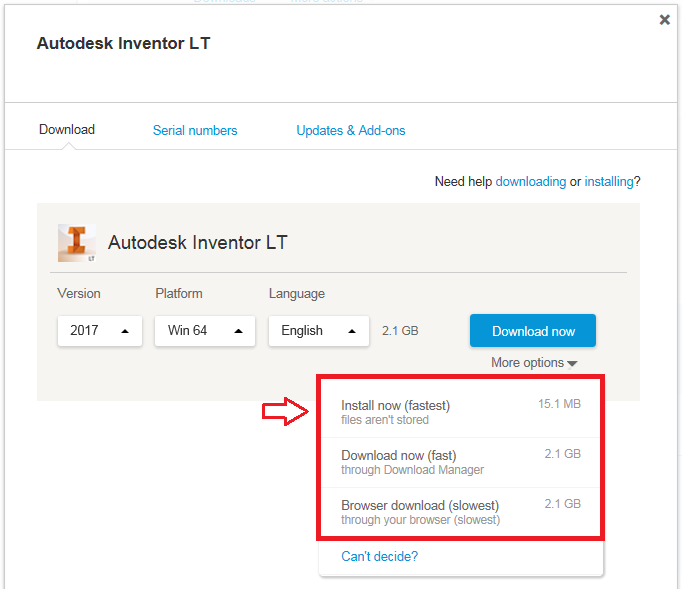 Whereas, Autodesk AutoCAD LT is shown to be missing the Install Now option.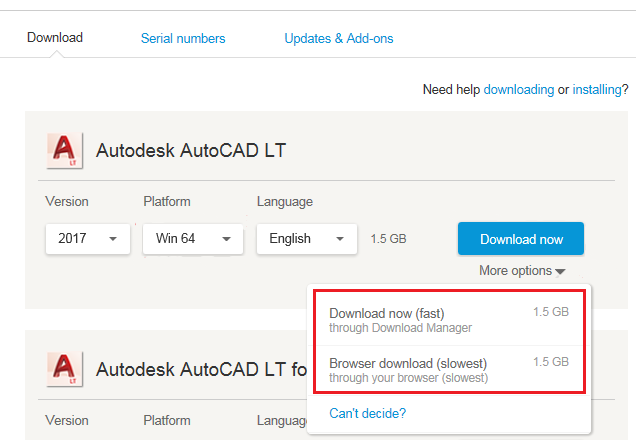 Let's go through each of the download methods individually to help you determine the option that best meets your needs based on your Internet connection speed and installation needs.
Install Now
Install Now is the quickest method for installing software on a single computer in one session. Install Now decompresses and installs software as it downloads and then activates your software automatically. This method uses the Autodesk Download Manager (DLM) to manage download and installation.

Recommended if: you want to install immediately after download using the most efficient and reliable download and installation method.

Note about Install Now files: The Install Now process must be completed in one sitting on the computer used to initiate the download. Files downloaded cannot be used to install software at a later time. Use Download Now or Browser Download to download reusable and transferable install files.
Download Now
Download Now installs and launches the Autodesk Download Manager (DLM), which gives you more control and is significantly more efficient and reliable than conventional browser-based download methods.
The DLM reduces the time it takes to get applications up and running by decompressing product files during the download. Doing this eliminates the separate file extraction step that is usually required after the download completes and before running the product installer.
Recommended if: you want to download a full software installer file and want the option to install at a later time, install on additional computers, or create a deployment.
Note about Chrome browser: Download Now currently is not compatible with the Chrome browser. The Autodesk Download Manager will install, but the software download process will not complete successfully. To use Download Now, please use an alternative browser.
Browser Download
The Browser Download method uses the built-in file download features of your Web browser. Downloaded files are larger compared to other methods, may be broken into multiple file downloads, and can be uncompressed and installed only after all downloads are complete.
Recommended if: you cannot use the Autodesk Download Manager or other download methods are not offered as an option.
Important Notes About Browser Download
Disabling pop-up blocker required: Installation files larger than 2 GB are divided into multiple files that will download simultaneously. You must disable your pop-up blocker before initiating a Browser Download to download all files successfully.
Executing any downloaded file activates file extraction. If multiple .exe or .dmg files download, you may launch any of them to initiate complete extraction of all the installation files.
Wrap-up
If you've been following along since Part 1, you're now all set to start using your 2017 software, no matter what type of license or setup you have. We showed you how to update your Network License Manager, generate a new license file, and finally download your software.
Want to get a head start on using your 2017 products? Take a look at the different training classes we offer and learn from our certified instructors.