The way you design and build is changing rapidly, which also changes the tools you use and the ways companies and individuals buy and access software. Autodesk is introducing Industry Collections as a way of delivering on their promise to offer greater value, more flexibility, and a simplified customer experience.
Autodesk Industry Collections will offer the most convenient and flexible way to access a wide selection of the most essential Autodesk software used in your industry, with the choice of annual or multi-year term lengths to fit your evolving business needs. These curated collections will be available for AEC, MFG, and M&E industries starting on August 1.
The following desktop software and cloud services are available in the new Industry Collections: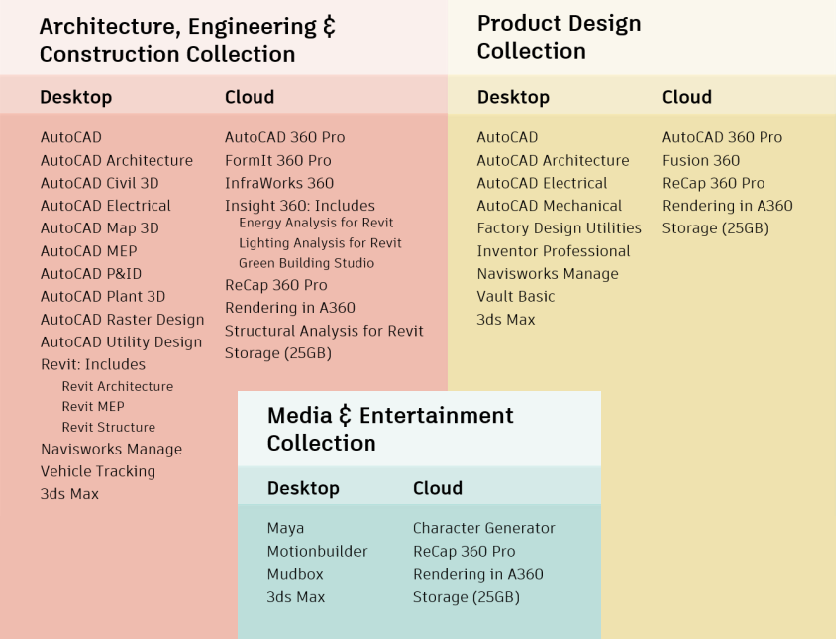 What Are the Advantages?
Industry collections provide a superior experience to that of the Design & Creation Suites in the following ways:
Greater Value – Industry collections provide you value that well exceeds the Premium Suites at a very competitive price point.
Continuous Improvement – Industry collections are designed to continuously evolve to provide access to new applications and cloud services to meet your changing business needs with improved workflows. By supporting the demands of your business as it changes, you will receive access to new technology when it becomes available, rather than waiting for a new product release once a year.
Greater Flexibility and Choice – Subscriptions to Industry collections will be available with single-user and multi-user access and the choice of different term lengths, giving you greater flexibility to choose the option that fits your business needs. Today, subscriptions to the Design & Creation Suites are available for single-user access only.
More Cloud Services – You will receive access to more cloud services than are currently available in the Design and Creation Suites, giving you more opportunity to leverage the computing power of the cloud. In addition, when you subscribe to a collection with multi-user access, you will be able to grant shared access to cloud services, whereas with Suites, customers are limited to a single named user per cloud service.
Simplified Packaging – We've made it easier for you to determine which offering is right for you. Instead of evaluating a multitude of Suites and then having to select standard, premium, or ultimate tiers – all of your most essential software tools are in one of three industry collections:
Architecture, Engineering & Construction Collection
Product Design Collection
Media & Entertainment Collection
For more information about the Industry Collections, see Autodesk's website here: http://www.autodesk.com/collections.
What Are My Options Between Now and When Industry Collections Are Available?
For those of you currently on subscription, until industry collections are available, subscribe with confidence to an annual or multi-year subscription of a Design & Creation Suite and have the flexibility to switch to an industry collections subscription later on.
Perpetual licenses of the Design & Creation Suites will be available for purchase only through July 31, 2016. Customers who have a perpetual license on a maintenance plan after July 31, 2016 will have the option to renew their maintenance plan for as long as they wish.
For more answers, download Autodesk's FAQ here (PDF)
Have more questions? We're always here to help. Send us an email to support@ketiv.com or call us at (866) 465-3848.