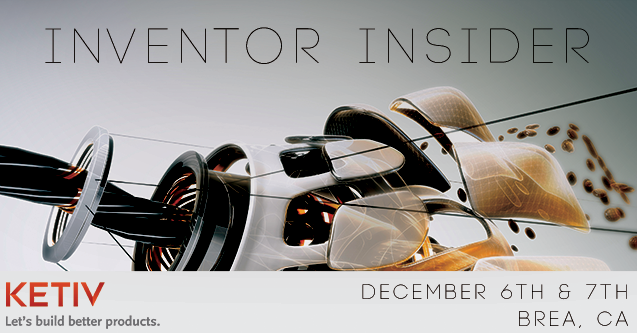 Join KETIV & Autodesk on December 6th or 7th for Inventor Insider, a rare and unique opportunity to test drive the next phase of Inventor in its alpha environment, provide feedback to the production team, and shape the future development of the software. This event will be held in Brea, CA with the Autodesk Product Management, Development, and User Experience teams.
Autodesk Inventor Insider users just like you are making a difference in what the future state of Inventor brings to the table. The 2017 release brought additional enhancements to core mechanical design tools, improved interoperability, and better communication workflows – all so you can get your job done faster. Many of the enhancements started as requests from customers online or at events much like this one.
Now's your chance to experience the next phase of Inventor and bring your feedback and input. Autodesk is investing heavily in Inventor and developing new features and functionalities that will affect the future of product design. This is an opportunity to make your voice heard.
You'll be spending the day working hands-on in the new Inventor environment with product managers, user experience experts, QA engineers, and development managers. The KETIV and Autodesk team will provide you with a guided tour of what's new and will engage with you to hear your thoughts on what lies ahead.
Register for the event below.

Why Does This Event Matter to Your Business?
As Autodesk Inventor rolls out new features, you're essentially being given the keys to improve efficiency and remain competitive. This small investment in time in test driving new features will help your team stay ahead of the curve.
As time moves forward, the ability to collaborate with, not only your team, but suppliers and vendors is vital. The Inventor team is investing heavily in collaboration. Your ability to improve collaboration and take advantage of this feature will allow you to push your team to become more efficient and get to market quicker.
Lastly, as an exclusive to our blog readers, this event is open to you first. Because of the value in this event, space is limited to two members per company. So make sure you sign up soon.
Don't miss out on this chance to experience what lies ahead for Autodesk Inventor Insider from the team responsible for continuous improvement and feature sets.
Tuesday, December 6th at the Embassy Suites, 900 East Birch St, Brea, CA
Wednesday December 7th at KETIV Technologies, 3010 Saturn St, #100, Brea, CA
Time: 9 a.m. – 4 p.m.
Register now for this event – space is extremely limited.