In May 2017, a team of volunteers trained educators in South Africa how to integrate technology and design-thinking into their classrooms. In partnership with Team4Tech, volunteers from Autodesk, Adobe and KETIV traveled to Kayamandi, a township outside of Stellenbosch, South Africa.  Kayamandi's 35,000 residents largely live in informal housing and have historically had low economic and educational opportunities.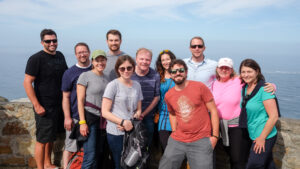 Senior Technical Specialist, Nathan Eliason, represented KETIV during the two weeks spent at Makupula Secondary School and the Vision Afrika Community Center in Kayamandi. You can read all about Nathan's experience here.   
I had the unique experience to travel to South Africa and work with teachers and students to introduce computers and STEM-based activities into their curriculum. 
Our adventures started at Makapula High School in Kayamandi, where an old room was recently renovated to become the new computer lab. Complete with a couple of dozen laptops, we worked with teachers to introduce technology into their learning curriculum. This included introducing tools to make learning fun for their students, learning about available resources for classroom planning and using technology to manage grades, assignments and other school-related activities.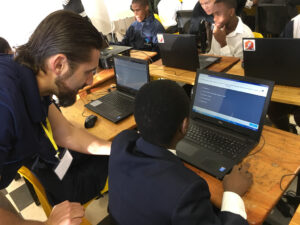 In addition, the lab was open each day for students at recess. During this time, the lab was constantly overrun as students showed great enthusiasm to learn, and topics were explored that included music, engineering, history, math and other subjects. An introduction to programming also became a popular activity, as students worked to take advantage of online resources to increase their knowledge about the ever-increasing technological world around them.   
Our adventures then moved down the street to an elementary school called Vision Afrika, where grades kindergarten through 3rd were taught in English. Here we initially met with teachers to get an understanding of how we could help introduce technology in the classroom. We learned that the students are very creative, and although they may not have much to work with at home, they are very resourceful. To make toys, they will often take different types of trash and piece them together, such as taking a plastic bottle and attaching cardboard wheels to it to make a car. We also learned that they love hands on projects where they get to explore new concepts and ideas.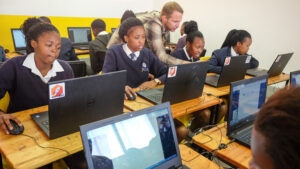 Fortunately, part of our plans for the school included introducing  Lego We-Do kits,  which are basically big sets of Legos that include a motor, some sensors, and a main control unit. After putting together different types of projects, the Legos can be programmed to respond to input from sensors, in addition to activating motors. This is done through programming from a specific Lego app, which we loaded onto several tablets that were gifted to the school as part of this program.  
When we trained the teachers how to use the sets of Legos and program them, there was a concern that it may be too advanced for kids so young. However, a workshop was held at the end of the trip with the kids and with directed guidance they showed an ability to grasp even more about technology then we could have imagined. They were able to follow directions to assemble structures without any problems and exhibited no fear to go beyond the prescribed lesson and experiment with different programming capabilities. This excited the teachers and inspired them to add weekly tech days as part of their regular classroom curriculum. This will also serve the students as they gain exposure to important concepts that will help prepare them for their futures.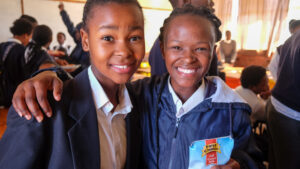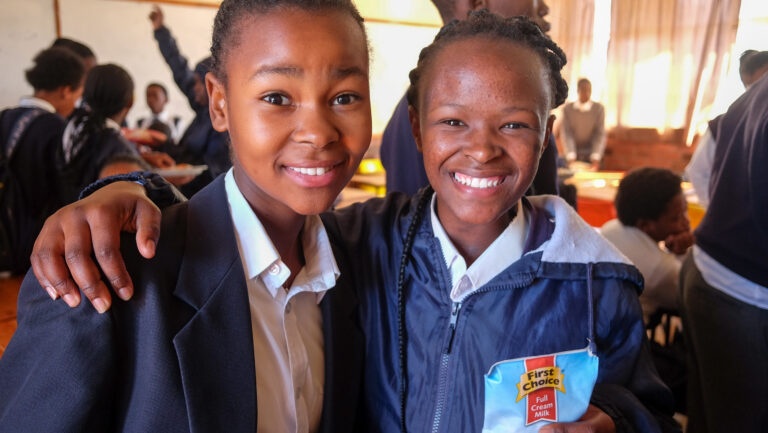 Working with teachers and students in South Africa was an amazing experience.  Their genuine desire to learn quickly became evident and I soon realized that given the right resources and training, there is no limit to what they can achieve.  
 – Nathan Eliason, Senior Technical Specialist at KETIV
KETIV will continue to partner with Team4Tech in 2018 and 2019, so be sure to check in with us in the coming months for updates.  
To read more about this project, check out the articles from previous trips to Kayamandi:
Laying the Foundation for Sustainable Impact in Kayamandi
Autodesk Team4Tech Challenges South African Students to Create a Better Solution for Water Collection and Storage