Do you keep your design files in a shared network drive? How about a cloud storage solution like Dropbox or OneDrive, an old-fashioned filing cabinet, or locked away in old emails you've sent to yourself or others? If so, you need product data management consulting.
PDM (product data management) consulting is the practice of helping a manufacturer develop a system for managing all their product-related information in one place. As product complexity increases and engineering teams feel the heat, PDM consulting has never been more crucial than it is right now for your data strategy.
In this article, we cover:
What PDM System Are Most Manufacturers Using 
Most manufacturers we talk to keep their design files in a shared network drive. But whether you use an N:drive or cloud storage to store your product information, you're going to run into the same problems again and again. These include:
Engineers can't find the files they're looking for. Files are lost or duplicated with multiple versions floating around. No metadata to make it findable. Endless file hunting wastes your most precious commodity–time.

Engineers end up working on the same files at the same time, causing confusion downstream. This can result in several product information management issues including manufacturing the wrong part, wasting time, money, materials, and energy.

CAD files and associated non-CAD files float around in different folders, causing confusion and inefficiency inside and outside the engineering department.

Security is weak. Roles and permissions are, at best, incoherent and, at worst, non-existent, meaning anybody with access can get their hands on your intellectual property or product design.

There's a lack of re-use. Sometimes it's quicker to create a new drawing than go through the tedious process of repairing broken links or renaming tens of files. Again, this wastes time, creates chaos, and slows the product development process.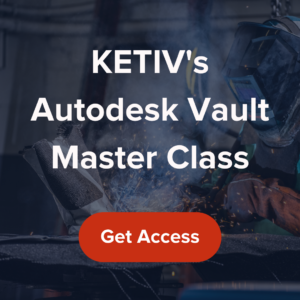 What PDM System Should Manufacturers Be Using
These days, every manufacturer should be using a formal product data management platform for storing, managing, and working with their product data. There are various PDM software titles on the market, but the one we recommend is Vault from Autodesk.
Your PDM software is your centralized repository for all your product data and has powerful features that put your shared drive to shame. Here are a few examples of these features:
PDM only shows the latest versions of design and engineering files.

PDM saves a full revision history for every file, showing the path that file has taken in the past. You never lose track of changes (or lose a file completely) ever again.

All your files are indexed automatically and can be searched by multiple properties, enabling engineers to locate and access files immediately.

Engineers can reserve files and check them in and out, so no two people simultaneously work on the same file.

Colleagues in other departments–like sales, purchasing, and manufacturing–can see 2D and 3D views of CAD drawings and BOMs without needing CAD software.

Non-CAD files (PDFs, Excel spreadsheets, etc.) associated with products–like manuals, quotes, and inspection reports–can be attached to CAD files, keeping everything organized.

Files are named automatically according to your predetermined schema, maintaining consistency and searchability.

Roles and permissions keep files secure.
Why Is PDM Consulting Essential?
PDM and the 8 features outlined above provide multiple benefits to manufacturers. These include greater efficiency, improved communication and collaboration, enhanced visibility, robust security, scalability, and flexibility in your business process.
But these features don't work magically right out of the box. And, to be honest, most manufacturers struggle badly with setting up and configuring their PDM. Without an internal PDM wizard, few reap the full benefits of their software. They leave core functionality on the table and use PDM as little more than a standard repository.
Our mission at KETIV is to drive extraordinary outcomes for American manufacturers. This means helping you extract every last drop of value from your PDM solution. That's why we provide best-in-breed PDM consulting to set you up for success. That's why you'll never hear us say: "Here's your license. Good luck!". That doesn't work for you, so it doesn't work for us either.
Benefits of PDM Consulting
We Can Help You Migrate Your Data
Data migration can be incredibly challenging. So much so that it deters a lot of manufacturers from implementing PDM (even though they know they should). Yes, data migration can lead to disruption, delays, and corrupted or lost files. But it doesn't have to be that way!
Our PDM specialists at KETIV can ensure a seamless transition as you migrate your disparate data over to your new centralized data store. You don't have to worry about incompatibility issues, complex file structures, naming schema, or downtime. We'll put you on the right track while you get on with your normal daily operations.
We Set Everything Up for Rapid Time-to-Value
Setting up roles, permissions, users, groups, workflows, file properties and metadata, file check-in and check-out functionality, naming schema, and all the other things you need to get going with PDM and PLM software takes time and can be overwhelming. 
Rather than struggle through this process yourself, you can let us do the hard work for you, ensuring faster time to value and maximum productivity over the long term.
We Provide Testing and Training
First, we ensure your PDM platform is perfectly optimized and working correctly. Then we train your employees on their new system to drive adoption, answer questions, and get everybody up to speed fast. We know all the common problems and pitfalls and implementation procedures to help you avoid them.
We Can Create Awesome Reports
We can set up your Vault dashboard with powerful live reports showing–at a glance–what engineers are up to, who's working on which files, and which files have been reserved. In fact, we can create reports for whatever you need to run your business at maximum efficiency, matching the "right" version of Vault to your use case.
We Can Integrate PDM and ERP
We seamlessly integrate PDM with ERP, making it easy to push BOMs from one system to another. Depending on what you want to accomplish, we can also integrate CAD with other systems, breaking down silos and helping maintain that all-important single source of truth.
We Ensure You Maintain Compliance
A significant portion of manufacturers struggle with compliance. They don't understand requirements, lack processes to manage compliance, and can't determine whether they meet compliance standards or not.
Maintaining compliance when your enterprise data's in disarray borders on impossible. With a PDM platform, you can bake compliance into your workflows and maintain visibility to check your meeting standards.
We Provide Ongoing Education and Support
Your team can access our ongoing support as long as needed. We can carry out updates, fix issues, and provide continued education as your PDM and needs evolve over time. 
PDM Consulting Helps You Maximize ROI from Your Data
As a modern manufacturer, your most valuable asset is your people. And your second most valuable asset is your data. Effective PDM consulting services ensure you get the best from both and experience rapid time-to-value and maximum ROI from your PDM platform.
If you need help with implementation including migration of data to PDM, driving adoption, training your team, and exploiting all the powerful features of Vault, then get in touch. With PDM, you can totally transform your business starting with your data strategy, and we can support your team every step of the way. We can also help with PLM consulting (Product Lifecycle Management).