This is the second part of our series: What's New in Autodesk Inventor 2018. It would cover the updates of Model Based Definition. Let's get started.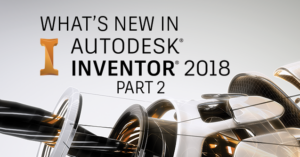 Model Based Definition – GD&T and 3D Annotation
What is it? The demand for integration between design and manufacturing has grown and the need for more information from 3D models has become part of the design process. Based on this shift, Inventor 2018 added fully integrated Autodesk Model Based Definition (MBD). Now, a user can fully design and dimension a 3D model with tolerances and further reduce or eliminate 2D documentation entirely.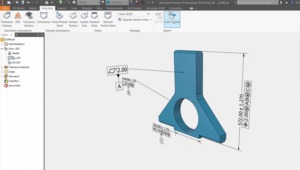 Why I'm excited. The manufacturing industry has started to push toward model based engineering. Users can now leverage MBD data in things like 3D PDF as a way to get your model information to manufacturing while skipping the entire 2D drawing creation process. It may take a while for this to sink in… you can now use your 3D model as the deliverable. That's remarkable. I know plenty of users that will save tons of hours in documentation by simply adding GD&T symbols and assembly notes within the 3D files themselves. Best of all, the tools are intelligent. Users no longer have to worry about which symbols to use for certain tolerances or geometric characteristics. Inventor understands the geometry you are selecting, and places the correct symbol for the features you are annotating.
In my eyes, this particular release could be looked at as a game changer, and MBD is a huge part of that. Model Based Definition changes the process in which you get your designs to manufacturing. GD&T has oftentimes been a huge pain and a time-suck in the 2D documentation process, but now it can simply become an extension of your modeling workflow.
See how MBD can add value to your current and future workflows:
---
Join the Autodesk Virtual Academy and never stop learning new features introduced to the tools you use most.