It's that time of the year once again when Autodesk introduces their latest and greatest version of Inventor. Below is What's New in Inventor 2021.
The Inventor 2021 release is structured around greater productivity for the end-user as well as the more efficient workflow with less of headaches. Also, for everyone that has posted about changes and requests for the following updates of Inventor using either the Inventor Ideas or Feedback Community, Autodesk is listening! Autodesk has made improvements to parts, assemblies, and drawings based off what users are asking for. This is everything that Inventor 2021 flaunts:
Performance, Productivity, and Experience Improvements
Assembly Enhancements

Frame Generator
Tube and Pipe

Connected Workflows with Revit
Parts-Level Improvements
Automating Drawing Creation
Let's go ahead and take a deeper dive into everything this new Inventor has to offer.
Learn more about Autodesk Inventor 2021.
Performance, Productivity, and Experience Improvements in Autodesk Inventor 2021
Every year Inventor offers a performance improvement to accommodate the needs of users at all skill levels.  They have addressed the following areas in the most recent release to mitigate performance issues and improve stability:
Improved performance when selecting multiple components
Improved performance when inserting sub-assemblies
Select or Saved Views makes visibility status changes faster
In terms of productivity, users will see that property panels have expanded into key features used on a regular basis. The property panel workflow is now included in Bend, Coil, Combine, Copy Object, Decal, Delete, Face, Split, Thicken/Offset, and all Frame Generator commands. Moreover, more access to properties will streamline user workflow.
For Inventor experience, in our blog What's New in Inventor 2020, they released a brand-new Light Theme user interface. In the Inventor 2021 version, the next best thing to a Light Theme is the Dark Theme counterpart. Therefore, Inventor 2021 can now match dark theme mode on browsers or apps like Google, Reddit, and Instagram.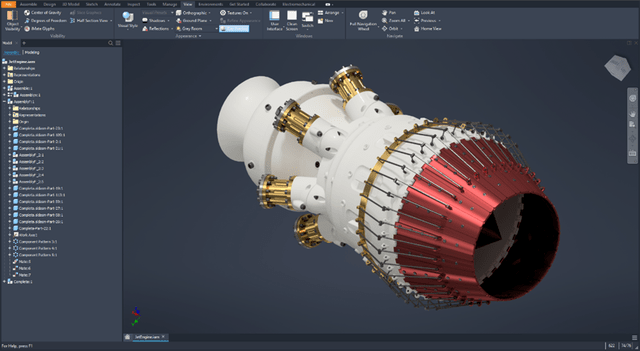 Assembly Enhancements
Two big assembly enhancements in Autodesk Inventor 2021 include Frame Generator as Tube and Pipe. Both features have got a numerous amount of productivity enhancements which allow the end user the more pleasurable experience:
Frame Generator
Improvements to the file naming dialog allow for more concise controls of naming schemes for frame generator components. What's more, there is a new option that allows the file name of the component to be like the one on the browser.
Creating frames is more streamlined and more efficient with the new Category features. They allow the user to make frame selection easier. Besides, a new Preset allows users to save their commonly used frame settings for future use.
You can now control filtering geometry from the property panel. There is also a new preview glyph which aids to orient the frames as the skeleton geometry is selected.
The introduction of a new zooming tools allows the user to adjust the view. Therefore, it makes it perpendicular to the frame manipulator or to a zoomed in isometric view of the frame manipulator. When finished, the user can zoom back to the initial view.
Trim/Extend command will now terminate member on a curved face.
Two new notch profiles are added to end treatment, extending notch support "I", "C" and "T" profiles. Circular members will have the same feature as well.
Autodesk have reworked the Reuse command. It is now easier to select the original member in a collection of frame member to be reused and populate it to a skeleton geometry.
You can also now choose the Unwrap command to be aligned with the model or any of the default planes. Multiple planar holes can now be selected to be Rigid.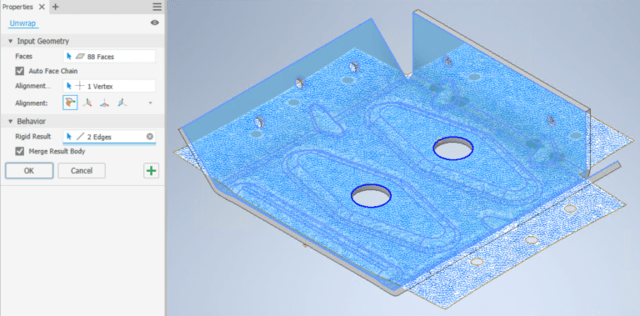 Tube and Pipe in Autodesk Inventor 2021
Autodesk have extended File Naming dialog to the Mirror and Copy commands.
A new option when saving files allows the user to set default behavior whether to save the files or not. A new column called "Saved State" in the save dialog will tell what files Inventor is prompting the user to save and why.
Shaft component generator will have extended functionality to bolted connection, allowing it to help structure assemblies. Once active, it won't create no folder or subassembly on disk and directly places the individual components into the assembly. Doing this will open more options to structuring the assembly and organizing the date.
File naming for Tube and Pipe designs continues to be improved. (Not available for Inventor LT)
When creating multiple route, the Appy button with Auto-Route options keeps users in the command to create the next route.
It is important that some of these new updates will not be seen in the latest release of Inventor LT.
Connected Workflow with Revit

Many architecture and engineering companies would love to see improvements to the Revit-to-Inventor workflow. What's New in Inventor 2021 now includes AnyCAD functionality for Revit. It allows manufacturers in the construction industry to better collaborate on BIM projects. Specifically, here is how the connection from Revit to Inventor has been changed or improved:
The interoperability between Revit and Inventor has been enhanced by keeping an associative link between the inserted Revit data. The Revit project is accessible from either a local file or from the cloud using the Autodesk BIM 360 common data.
Changes to the Revit model will be automatically updated within the Inventor assembly. Without File Translation, any changes to the Revit project will therefore update the Inventor assembly.
JT exports can now support the export of software-interpretable, semantic Product Manufacturing Information (PMI). It is much better because prior to this, the PMI box exported graphical data.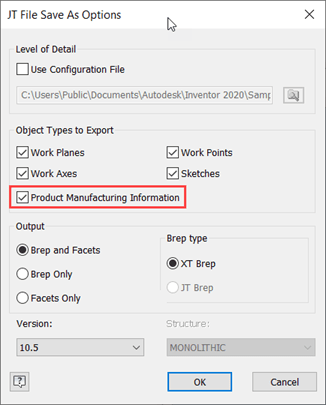 Parasolid version 32 import is now supported
AnyCAD and the Import formats are now updated for Solid Edge. SolidWorks, and Unigraphics.
Part Level Enhancements in Autodesk Inventor 2021
Another part of Inventor that users were looking for improvements is within the part level. In fact, the three areas where Inventor 2021 are enhanced are within sheet metal, multi-body parts, and 3D Annotations. They are as below:
Sheet metal flange can now be defined by a reference plane or face which makes it easier to match precise angles.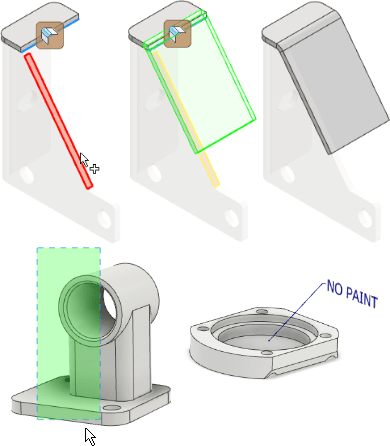 Mouse clicks have been significantly reduced by using the familiar window selection. This allows users to select multiple bodies or faces in the part.
There is now a consistency between the Custom iProperties and 3D annotations by referencing each other into leader notes and general annotations.
Drawing Level Enhancement
Autodesk Inventor 2021 delivers drawing level enhancements by automating documentation tools. This will allow the users to streamline their workflows.
Line Style has changed to Display Style. This now offers more option for finer control of the appearance of BOM Reference parts in a drawing.
Automated centerlines can be added to drawing views and easier shown with its own dedicated button click in the ribbon.
Inventor can now easily detect diameter dimension for side views or section views when selecting parallel geometry.
One of the most popular requests was to return the Measure command back to the Tools tab in the drawing environments. This allows for the user to take measurements without adding additional annotations.
A brand-new option, "Rotate" in the Dimension command, allows user to align a dimension perpendicular to a selected edge.
Copying and pasting general tables in a drawing sheet has been streamlined in order to speed up the completion of documentation.
If the view layout is saved as a sheet format, it will now retain view settings. There is also a new option to "Fit views to sheet" which will automatically scale the view.
Sheet formats will now support flat patterns for sheet metal parts. Parts list for assemblies are all automatically populated from the referenced model during sheet creation
Autodesk has improved iLogic to help users add dimensions, notes, and balloons from labeled features.
Drawing styles can be changed by the support of iLogic. This will make it easier to change styles based off the customer or it can help batch edit styles to aid CAD standard compliance.
In conclusion
Autodesk has made a myriad of improvements into Inventor 2021. These are all the highlights for What's New in Inventor 2021.
Watch the Autodesk Virtual Academy session on Inventor 2021 below: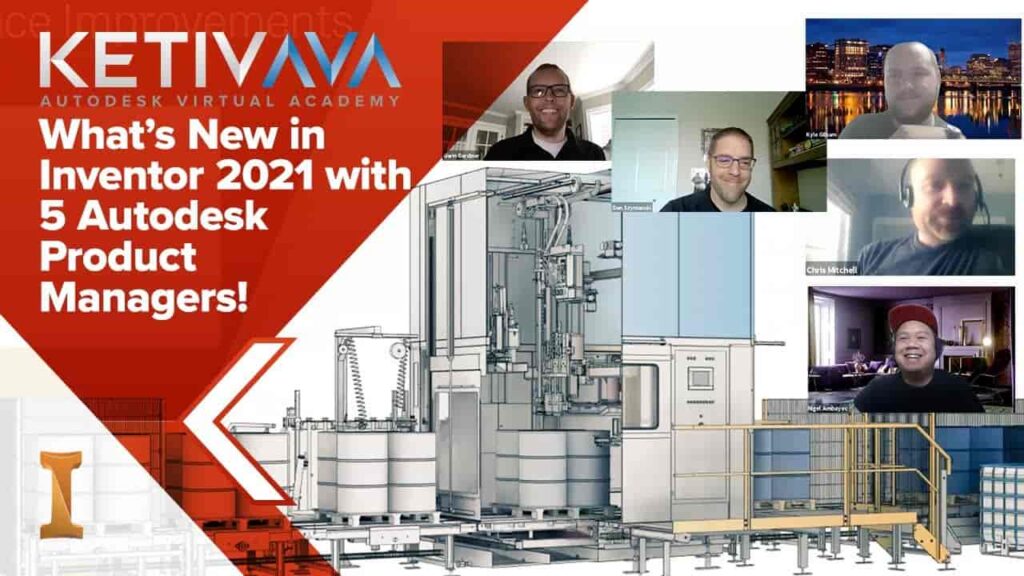 To keep up with all changes in the latest releases, sign up for KETIV's weekly live online training, Autodesk Virtual Academy.