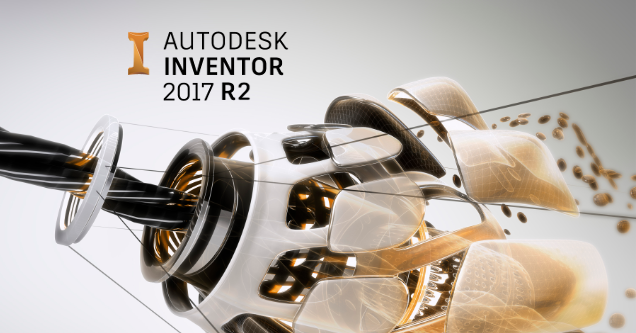 Last week, Autodesk released the Inventor 2017 R2 update which includes productivity enhancements voted on by Inventor users worldwide. Over 40 enhancements have been made in sketching, part and assembly modeling, design automation, drawings, interoperability, and presentations to help you get your work done faster and make great products. Today, I'll show you some of my favorites.
General:
WorkFlow Enhancements:
Part/Assembly/Flat pattern sketches now maintain the properties specified in the Geometry Properties dialog box (for example, line type, scale, line color, and line weight) when exported as an AutoCAD DWG file.
You can elect to display or not display the mini-toolbars when you access one of the following commands: Extrude, Revolve, Fillet, Shell, Face Draft, Chamfer, and Joint. These dialog boxes have a mini-toolbar that displays alongside of the dialog box. The available options on these mini-toolbars are the same as the dialog box options.
To maximize the amount of graphical space, use the new View panel > User Interface panel > Mini-Toolbar command to turn off the display of these mini-toolbars.

You can now easily jump back and forth to a different point in time. Your undo/redo history now displays in the new Undo/Redo drop-down menus. Click a drop-down arrow and select from a list of actions you want to undue or redo.
Some of these changes you're seeing here were actually thought up by users like you and implemented by the Autodesk Product Development team. So If you have ideas as to how to improve the program we want to hear !! You can post your ideas to the Autodesk Inventor Ideastation page and who knows you might just see your implemented in a future update. For the link click here.
Parts:
Automate Selection of all Faces or Edges Tangent to the Pre-Selected Faces or Edges:
You can now quickly create a selection set of all the faces or edges tangent to each other. In the graphics window:
With the left mouse button, double-click a face or an edge.
OR
Select one or more faces or one or more edges, right-click, and select Select Tangencies from the context menu.

Note:

Hold down the CTRL key to select more than one face or edge.
Example selecting tangent faces: Right-click a face, select Select Tangencies OR with the left mouse button, double-click a face. Result: All tangent faces are selected.
Examples of uses
Use the selection set of tangent faces to:

Delete the selection set with Delete Faces.
Assign an appearance to the selection set.
Add or remove thickness to faces, or create an offset surface from a part face with the Thicken/Offset command.

Use the selection set of tangent edges to:

Fillet or chamfer the preselected edges.
Review or check for tangency conditions or closed loops.
Enhancements to Revision Tables and Parts Lists Exported Excel Formats:
You can now select an excel template file (.xlsm) with macros when exporting. Macros are maintained in the exported excel file.

For more information on selecting an excel template for export see, Microsoft Excel Export Options Reference

You can now export Revision Tables and Parts Lists to an excel macro-enabled file (.xlsm). The following excel file types are now supported from a Parts List or Revision table for export: *.xltm;*.xlsx;*.xlsm;*.xlt;*.xls excel templates.
Drawings:
Reorder Attached Balloons with the New Sort Balloons Context Menu Option (not available in Inventor LT):
You can now reorder attached balloons by their value. First, attach balloons using the Attach Balloon From List context menu option. Then, after closing the Attach Balloon dialog box, right-click on the balloon stack and select Sort Balloons. Values are automatically reordered.
Numeric attached balloons are reordered from smallest to largest.
Alpha attached balloons are reordered from A to Z.
If you are interested in learning more about these changes, be sure to visit the Autodesk page for yourself where you'll get a complete rundown of all the changes implemented.
View our instructional blog post for a step-by-step process on Downloading the Inventor 2017 R2 Update.
Have an idea for a feature? Check out the Inventor IdeaStation page where you can share your ideas about how to improve Inventor with the Development Team.
Join the Autodesk Virtual Academy community and never stop learning.