Last week I had the opportunity to participate in the Women in Manufacturing SUMMIT Conference. The theme of the conference was reach greater heights, a fitting title as it was held in Denver, Colorado.  I had never attended a conference dedicated solely to women and had high expectations.
One unique part of the conference was the opportunity to hear not one, not two, but three different keynotes. Each one had its own spin, purpose, and industry and didn't focus explicitly on being a woman, but instead had some key takeaways that everyone could use to have a more fulfilling life and career. I enjoyed learning about the unique career journeys that each speaker shared about themselves, they were inspiring and made their takeaways that much more relevant.
The first keynote was Lisa Ryan the Chief Appreciation Strategist at Grategy, a consulting company. One recommendation I personally connected with was about shifting our minds towards positivity. She said:
Every morning set a positive expectation for the day by listing 5 concrete things you are grateful for.
Gratitude can silence the inner voice in all of us that feeds our negative thoughts and affects our emotional state and ability to perform to the best of our abilities. With practice, this gratitude practice can help you change the way you think about the future.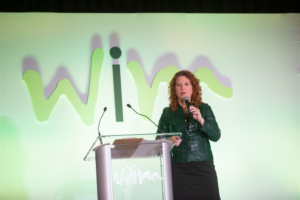 The second keynote at Women in Manufacturing by Rue Patel, Plant Manager and Community Representative at General Mills had this key message:
Set up your own operating principles and measure yourself on them often.
My interpretation of this is that your operating principles should be simple rules you strive to follow every day.  Rue was able to convey raw emotion and pride for his ability to be kind to all those around him and it was clear that was one of the reasons he has been able to have such a long and meaningful career. Rue also recognized that we as humans may not be perfect and it requires constant work to strive towards these operating principles.
The final keynote was Melanie Cook, the Chief Operating Officer of GE Appliances, a Haier Company. She stressed:
External purpose and involvement can improve career achievements and make life more fun.
By having other activities to participate in besides work, you are able to derive more purpose from your life than you can when working alone. Volunteering your time, helping out with your child's schoolwork, or traveling can give life purpose beyond any career.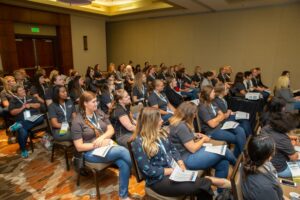 I don't believe I have left a conference feeling this inspired with concrete takeaways that I could instantly implement in my daily life. Since Women in Manufacturing, I have started writing in a gratitude journal and have started to draft up my very own operating principles. I already have next years SUMMIT Conference bookmarked in my calendar and look forward to continuing to participate in this event every year.
Check out other blogs here.