Do you work with multiple suppliers, each using different CAD software? If yes, you know how painful it is to communicate, collaborate and share product data when everyone's working in their own silo. 
Working with multiple CAD systems across the product lifecycle means you're constantly translating information, so everyone can use it. It's highly inefficient CAD data management and causes confusion, rework, and wasted time and resources, hindering product development.
Fortunately, you can solve these incompatibility issues and eliminate CAD confusion for good by leveraging a multi-CAD cloud product data management (PDM) system.
With Fusion 360 Manage with Upchain–Autodesk's cloud-based product data management and product lifecycle management (PLM) rolled into one–stakeholders can use and store data from any CAD source in a single source of truth and use it to generate a bill of materials (BOM) automatically, helping with BOM management. 
Fusion 360 Manage with Upchain solves the common data management challenges that make product development slow and expensive. And because it's CAD-agnostic, stakeholders can experience all the benefits without ripping and replacing their existing software.
Read on if you want to discover how to break the shackles of traditional PDM software and supercharge product development in your organization. 
Here's what we cover:
Are Data Management Issues Slowly Killing Your Product Development Process?
If you design physical products, chances are you're up against at least one of the following data management challenges. 
i) Finding the right information: Research suggests engineers waste two months out of every year just searching for product information! What a crazy waste of resources.
ii) Reusing data: Finding the right files in the correct format is so painful that engineers frequently prefer to design assemblies from scratch instead of reusing the engineering data the team has already created.
iii) Working on wrong or outdated product design data: With multiple people working on multiple versions of the same files, it's easy to start working on the wrong thing. This leads to incorrect products being manufactured–an expensive mistake.
The above challenges will be familiar to most design teams, regardless of their CAD ecosystem. But the struggle is most intense if your product development process involves multiple stakeholders, each using different CAD software.
Fusion 360 Manage with Upchain strips away all this complexity. It lets everyone store, share, and work on designs together, regardless of their CAD system. It's your cross-platform single source of truth for design data, driving collaboration, innovation, and efficiency.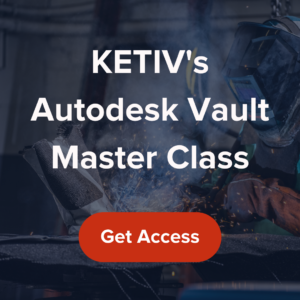 How Can You Supercharge Product Development with Multi-CAD Cloud PDM?
As the title of this article suggests, a multi-CAD cloud PDM solution like Fusion 360 Manage with Upchain speeds up product development across three key dimensions: it boosts productivity, improves decision-making, and increases supply chain agility. Let's look at each of these in turn.
Multi-CAD Cloud PDM Boosts Productivity
Fusion 360 Manage with Upchain frees data from silos, giving design teams, suppliers, and other stakeholders visibility and accessibility. Instead of searching in the recesses of shared drives for files that may or may not be in the correct format, stakeholders can access the right data at the right time and get on with higher-value tasks.
Fusion 360 Manage with Upchain smashes down silos.
Most design teams suffer siloization, even if they work under the same roof. But for dispersed teams, the problem is even more acute. When team members with different skills, expertise, insights, and CAD software are scattered globally, a CAD-agnostic single source of truth for design data is essential.
Fusion 360 Manage with Upchain–a unified system that connects your people, processes, and data across departments and geographies–can be your single source of truth. It ensures everybody uses the same set of up-to-date CAD files and can build BOMs without leaving their chosen CAD tool. The result: less duplication of effort (not to mention fewer duplicate files) and a more productive product development process.
You can keep the tools you know and love.
Don't listen to any software vendor that says it's easy to rip and replace critical solutions. Everyone knows it's a PITA. Migration is a nightmare. And getting seasoned engineers to adopt a new system with a new interface is like rolling a rock up a mountain.
As I've mentioned a few times, Fusion 360 Manage with Upchain is CAD-agnostic, so engineers can keep using the tools they know and love. It offers dedicated connections to your preferred CAD vendor like Autodesk Inventor, AutoCAD, Creo, Siemensc PLM, Altium, SolidWorks PDM, and Catia and connects to other systems via APIs. It also connects to Microsoft Office, keeping associated documents organized and on hand.
Operating in the cloud is more efficient and less expensive.
Cloud-based PDM systems are far more efficient than on-prem alternatives. Not only do they make collaboration more straightforward, but they also require far less upkeep. 
With a cloud-based solution like Fusion 360 Manage with Upchain, you don't have to worry about ongoing maintenance, upgrades, fixes, patches, performance tuning, and security–the vendor handles all that. Instead, you can double down on product development, keeping your company competitive over the long term.
Most cloud-based solutions, including Fusion 360 Manage with Upchain, are paid for via a subscription model. From a financial perspective, this is hugely beneficial. Users don't have to fork out a massive up-front fee (so they're not tied in) and can pay only for the resources they need as they scale up or down.
2. Multi-CAD Cloud PDM Improves Decision-Making
The importance of making effective decisions as early as possible in the product development process cannot be overstated. Changing a product characteristic late in the lifecycle can be 1,000 times more expensive than changing it at the conception stage. Slower decisions also lead to longer delays.
Still, with more traditional, on-prem, single-CAD PDM systems, relevant stakeholders lack the visibility required to provide timely input. Cross-functional collaboration is stifled by a lack of high-quality, accessible data, which is a problem Fusion 360 Manage with Upchain resolves.
You Can Fix Mistakes Sooner
Fusion 360 Manage with Upchain involves every stakeholder in the design and development process by sharing relevant data in real-time. Collaboration in a Multi-CAD environment gets everybody on the same page and lets them have their say from Day One. 
Sourcing specialists can view 2D or 3D design comparisons to get a complete picture of product options when making a BOM. Supply chain experts can flag obsolete parts in designs before they have to be re-sourced. And manufacturing can put a stop to unrealistic tolerances before BOMs hit the shop floor. 
3. Multi-CAD Cloud PDM Increases Supply Chain Agility
Another day, another disruption. Supply chains have never been more fragile and fragmented than they are right now. 
Manufacturers that want to speed up product development have to do whatever it takes to increase supply chain resilience, pre-empting and reacting quickly to market and macro trends. 
Implementing a multi-CAD cloud PDM system like Fusion 360 Manage with Upchain, which facilitates seamless collaboration with any supplier, is a giant step in the right direction towards supply chain agility.
The More Suppliers You Have, The More Collaboration Agility You Need
According to research from Tech-Clarity, one-third of leading manufacturing firms have increased the number of contract manufacturers with which they collaborate. And, as we all know: more suppliers = more confusion, inefficiency, and data compatibility issues. Things soon get out of hand.
Implementing a multi-CAD cloud PDM system gives you far greater supply chain control. With Fusion 360 Manage with Upchain, suppliers each get a portal where they can identify, select, and comment on designs, streamlining the creation of quotes and bids. Suppliers get links to 2D and 3D CAD files so they can fully understand your orders. 
Say goodbye to unsecured communication, endless meetings, and calls. Say hello to secure, granular access to information and greater autonomy across the product development cycle.
How to Avoid Getting Lost In Translation
Having multiple suppliers, partners, and customers using different CAD software shouldn't force you to slow down. A multi-CAD cloud PDM system like Fusion 360 Manage with Upchain makes multi-CAD collaboration easy, providing a single source of truth for storing, viewing, and working on files and associated data born from any CAD source.
Forget emails with screenshots, manual data imports and exports, out-of-date PDFs, duplicate files, disparate databases, and CAD file conversions. Implement Fusion 360 Manage with Upchain and start benefiting from the increased productivity, decision-making, and agility you need to supercharge product development.