Why Automate Machine Design?
In the world of consumer manufacturing, where the price point is so important and commodities rule many sectors, manufacturers standardize offerings and consumers accept them. But in the world of industrial machinery manufacturing, one size rarely fits all.  How can automating machine design make a difference?
Customization of solutions and configuration for the needs of individual manufacturers has always been essential for industrial machine design. Why? Because no two industrial machine manufacturers are exactly alike. Every factory is usually a unique piece of real estate, fitted with a particular array of technologies, and a particular purpose—or sometimes multiple purposes.  
And those purposes can change. A company could be introducing a new product or updating an existing product. They could be expanding into a new market, as when oil and gas companies expand into renewable energy. They could simply be looking for a more efficient way to do what they've done in the past. All of these could require unique or at least customized machine designs.  
Until recently, the tasks related to customization and configuration were handled by dedicated professionals—usually sales engineers that would discuss a customer's specific needs, then spec out a solution from standard components and custom pieces. The old configure, price, quote (CPQ) process was often cumbersome, time-intensive, and costly, requiring engineers to spend dozens or hundreds of hours on a single bid to create a quote. And it could be error-prone as well—if the engineer misunderstood a particular requirement, they would have to go back and revise. And all of this happened with no guarantee of a sale.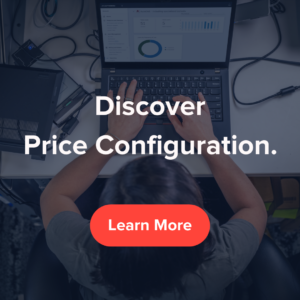 Agility, Customization, and Configuration
With the advent of new digital tools and digitized manufacturing processes, manufacturers have been able to become more nimble and agile, customizing products more easily and efficiently, with less manual work. This brought down costs. But it also raised expectations.  
Today, manufacturers expect to get customized machinery at comparable price points to standard items.  
How do you meet that demand for customized solutions without raising costs? You must continue to digitally transform. That means doing more with your data—and doing it in the cloud with the latest tools and technology. It means breaking down data silos, allowing teams to work together seamlessly with suppliers. And it means reimagining how you engage with your manufacturing customers.  
How to Embrace Automating Machine Design 
Historically, the only way to create a custom or bespoke solution—whether it was a suit or an industrial drill—was to devote individual attention to it. That takes time, and time costs money. Thus, customization typically came with a higher price tag. With automation machine design, though, processes that used to take time can happen in a few seconds with little or no human intervention.  
Whether you're talking about software that enables a salesperson—or even the customer themselves—to configure a unique solution or hardware that builds that solution after purchase, automation of machine design is indispensable for industrial machinery manufacturers looking to improve their processes and adapt to disruption more quickly. In some cases, like for steam generation product manufacturer Cleaver-Brooks, incorporating automation into the planning stage reduced the time spent designing by 20%, leading to faster turnarounds and more bids won. 
Perhaps the best example of what automation can do for your business is cloud-based CPQ solutions. In industrial manufacturing, slow proposals lose business. And it used to be that selling complex configurable products meant a slow proposal. But automating those proposals turns what was once a slow affair into one that can take seconds. Instead of sales reps sifting through thousands of parts and configuring a complex product that may or may not get an order, a visual product configurator can configure complex parts by providing a guided, interactive experience through 3D product renderings. Automated CPQ connects your customer's needs, wants, and desires directly to your employees and machinery—through data. It collects customer data, applies the pre-determined product and pricing guidelines, and adds CAD and design automation. Every department is connected—from design to engineering to fabrication to the executive suite. 
With automated CPQ, buildability is guaranteed by established parameters. Prices are calculated in real-time. 100% quote accuracy? CPQ can do that with programmable rules and constraints. CPQ systems can automatically generate a sales proposal, giving potential customers everything they need, and giving you a better chance at winning the bid. In addition to being faster, more efficient, and more cost-effective, it's also more visually compelling for the customer.  
"We can help our customers get to market a lot faster while at the same time optimizing our engineering processes and deliverables."—Michael Best, Technical Manager, ME Global Inc. 
Improving Visualization
Product visualization—how you and your customers experience your data and your designs, even before they're built—affects the buying experience, and ultimately, the customer's relationship with you. What if, instead of looking at a spreadsheet of specs and a two-dimensional drawing, a customer could interact with a 3D model in their web browser? Better visualization leads to clearer communication between parties and a more thorough pre-production experience, which will pay dividends down the line.  
Visualization tools can be integrated with automated CPQ systems for an intuitive customer experience: what you see is what you get, backed up by actual data. So, if you want to look at the spreadsheet, you can.  
For a real-world example of what visualization can do for your business, look no further than TOMRA Food. TOMRA designs and manufactures sensor-based sorting machines and integrated post-harvest solutions for the food industry. They wanted to improve their selling process, specifically the customer experience. The problem was quotes were taking too long to get out the door. The entire process was too people-intensive and relied more upon spreadsheets than visuals.  
So TOMRA Food decided to develop a 3D visualization tool out of their product line, allowing customers to upload a 3D model of their own facility—created either from a BIM model or a laser scan—to configure their own line, like Legos. They hired KETIV to train the team to create their own models internally. KETIV built a library of these 3D components that could then be assembled into a full 3D model. Now, TOMRA engineers can quickly create 3D models and even change them in real-time with the customer, drastically speeding up their sales process and giving customers a better visualization experience—and ultimately a better overall understanding of what they're buying and how it will work. 
Growing Beyond Scale 
For most of the 20th century, success in manufacturing depended on scale and efficiency, and that meant standardization. Given the technologies of the time, bigger was better. But new digitized approaches are changing the equation, enabling more agile configuration, rapid and scalable customization built on automation—and even enabling customers themselves to run the process themselves through automation. 
Today, customers not only expect customization, but they also expect it at standardized price points. And it's only possible through continued digital transformation. That means adding automation, advanced visualization, and cloud collaboration to your business. When you're ready to make the change, give us a call. KETIV can help.