If there's a silver lining to the dark clouds of COVID-19, it's that manufacturers have the opportunity to reassess their digital objectives and embed environmental sustainability into their value chains. The pandemic might feel like the shock of the century, but climate change spells economic turmoil of unthinkable magnitude. Implemented thoughtfully, digital manufacturing–applying computer systems to services, supply chains, products, and processes–lets manufacturers of all sizes connect their digital and environmental goals, creating a healthier environment and bottom line.
Whatever your views on climate change, manufacturers that fail to embrace sustainability face dire economic consequences. Governments will penalize them. Customers will abandon them. And potential employees will think twice before joining them.
Digital manufacturing is the easiest path to environmental sustainability. But you have to act now.
This article explores the following issues: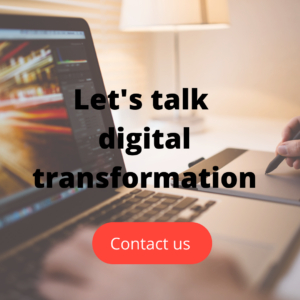 What Is Digital Manufacturing?
Digital manufacturing is an integrated approach to manufacturing centered around computer systems. It involves adopting new digital technologies like the IIoT (Industrial Internet of Things) and becoming obsessed with data and automation.
Manufacturers that embrace digital manufacturing supercharge their efficiency, output, intelligence, and sustainability. They're three times more likely to increase their net revenue growth than manufacturers that don't.
Effective digital transformation in the manufacturing industry requires embedding digital technologies (and the cultural and behavioral changes needed to benefit from them) across four key dimensions:
i) The Product Lifecycle: Every stage in the product lifecycle should be connected via a digital thread–a communication network that enables a seamless flow of data between stages and an integrated view of it all from a single dashboard.
ii) The Smart Factory: Manufacturers can build factories full of intelligent, automated machines that self-optimize and solve problems without human intervention. By leveraging predictive maintenance–data analysis tools that predict and fix defects in equipment before they happen–manufacturers can minimize maintenance costs and downtime.
iii) Value Chain Management: Digital technologies and big data analytics can be integrated into products themselves, adding value for customers.
iv) Sustainability: Manufacturers can reduce energy consumption, emissions, and wastage through digital tools that provide better control, visibility, and accountability. They can also adopt more sustainable business models like EaaS (Equipment-as-a-Service).
Why Manufacturers Must Act Now on Sustainability
Is sustainability an ethical issue? Good luck getting a consensus on that question! It is, however, undoubtedly a financial one, and there are reasons why manufacturers need to embrace sustainability now:
Government Regulations and Incentives Are Making "Green" Companies More Competitive
Governments are imposing stricter regulations on polluters and introducing financial incentives to encourage companies to go "green." Companies that fail to comply will be forced out of business.
The EU's post-COVID recovery plan (NextGenerationEU) is a prime example of how high climate change has risen up the regulatory agenda. Of the €2 trillion pledged, 30% will go towards fighting climate change.
Customers Are Dumping Companies That Engage in Environmentally Unsustainable Practices
In a recent survey by Accenture, more than half of consumers said they would pay more for products if they were sustainably sourced. Furthermore, 81% said they expect to buy more sustainable products over the next five years.
Meanwhile, B2B customers are turning their backs on unsustainable businesses. They don't want companies with poor environmental or social standards in their supply chain–it harms their public image (if nothing else.)
High-Potential Employees Won't Come and Work For You
More than 70% of the workforce wants to work for a sustainable company. If you're going to attract top talent to your organization, you need to be an environmentally sustainable business.
Environmental issues are of greater concern to Millennials and Gen Z than Boomers. Three-quarters of Millennials say they would take a pay cut if it meant working for an environmentally responsible company.
To Be a Top Performer, You Need to Be a "Twin Transformer"
According to Accenture's recent global research study ("The European double up"), Twin Transformers–companies able to combine sustainability and digital manufacturing–are 2.5X more likely to lead their industries in profitability, innovation, and influence. Which begs the question: "how do you become a Twin Transformer?"
The World Economic Forum's "Bridging Digital and Environmental Goals: A Framework for Business Action" provides ten recommendations for companies that want to integrate sustainability into their digital transformations. The first three recommendations relate to building the vision and foundation. The following seven concern implementation of lasting change.
1.     Start by conducting a thorough assessment of your environmental risks and opportunities
Assess which environmental risks and opportunities have the most significant strategic impact on your business.
Measure your company's environmental impact over the entire product life cycle to determine where you can achieve the most significant gains.
Use data-driven tools to monitor regulatory changes and media dialogues to stay ahead of the curve.
2.     Design your "digital+sustainability" strategy
Use the insights from the assessment above to integrate your environmental goals into your business strategies.
Take a data-driven approach. Ensure each goal is backed by KPIs, incentives, and reporting mechanisms, meeting business and sustainability targets.
3.     Develop an effective governance model for enacting change
Develop a clearly-defined governance structure.
Get buy-in from across the C-Suite.
Establish a steering committee and designate a Chief Sustainability Officer who is closely connected with corporate leaders.
Brief the board of directors regularly.
4.     Create value by integrating sustainability into products and customer experiences
Collect and analyze sustainability data across business units and make this data available and easily accessible to everyone within the organization.
Empower employees to integrate sustainability into operations, products, and revenue streams.
Partner with external stakeholders to share data and deliver mutually beneficial environmental outcomes.
 5.     Deliver new "digital-at-the-core" business models that improve sustainable resource use
Implement new digital business models such as Equipment-as-a-Service.
Enable data sharing across organizational silos to achieve complementary goals and track aggregated environmental and economic improvements.
6.     Embed sustainability into your operating model
Automate processes where possible to drive efficiency and reduce resource consumption.
Invest in IT capabilities that improve transparency and data-led efficiency.
Adopt consumption-based models to minimize wastage.
7.     Create end-to-end supply-chain visibility and traceability
Design a data model that integrates internal and external data sources to identify, assess, and mitigate exposure to environmental risks within your end-to-end supply chain.
Partner with suppliers that provide visibility and accountability into their environmental performance. Monitor progress towards your environmental goals.
8.     Ensure environmental sustainability data is central to decision-making
Embed sustainability into your data-driven decision-making processes.
Make environmental data accessible across your organization and encourage everyone to consider the environmental consequences of their actions.
9.     Evaluate the financial impacts of environmentally sustainable value creation
Implement digital tools to measure the ROI from your sustainability initiatives and forecast performance under multiple future scenarios.
 10. Engage employees and invest in young talent
Give employees the data and digital tools they need to innovate and deliver on sustainability targets.
Invest in virtual collaboration tools to engage younger talent and reduce your company's carbon footprint.
Digital Manufacturing Is Helping Fight Climate Change
Environmental risks are affecting business strategies, and everybody knows it. In an Ernst and Young survey of 1,000 CEOs, 99% agreed that "sustainability issues are important to the future success of their businesses."
Digital manufacturing provides a direct path to minimizing environmental impact, conserving energy, and lowering resource use. By linking digital and environmental goals–becoming Twin Transformers–manufacturers can attract government incentives, customers, and top talent while creating value for shareholders and the environment.
Connecting digital and environmental goals is achievable through digital manufacturing. It requires a thorough assessment of your current environmental impact, integrating environmental goals into your business strategies, and giving employees access to the data and digital tools they need to deliver on sustainability targets.