Autodesk has offered the access for PowerMill and Fusion 360 subscribers to drive better business results.
Productivity and Your Business with PowerMill and Fusion 360
Productivity and collaboration are just a few essential components that a quality organization must possess. With the recent, unprecedented world events taking place—now more than ever it is crucial that organizations maintain the collaboration amongst teams to help drive productivity.
PowerMill, Autodesk's advanced manufacturing tool is well equipped to help drive productivity within a business. In the recent months however, Autodesk decided to further enhance this by offering Fusion 360 to all PowerMill subscribers.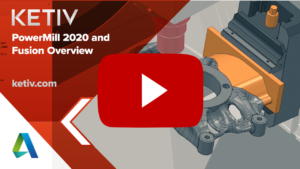 Two Powerful Tools, Working Together
Fusion 360 is currently in a league of it's own in the sense that it's a cloud-based platform that combines CAD/CAM and CAE all into one. Communication amongst engineering and manufacturing teams has never been more critical, with the ease of accessing and sharing your data from virtually anywhere—Fusion 360 streamlines this process by ensuring all teams within your organization are connected in a seamless way.  Additional benefits that PowerMill users can leverage within Fusion:
AnyCAD allows you to manage CAD data with anyone, regardless of the CAD software
Additional CAM capabilities allows users to increase CAM capacity, freeing up PowerMill for the most complex jobs
Design complex tooling and Workholding in Fusion and import them into PowerMill
If you would like to learn more on how these tools can help streamline your business, don't hesitate to reach out to me at alex.alvarez@ketiv.com.