Slow proposals kill deals and push customers towards competitors. But for manufacturers selling complex configurable products, creating proposals is a slow, arduous process. It's rife with opportunities for delays, which means long sales cycles, lower win rates, and reduced deal revenue. Fortunately, there is a solution.
Automated proposals let manufacturers create persuasive, accurate proposals in seconds. They free your employees from painfully copying and pasting bits of old proposals into new ones. What's more, automated proposals look good. Which makes you look good. And helps you stand out from the crowd.
It all boils down to increased enterprise agility. Automated proposals improve operational performance, employee engagement, and customer satisfaction, which has a powerful impact on your bottom line. Read on to discover how manufacturers digitize deals with product configurators and automated proposals.
Automated Proposals Start With Product Configuration
Products are becoming more complex and configurable, making life increasingly complicated for sales reps and the buyers. Today, configuring a product could mean sifting through thousands of features and parts and trying to effectively communicate those options, as well as guide the buyer to the right selections. This requires a great deal of experience, which we all know is in short supply in the current labor market.
The reality is, even the most seasoned sales reps struggle to configure products quickly. They make mistakes, select options that aren't the best fit for customers, and configure "impossible" products destined to be rejected or toiled over by engineering.
With a visual product configurator, sales reps and end buyers (via a web interface) can configure complex products quickly and easily by interacting with 2D or 3D product renderings in a guided experience. Predetermined rules ensure accuracy and calculate prices in real-time with design automation functionality auto-generating CAD and sales drawings. (More on these features later.)
The best product configurators ingest this configuration data and output automated proposals. These automated proposals give prospects all the information they need to make an immediate, well-informed purchase decision, increasing the manufacturer's odds of securing a deal.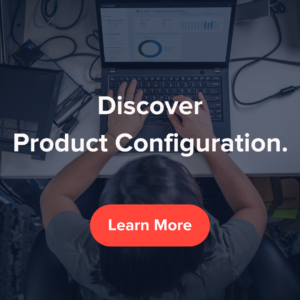 Why Automated Proposals Are So Valuable to Manufacturers
Automated proposals increase win rates, deal sizes, and overall profitability for the following four reasons:
1. Product and Pricing Rules Ensure 100% Proposal Accuracy
Product rules coded into configurators govern how users can assemble products. This knowledge is then imparted to users as they follow the guided configuration process. If users make a mistake (for example, selecting two incompatible parts,) the configurator flags the issue and suggests a suitable alternative.
Product configurators also automate the time-sapping number-crunching required to price complex configurable products. Prices are calculated in real-time during configuration, taking discounts, customer history, and even competitors' prices into account.
With product configurators, manufacturers can exponentially speed up the proposal process without sacrificing accuracy. Spreadsheets, tribal knowledge, checks and balances, and back-and-forth are eliminated.
2.
Visually Impressive Proposals Win More Deals
Prospects submit more RFPs than ever before (all it takes is a few clicks), so your proposals have to stand out. To creatures like us, standing out means being highly visual. Visually arresting proposals aid decision-making and make it easier to secure buy-in. But they also just make your company look good.
Visual product configurators let users configure products in 3D. Once the configuration process is complete, they automatically generate CAD models, renderings, and drawings. All of this rich visual content is then bundled up and included in your automated proposals, making them far more compelling.
Automating the CAD and design process in this way has a significant positive impact on your engineering department. Engineers are liberated from the drudgery of repetitive, menial work. Instead, they can focus on R&D, creating new products that secure the long-term viability of your business.
3. Reusable Content Improves Proposal Quality and Process Efficiency
The faster sales reps can access the content they need to create proposals, the faster they can get proposals out the door. This shouldn't be hard, but all too often requires sifting through old documents and folders on the hunt for images or chunks of copy that a colleague might have already changed.
With automated proposals, all of the approved content needed to create proposals (product descriptions, company history, case studies, prices, and more) is stored centrally and made accessible to everyone.
Reps don't have to reinvent the wheel for every customer. All they have to do is choose a template, customize where necessary, and press send. There are no more outdated documents, missing files, and duplicate versions; proposals are consistently compelling.
4.
Approval Workflows Clear Bottlenecks
Your document is complete, but it's stuck in the system. Often it's not the proposal creation but the approval process that leaves customers waiting and chasing. Product configurators automate approvals, clear bottlenecks, and get proposals to prospects faster. They do so in two ways:
Carefully created product and pricing rules constrain users, so manual approvals are no longer necessary. Every configuration is guaranteed to be optimized for engineering efficiency (without being checked by the engineering department), and pricing safeguards eliminate rogue discounting.

Approval workflows automatically route pricing approvals (those that fall outside the remit of preprogrammed rules) to the right person at the right time. Designated approvers can then review and click to sign before proposals are sent back to the customer. The whole workflow is transparent, driving accountability.
5. E-commerce Customers Can Generate Automated Proposals For Themselves
Since the COVID-19 pandemic, around 80% of B2B decision-makers prefer independent research, remote human interactions, and self-service over in-person selling. They don't want to interact with sales reps again, so your e-commerce offering must be seamless.
Automated proposals are the perfect self-service solution. Customers interacting with a visual product configurator embedded in a manufacturer's website can auto-generate a proposal for themselves. With complete pricing breakdowns and technical drawings, prospects have all the information without any input from your sales or engineering department.
E-commerce has enormous benefits for sellers too. Freed from geographic restrictions, they can expand the size of their total addressable market and reach buyers remote working around the globe. They can reduce their wage bill and use retargeting, content marketing, and personalization to acquire customers more cheaply.
The Bottom Line
Automated proposals help manufacturers increase win rates, deal sizes, and profitability while saving costs. They're more accurate, consistent, and compelling (3D visuals wow potential buyers.) They're also more efficient: automating slow repetitive tasks accelerates proposal times and lets sales and engineers concentrate on activities that make a difference to your bottom line.