Product configuration, pricing, and quoting processes are fraught with risk for most manufacturers. Every handover of information is a potential point of failure; every person involved a possible delay; and every keystroke a potential mistake.
Product configuration software (aka configurator software, CPQ) removes this risk by connecting your customer's needs, wants, and desires directly to your employees and machinery on your factory floor. How? Via a seamless flow of accurate, consistent, and accessible data.
Let's get one thing straight: this is not a basic sales tool. At least, it's not just a sales tool. It's a digital transformation solution and the spearhead of automation across your manufacturing business.
Product configuration software captures data from the customer, subjects it to product and pricing rules, enriches it with CAD and design automation, and ultimately delivers it to the factory in a usable format. It connects every department–from the top floor to the shop floor–via a continuous string of data called the digital thread.
Read on as we chart this flow of data and demonstrate the power of product configuration software.
What Is
Product Configuration
Software?
It's about helping manufacturers sell complex configurable products. Using predetermined product and pricing rules to constrain product configuration, guarantees accuracy and viability. It uses configuration data to generate sales, engineering, and manufacturing documents such as quotes, proposals, CAD models, technical drawings, and CNC cut sheets. And in some cases, it displays products visually in 2D, 3D, and AR to enhance the customer experience.
How
product configuration
software boosts profitability by 20%
Here's how manufacturers leverage product configuration software to supercharge their end-to-end sales-to-manufacturing processes increase sales efficiency by 34%, sales volume by 30%, and profitability by 20% (results for Tacton customers.)
Rules programmed into the software constrain configuration, pricing, and quoting processes, ensuring 100% quote accuracy.

Streamlining sales, engineering, and production operations shrink sales cycle duration and lead times.

Automating sales tasks takes the pressure off over-stretched sales teams, and lets reps focus on active selling, increasing sales volume and profitability.

Automation of CAD modeling and BOM creation clear engineering bottlenecks and frees up time for innovation.

A guided selling experience makes onboarding new hires easier. Reps no longer require in-depth product knowledge, which expands the talent pool from which you can hire.

Enhanced efficiency improves the sustainability of your manufacturing processes. Product quality is increased, mistakes are eliminated, and wastage is reduced.

Visual product configuration provides immersive and compelling customer experiences, marking your company out from competitors.

A single source of truth for the entire make-to-order and engineer-to-order process enhances visibility and accountability and promotes cross-functional communication/collaboration.

Sales reps, distributors, and even end buyers themselves can use the solution, giving customers a greater choice over how they interact with your brand.

Seamless integration with all of your front and back-office systems, especially CRM and ERP, maximizes the power of your data and generates data-driven insights that let you make faster, better decisions.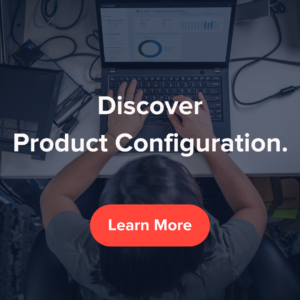 Product Configuration
Software Creates a Digital Thread
The digital thread–a vital component of digital transformation in manufacturing–is a single seamless strand of data that stretches from the customer to the finished product. It's a digital value chain, powered by data, that touches every business process, harmonizing traditionally siloed functional departments.
Through the flow of data, the digital thread turns a series of complicated, labor-intensive events into one that's centralized, automated, and error-free. It provides an integrated view and real-time data visibility that drives efficiency and customer satisfaction.
Product configuration software is the spearhead of the digital thread. It captures data from the customer, validates it, enriches it, and facilitates the flow through each stage–sales, engineering, back-office, and manufacturing. As the data travels on its journey from beginning to end, it collects knowledge and information until, finally, the digital becomes the physical in the form of a finished product.
But the digital thread shouldn't end at production. Data from the finished product and its delivery can be fed back into the product configuration software to drive continuous improvement. (For more on this, I recommend the second installment of Deloitte's digital thread video series, How the Digital Thread Weaves Through the Business.)
Below we highlight some critical stages in the digital thread:
Sales
A customers' product requirements, including features, functionality, and behavior, are fed into the product configurator. This data is typically captured in one of two ways: i) the customer talks to a sales rep directly who inputs the data into the configurator software, or ii) the customer inputs the data themselves via a web interface (self-serve).
The product configuration software validates product requirements against engineering rules, ensuring only optimized configuration data continues downstream. It also checks it against pricing rules, returning prices to the user in real-time. If the user tries to make an invalid selection, it triggers an alert and helps to guide the user to a better alternative.
Engineering
The software takes the configuration data and enriches it with auto-generated engineering documents such as CAD files, drawings, models, and BOMs. This data is sent back to sales and the end buyer, who might need it to make a purchase decision. It's also sent to engineering, who can verify the documents with a single click or otherwise edit and add to it as required.
For some manufacturers, it's not realistic to expect the solution to automate all of the engineering processes, but the software can still do the bulk of the work. This automation saves engineering a tremendous amount of time that can be better spent on R&D. It also lets them work on the most customizable scenarios that fall outside the scope of a standard configurable product.
Back-Office
As accurate data passes through the various back-office systems, it drives improvements in all key areas. Order handling becomes more efficient, as does the accounting team, who don't have to waste time accounting for losses. Manufacturers can refine even inventory management: because produces are wholly configured and defined, there's no reason to carry excess stock "just in case."
The Shop Floor
The manufacturing department benefits from the immediacy and accuracy of BOMs, reducing errors and waste. Manufacturers no longer have to create BOMs as products are being produced, fuelling all kinds of inefficiencies. The assurance of accuracy means manufacturers don't need the checks and balances that slow everything down.
Visibility and Accessibility Drive the Customer Experience
The flow of data in the digital thread is omnidirectional. Every stakeholder gets visibility and immediate access to the data they need to excel in their roles and provide outstanding customer experience.
Product rules give sales reps the engineering knowledge to independently configure the most complex products. They can provide their customers prices, quotes, designs, and models without consulting engineering, and keep customers updated on order statuses without hounding the shop floor.
Meanwhile, the engineering department can go about their work secure, knowing that every configuration that comes down the pike from sales is valid and free from errors. And manufacturing can begin production without checking for and worrying about problems that might have been missed earlier on.
Ultimately, product configuration software provides a win-win for buyers and sellers that no manufacturer can afford to ignore.