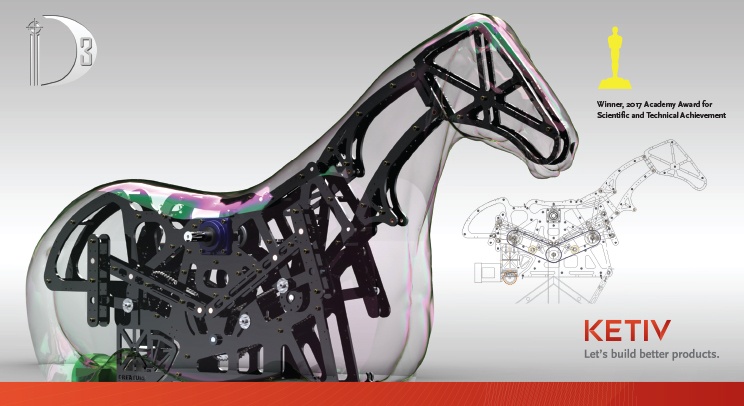 My role at KETIV gives me the chance to work with amazing people, both customers and our own consultants. Together, they are changing the world with the products they create. Doing what we love is reward enough, but when the world recognizes the impact we make, it's important that we celebrate together.
That's why I'm proud to share the news that Scott Oshita, a long-time friend, colleague, and KETIV technical consultant, received a Scientific and Technical Achievement Award from the Motion Picture Academy of Arts and Sciences for 2017.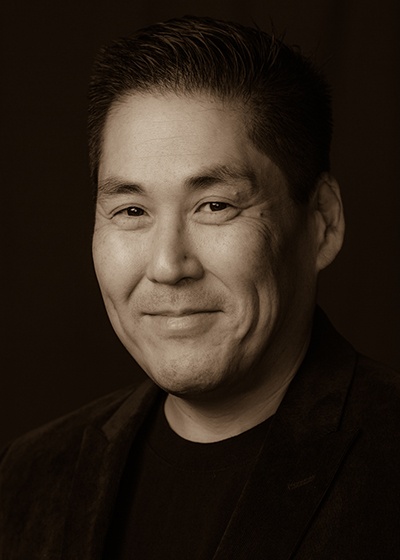 KETIV's Scott Oshita, winner of a Scientific and Technical Achievement Award from the Academy of Motion Picture Arts & Sciences.
The story behind the award is an excellent case study in the power of Autodesk Inventor and the value of design optimization and compromise.
If you've seen any westerns or period epics in the past ten years, you've seen Scott's creation – the Running Horse. It's an animatronic horse that closely mimics the natural motion of a galloping horse.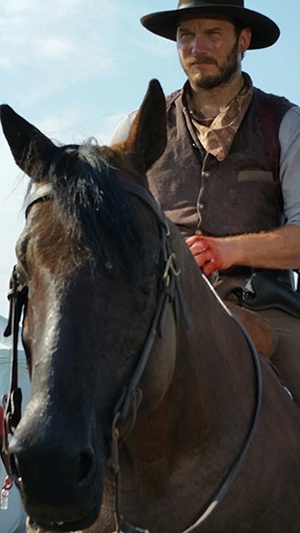 Chris Pratt, astride Scott Oshita's animatronic Running Horse, during filming of 2016's The Magnificent Seven.
Hollywood has a long-standing problem: having horses on sets is extremely dangerous—for the horse as well as the cast and crew. And the faster it runs, the more dangerous it becomes for all involved. Scott solved that problem by taking the horse out of the equation.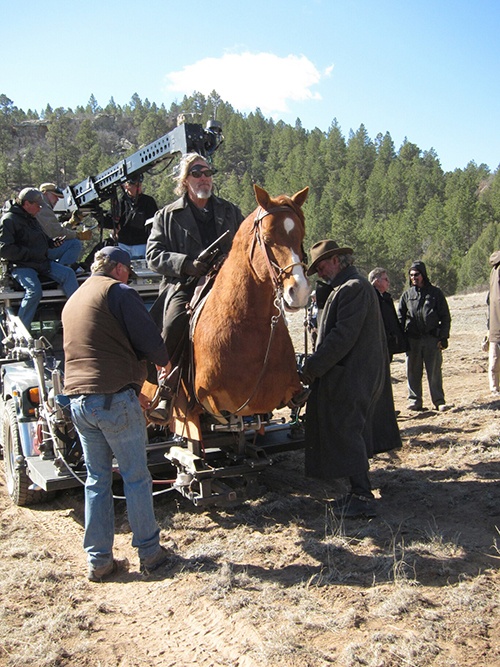 Jeff Bridges rides Running Horse during the making of True Grit.
The Week of the Horse
It was a Monday morning when the request came in: could they design and build an animatronic horse and deliver it overseas in less than a month? "It was a crazy pace," says Oshita. "We had four hours to tell them whether it was possible, then I basically didn't sleep for six days."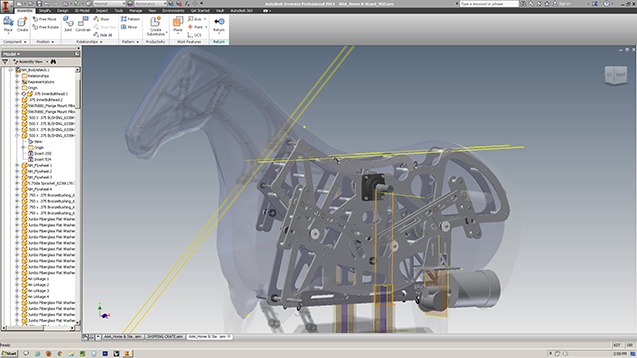 This screenshot from Inventor shows how the running mechanism fits inside the boundary limitations of the horse puppet.
The key to the success of the project was Autodesk Inventor, which Scott had been working in since it debuted in 1999. They didn't have time for mistakes—the design had to work the first time. Autodesk Inventor helped make that possible.
In less than five days, Scott developed and validated the concept, designed individual parts, assembled them, and created documentation for manufacturing.
These renderings from Inventor show the process Scott Oshita followed to design Running Horse over the course of three frenetic days.
"The great thing about Inventor is that it allows me to prototype concepts virtually and do endless iterations," says Oshita. "I can solve problems and refine my design before wasting any time or material putting it together. It gives me confidence in my design. It's 3D, so if the parts fit together in your Inventor model, they'll fit together when you build it."
Although Scott no longer works in effects, he still leverages his experience with Running Horse in his career as a mechanical designer. "I've done presentations about the process for my clients, talking about design compromise," he says. "In a situation like that, there was no way to create the perfect design. So we had to create the most elegant solution we could in the time we had. Instead of 100 mediocre movements, I wanted our horse to perform a few strategically planned movements that'd give the camera the most bang for the buck. That's what you learn working in effects—make it fast, and make it play on-camera. And I think that's something all product designers can learn from."
Those compromises resulted in a simplified control system for Running Horse, and that operational simplicity has been a significant factor in its adoption and success. Other animatronic horses can require dozens of technicians and puppeteers to operate; Running Horse is controlled by an on/off switch and a dial to control the speed. "It just works," Oshita says, "and if it does break, it's easy to fix. Apparently no one's designed anything better."
Like all designers, Scott's focus is on what's happening now, and what's next. "I don't spend much time thinking about past projects," Oshita says.  "So being recognized by the Academy a decade after I did the work came as a shock. But it was certainly an honor. Mostly, it was amazing just to be in the same room with so many industry legends."
Here's to Scott Oshita, and to all the designers doing the design work that makes life better, safer, and more satisfying. You may not all get Oscars® for your work, but we at KETIV know what a difference you make, and we're here to support you whenever you need us.