We have had the great experience in making iLogic and configurable design using Autodesk Inventor and Configurator 360 with Jorge Fernandez, KETIV technical expert, and Travis Evans, Autodesk technical specialist. Watch the full presentation on the KETIV YouTube Channel.
If you like what you see, sign up for future AVA events here.

Today we have a guest post from Travis Evans. Travis is a Technical Specialist at Autodesk and is a member of the Manufacturing Frontline team. You can follow his blog, Manufacturing Toolbox, here.
Nowadays, people want what they want and if you can't give it to them, then they will go elsewhere to get it. I'm in the middle of planning a Kitchen remodel, and believe me, what my wife wants she gets. I've been on numerous peoples websites trying to configure my kitchen. Working at Autodesk I have many tools I could use to layout out my house.
I first took a test drive in homestyler. I laid out my kitchen and decided on the layout I liked. I could have picked manufacture specific pieces for the cabinets and appliances but at this point I didn't know who I wanted to buy my cabinets from. But it helped me get an idea on the styles I liked.

But I wasn't happy with just my kitchen, so I modeled my whole house in AutoCAD, the Architecture version (AutoCAD Architecture). I'm a Manufacturing guy and that version came in Factory Design Suite, so I already had it installed. Inventor is my tool of choice so AutoCAD was a stretch for me. I proceeded to roll up my sleeves and grabbed a tape measure laying out my house. AutoCAD Architecture had some nice tools, like the Tool Catalog, where you can search for content like cabinets and appliances both in 2D and 3D blocks. So I took a stab with that. Side note: I have since modeled my house in Inventor too.

Then my wife and I decided that we were going to buy our cabinets from Ikea, so I took a spin on their website. To my amazement they had an online configurator tool called the Ikea Home Planner. I could layout my entire kitchen and at the end it would output an Items List or BOM (bill of Material) with all of my accessories and everything I would need to put the kitchen together how I configured it. I knew when I was done what the cost would be. That is what people want, to be able to configure their product and take a test drive. This solidified that I would be buying my cabinets from Ikea.

So why am I telling you about my Kitchen remodel Test Drive? (Audience goes silent while Autodesk Inventor and Configurator 360 enter Stage Right). That's right, using Inventors rules based design engine (iLogic) and Autodesk Configurator 360 you can give your customers a similar experience with their "Test Drive" of your products.
Let me show you under the hood…
First you would use Inventor and iLogic to design your product. What options it has and what parts can be configured. In this example the width, style (does it have doors or drawers), drawer configuration, and color are all options the customer can pick. For those not familiar with iLogic, think If I do "x" then "y" will happen.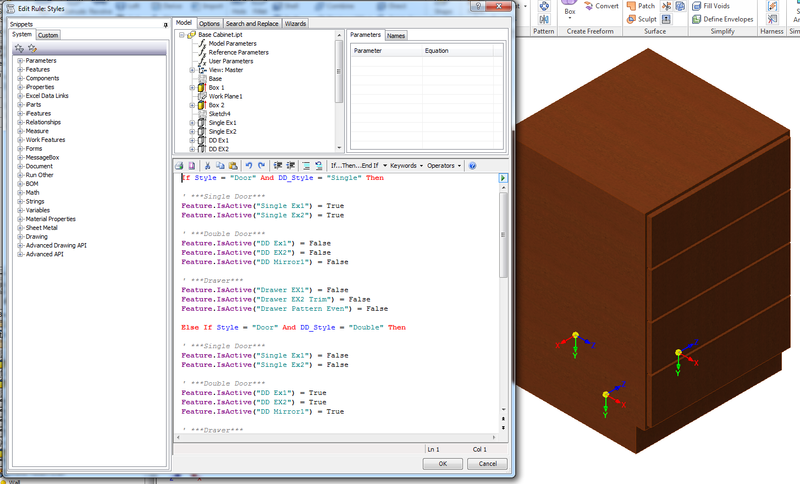 Then how those cabinets are put together in a Room is also up to the customer, it is configured to order. The room would need to be customized to meet the customer's requirement. I put all the Cabinets, Appliances, and the room with their corresponding rules in Inventor. Then the last step before I turn it loose to the customer is defining how each component would connect to another component. Once I've got that I upload to Configurator 360 and turn my customers loose on their test drive.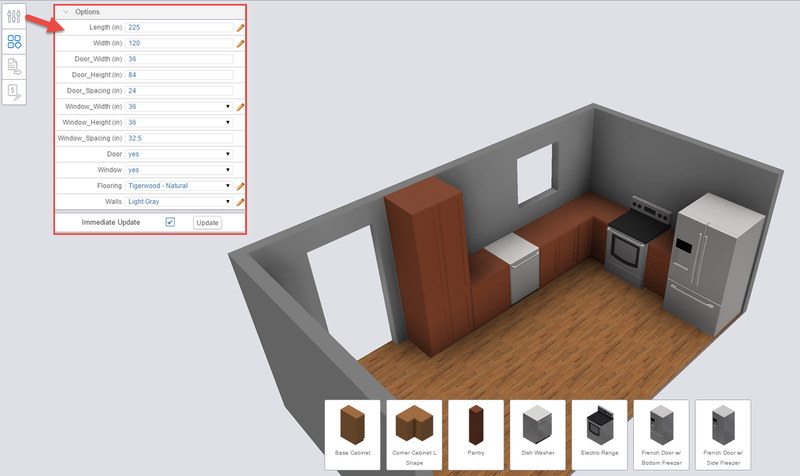 (click on the image above to see a video of Configurator 360 in Action)
These types of configurators typically have taken a lot of time and money to deploy. But I'm inviting you to take a test drive an watch my short video showing you my Kitchen Cabinet configurator that I was able to make in a few days. That's counting the building of the Cabinets from scratch in Inventor.
Want to see more about how the cabinet comes to life? Check out these Autodesk Screencasts videos.
Cabinet Demo: File Review – http://autode.sk/1njKvn0
Cabinet Demo: Defining Configurator 360 Connectors – http://autode.sk/1njMFTp
Cabinet Demo: Configurator 360 File upload & working with drag and drop accessories – http://autode.sk/1njOsYP
Want an example you can test drive? Take a look at the Autodesk Sample Catalog or the Trailer site example. They don't have the drag and drop features I show in my video but it's a starting point.
I've also got to give a shout out to one of our partners, KETIV Technologies out of Brea, California. I recently presented on this topic in one of their Autodesk Virtual Academy (AVA) sessions. The goal of AVA is to give you a flexible learning experience for the Autodesk community. I love the fact they are hosting these sessions and providing tips & tricks and driving the awareness of the power of Autodesk technology. You can see the full presentation on iLogic and Configurator 360 on the KETIV YouTube Channel. If you like what you see subscribe to their YouTube channel or sign up for future AVA events here.
So don't let your customers test drive someone else's product, let them test drive yours. So here are the Keys…
-Travis @travis36evans