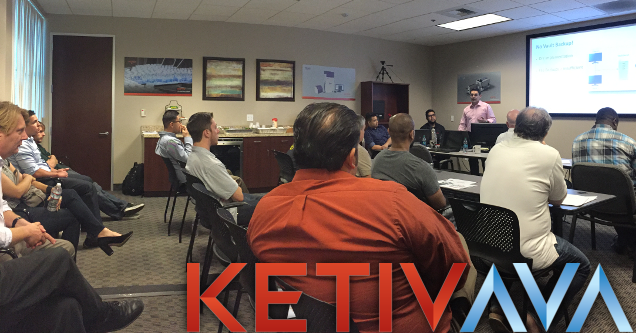 Yesterday, KETIV Technologies hosted its first Autodesk Virtual Academy Double-Header. Aside from our normal weekly webcast at 10 am, we also hosted a special in-house workshop for a large group of local customers and AVA subscribers. The in-person event reviewed the capabilities of Autodesk's data management tool, Vault, as well as how to maintain your particular Vault instance to prevent things like data loss and slow performance.

At the helm were Javier Chavez and Rich Sanchez, both seasoned Application Engineers on the KETIV team. Javier presented AVA this week, showing subscribers how to maintain file properties within their Vault, and Rich went over some Vault Preventative Maintenance. The three big buckets that Vault failures fall into are:
Data Loss/Server Crash
Slow Performance
Storage Management/Disk Space
Data Loss/Server Crash
This is the worst nightmare for a workgroup. Losing your data can mean losing months, or even years of work if you don't have a proper backup of your files. To prevent disasters like this from happening, proper maintenance of your Vault and ensuring that you have valid backups is essential. You may not be able to prevent a server from crashing, but you can protect yourself from losing all of your design data if a crash ever happens.
Slow Performance
Although not as drastic as a server crash, slow performance is another huge issue that users experience with their Vaults. Slow performance can be crippling. Extended check-in/out times as well as slow database searching is a huge and unnecessary time-waster. Luckily, there are a few things one can do to prevent such performance from hindering workflows. Regular system reboots, Vault Defragmentation, and Data Re-indexing are three crucial steps in maintaining a fast and efficient Vault environment.
Storage Management/Disk Space
Data takes up room. Storage drives are of finite size, oftentimes creating space issues when you get to hundreds of thousands, or even millions of files. Without keeping tabs on it, you may quickly run out of room. By regularly purging your Vault, you ensure that you don't keep unnecessary versions of your files. Defragmentation is also key in regards to avoiding a bloated Vault environment.
Our team at KETIV knows that your Vault database is crucial in terms of keeping your business up and running. As a service to our customers, we offer what we call "Lifeline with Vault Care". With this service, our dedicated team of experts maintain your Vault for you on a quarterly basis. In addition, you get everything included in our regular KETIV Support offering; installation and activation, one-on-one phone and remote support for your Autodesk products, as well as making sure your deployment is optimally configured to your needs.
Today's events went so well that we want to start a tradition of doing in-house workshops once every quarter. We will cover topics like simulation, documentation, and automation. If you're in the area, make sure you don't miss the next one so you can take advantage of the great learning experience with our Autodesk Certified Instructors.