Configurator Software: The Key to Connecting Product, Customer, and Factory
Manufacturers of complex products are facing a two-front war. The first is on the sales side, where there's growing demand from customers for product configuration. The second is on the production side, where product configuration is causing mistakes, delays, back and forth, and ultimately higher costs.
With configurator software, manufacturers can win this war. They can empower salespeople (and customers) to configure products quickly and easily with thousands of options while automating downstream processes to connect customer, product, and factory. The results: greater efficiency, improved customer experiences, and higher profitability.
If you want to find out more about configurator software, here's what we cover in this article:
What Is Configurator Software?
How Does Configurator Software Connect Customer, Product, and Factory?
Configurator Software Is Your Single Source of Truth For Manufacturing
What Is Configurator Software?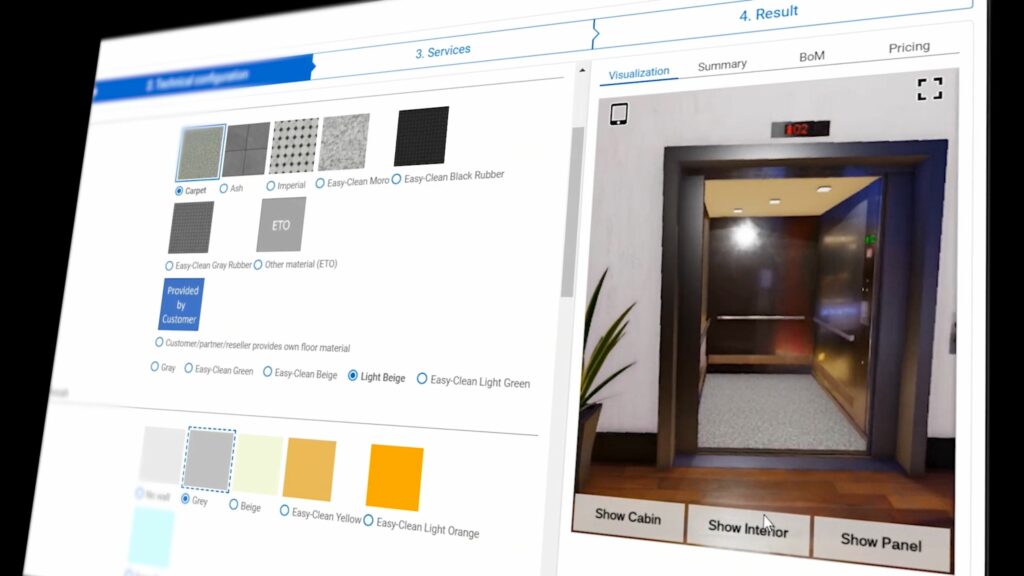 Configurator software automates the configuration of complex configurable products. In a time of ongoing complexity in manufacturing, when products are more technical, and customers demand increasing personalization and customization, configurator software helps provide fast, frictionless buying experiences.
With configurator software, salespeople no longer have to contend with paper catalogs, thousands of SKUs, and complicated rules and dependencies. They simply let the configurator software do the heavy lifting, which leaves them more time to focus on generating new business.
Configurator software shrinks sales cycles and makes training new hires easy. But the best configurator software automates more than just configuration. It calculates prices in real-time,  produces quotes for sales, and auto-generates CAD files, CNC cut sheets, additive manufacturing files, and various other outputs for the shop floor, thus connecting customer, product, and factory.
How Does Configurator Software Actually Work?
Configurator software leads salespeople–both experienced and new recruits–through the configuration process step by step. All salespeople need to do is answer a string of questions about the customers' requirements, and the configurator software configures the product automatically.
But how does configurator software actually work? First, the manufacturer inputs all of their product, pricing, and engineering data into the software, then follows the instructions to create product rules–the advanced logic required to optimize every output.
These product rules make the configuration process fast and error-free, guaranteeing maximum customer satisfaction and profitability for the buyer. Product rules validate every design from an engineering perspective, so only viable configurations reach the engineering department and shop floor.
What Is Visual Configurator Software?
Another type of configurator software–visual configurator software–provides a more immersive buying experience. Users configure products by interacting with 2D or 3D product renderings on desktop or mobile. They point and click to change features and attributes and watch as their final product comes together.
Visual configurator software provides the user with high product clarity and understanding. It's so user-friendly that manufacturers of complex products can let end customers self-serve independently. Online businesses can embed a visual configurator on their website, enabling a global audience to self-educate, configure, and place orders at any time, from anywhere.
How Does Configurator Software Connect Customer, Product, and Factory?
With its product rules and automated outputs, configurator software weaves a digital thread from the customer right through to the factory floor.
This bidirectional data stream provides complete visibility into every stage of the engineer-to-order process, eradicating the need for manual updates and back and forth, saving time, shrinking sales cycles, and facilitating higher-quality buying experiences.
Product
Product Rules Contain All of Your Product Data
Product rules–the logic that dictates how products can be configured, priced, engineered, made, and sold–lie at the heart of configurator software. Programmed into the backend, they guarantee configuration accuracy, regardless of who configures the product.
Well-crafted rules ensure that every configuration is optimized for customer satisfaction and manufacturing efficiency, thereby connecting product, customer, and factory.
Customer
The Configuration Experience
The configuration experience can be text-based, visual, or anything in between. It can be operated by sales reps behind the scenes, side-by-side with customers, or end customers themselves. It runs per your product rules, guaranteeing only valid and optimized configurations go downstream.
Automated Pricing and Quoting
Configurator software uses the information gathered at the configuration stage to calculate prices automatically and generate quotes. This automation saves salespeople a considerable amount of time, removes the potential for human error, and gives customers the information they need to make faster decisions.
Factory
CAD and Design Automation
Configurator software also uses configuration data to auto-generate technical drawings, CAD designs, and 3D models, alleviating a tremendous amount of pressure on the engineering department and clearing persistent bottlenecks.
Because product rules control the configuration stage, every configuration that reaches the engineering department and the factory floor has already been OK'd further up the line, which removes the need for back and forth and associated delays.
Factory Automation
In addition, configurator software generates files for the factory floor, such as a bill of materials (BOM), CNC cut sheets, and additive manufacturing files. Again, this saves time, reduces the risk of error, eliminates back-and-forth, and means manufacturers can ship products more quickly than the competition at a lower cost.
Configurator Software Is Your Single Source of Truth For Manufacturing
As data systems become more complex and fragmented, configurator software unifies upstream and downstream information flows between sales, engineering, and the factory floor. It serves as a single source of truth– "one source [of data] that everyone in a company agrees is the real, trusted number."
Having a single source of truth for manufacturing provides several distinct advantages:
Saves Time: Configurator software breaks down data silos and integrates systems. It makes data accessible and easy to find. Manual changes sync automatically organization-wide, so there's no need to copy and paste between systems, which is inefficient and error-prone.
Improves Data Quality: Data is always clean, clear, concise, and free from duplication errors, format incompatibilities, and version control issues.
Provides Actionable Insights: Pooling data in one place makes extracting and delivering intelligent product, business, and customer insights easier.
Improved Collaboration: All stakeholders have real-time, role-appropriate access to the same valid data, enhancing communication, collaboration, innovation, and productivity.
Greater Flexibility: Changes to products, prices, and processes can be enacted instantly and centrally. New systems and solutions can be adopted and integrated with a few clicks.
Bottom Line
Configurator software unifies the front office and back office in one integrated solution. When a customer configures a product and submits an order, all the relevant engineering and manufacturing files are automatically generated and sent out to the appropriate department for review.
Thanks to product rules, which are stored centrally and contain all of your product, pricing, and engineering logic, only feasible configurations from a financial and production perspective reach the engineering department and factory floor.
Configurator software connects product, customer, and factory via a digital thread. It serves as a single source of truth for manufacturing that increases visibility at every stage. With all data stored centrally, salespeople can check order statuses without manually reaching out to the factory. Management gains a unified view of the entire sales-to-manufacturing process, deriving valuable insights, and making necessary adjustments that sync organization-wide.
If you have any issues, feel free to reach out to us and we will be happy to help! Check out the recent webinar on the topic to learn more. Check out our YouTube Channel for more KETIV Virtual Academy sessions.