Every company that manufactures complex products and struggles with transferring data from customers to the factory floor can benefit enormously from having a robust product configurator. But which benefits have the most significant impact on your business varies greatly by industry.
Companies that make heavy vehicles will demand different things from their configurators than manufacturers making fluid control systems, elevators, household appliances, or power generators. Below are three examples to illustrate the point.
1. On Production Lines, Time Is Of the Essence
Product configurators let manufacturers with production lines, such as those producing electronics, operate with maximum speed and efficiency. Unlike sales reps, configurators can compute millions of production options and output faultless selections for every customer in a fraction of a second.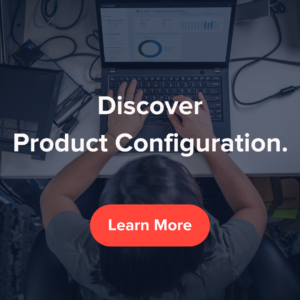 2. When Manufacturing Medical Devices, There Is No Margin for Error
When it comes to manufacturing medical devices, precision is everything. But humans will always make mistakes. Product configurators configure products in line with preprogrammed rules that eliminate costly human errors, increase product quality, and reduce wastage.
3. Competition is Tough for Makers of Industrial Machinery
Fierce competition is universal for companies manufacturing machinery for mining, energy, and construction. With a visual product configurator, sales teams can provide fully immersive customer experiences that stand out in crowded industries.