CPQ integration provides a smooth, seamless customer experience. Buyers can self-serve, customizing products at will and receiving accurate quotes instantly. 
Thanks to CPQ, buyers don't have to speak to a sales rep or wait for anyone to get back to them. And thanks to advanced product configurators built on top of sound engineering rules, they can be sure they'll receive precisely what they're looking for. 
Once buyers convert, product data automatically pass through to the relevant internal systems, ensuring no key detail is missed. BOMs, CAD files, and shipping documentation are instantly generated in seconds. 
---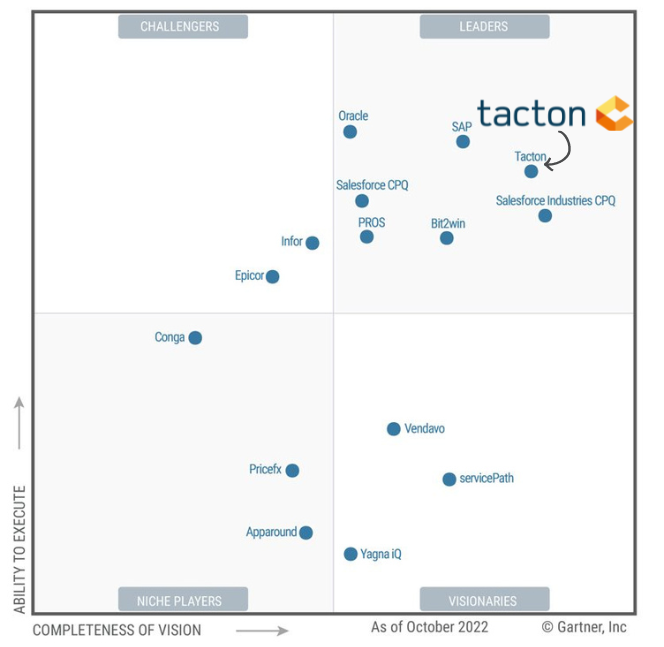 KETIV Partner, Tacton Named a "Leader" in the 2022 Gartner® Magic Quadrant™ for Configure, Price, and Quote Application Suites
---
CPQ systems help manufacturers eliminate unnecessary errors and delays in the buying process, thereby boosting the customer experience. But manufacturers experience the richest CX gains when they integrate CPQ with the rest of their tech stacks. 
Below are some of the most crucial integrations.
CAD
CPQ solutions auto-generate CAD files based on a product's specific configuration data. They then route this data to the engineering departments. Engineering can review the design, make a few tweaks if necessary, and sign off once everything looks good. A CPQ system automates between 80 and 100% of the engineering workload depending on the product.
CPQ and CAD integrations ensure nothing gets lost in the sauce. In other words, the CAD files will produce exactly what the customer wants. This means no more delays, bottlenecks, or errors-and a superior CX that sets manufacturers apart from the competition. 
CRM
CRM systems allow companies to store rich customer data that bring their customers to life: their exact demographics, previous purchasing behavior, preferences, and more. This information is critical in helping manufacturers personalize their CX and boost customer satisfaction. 
By integrating CRM with CPQ, companies can automatically see whether a particular customer has interacted with a product configurator in the past. If they have, CPQ can make intelligent recommendations and display customer-specific pricing.
Unsurprisingly, this has a drastic impact on the bottom line, with 73% of B2B buyers stating they want to receive personalized customer experiences.
ERP
Chances are your ERP system lies at the heart of your manufacturing organization, holding all inventory, purchasing, sales, pricing, marketing, finance, HR, service, and supply chain data in one repository. Unsurprisingly, pushing relevant ERP data to CPQ applications makes for a richer, better-informed customer experience.
CPQ and ERP integration mean customers instantly know whether a product is in stock, lead times, and current prices. As a result, customers don't have to contact the sales team to receive a quote.
Dispelling some myths around CPQ and CRM
Is CPQ part of Salesforce?
When some people hear "CPQ," they think "Salesforce." But while Salesforce has its own CPQ (Salesforce CPQ, formerly SteelBrick), multiple leading CPQ platforms have nothing to do with Salesforce (beyond potential integrations.)
Salesforce CPQ integration is a decent option for companies selling straightforward, non-configurable products. But it doesn't have 3D configurators-meaning customers can't interact with products on-screen. Manufacturers selling complex, configurable products will benefit more from implementing a best-in-breed CPQ solution like Tacton.
Is CPQ part of CRM?
No, CPQ isn't part of CRM-it's a standalone solution in its own right. That said, the two systems do work incredibly well together. By integrating CPQ and CRM, manufacturers can leverage what they already know about customers to provide a more tailored and conversion-optimized customer experience.
Take your CX from good to great with CPQ
Only the most customer-centric organizations will survive this worrying economic climate. But fortunately, enhancing your customer isn't as hard as it might sound. Implementing CPQ software and integrating it with the rest of your tech stack reduces sales cycles to seconds, eradicates errors, and delights your prospects. It's that simple. 
If you're looking to get started, consider checking out Tacton. It boasts rich integration capabilities, advanced 3D, AR, and VR configurations, and a no-code rules engine that means anyone can configure complex product rules (no matter their technical ability).