Digital manufacturers that use clean, complete, accessible data to unite their people, processes, and systems lead in this new digital era of digitalization in the manufacturing industry.
Why? Because they have total visibility into every aspect of their operations, from production to customers, supply chain, inventory management, and profitability. This visibility supports bold strategic decision-making, improves the utilization of resources, and gets higher quality products to customers faster than ever before.
In an era of ongoing manufacturing complexity, when customer expectations, global competition, supply chain disruption, and costs are sky-high, manufacturers that weave a digital thread integrating every aspect of their business have a significant competitive advantage. This article explains why.
Read on for:
Digitalization in the Manufacturing Industry: A Very Brief Introduction
Digitalization in manufacturing is an approach to production centered around computer systems. It involves using new technologies such as IoT, advanced robotics, AI, and big data to automate and improve every aspect of a manufacturing business–people, processes, systems, and products.
Manufacturers that undergo an effective digital transformation increase their efficiency, output, margins, profitability, and growth. They do so by, in the words of Gartner, "leverage(ing) technology to enable new business models, new products and services, and new strategies."
Rather than making the common mistake of focusing on the technology itself, successful digital manufacturers hone in on use cases and then work backward to identify the strategies and technologies required.
Digital manufacturers are obsessed with data. They use data to automate factories, connect to supply chains, and add value to products and services. Due to the integration of digitalization in the manufacturing industry, they are three times more likely to report annual net revenue and margin growth.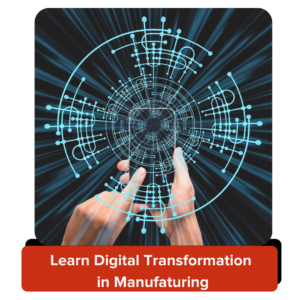 Why Fragmented Businesses Struggle in the Digital Era
Most manufacturers are drowning in a sea of data – more than they know what to do with. But it's unstructured, duplicated, corrupted, and saved in various formats. Often, it's spread thinly across multiple applications, sites, and accounts. Siloization and inconsistency render it useless for strategic decision-making.
When data is fragmented, teams struggle to access the information they need to excel in their roles. They spend more time finding and finessing data than they use to solve business problems. This inconsistency creates mistakes, delays, high costs, and customer dissatisfaction. When it's time to take decisive action, it's almost impossible to get a consensus on which data silo holds the truth.
Without clean, consistent data, manufacturers can't identify the trends needed to improve products, processes, and customer experiences. They can't predict opportunities or see dangers before they materialize. Instead of building for the future, they're stuck in the here and now. And the here and now is dangerous when the market is changing at breakneck speed.
Why a Single Source of Truth Is Crucial for Digital Manufacturing
A single source of truth is a centralized, up-to-date, all-encompassing data environment. It's not a "tool" per se, but rather a state of being for a company's data that integrates your people, processes, and systems, establishing a common language, visibility, and role-appropriate access.
Having a single source of truth for data is essential for digitalization in the manufacturing industry. It connects every stage in the product lifecycle and provides a commercial-performance cockpit for overseeing operations and driving continuous improvement. It lets manufacturers adopt the latest digital technologies required to create smart factories and improve product performance.
This is what happens when data is integrated around a single source of truth:
High-Quality Data: Data is clean, organized, accurate, transparent, and standardized (structure and format).
Accessible: Stakeholders can access the right data at the right time, increasing their productivity and creativity.
Improved Performance: Teams can analyze and optimize production, customer experience, inventory, supply chain, and profitability, improving results in line with KPIs.
Better Collaboration: Employees can collaborate and strategize more effectively and speak the same language.
Greater Agility: Management gets a complete view of their entire business and can respond to opportunities, threats, and performance issues with greater agility and decisiveness.
Enhanced Analytics: Multiple reporting systems are replaced with advanced analytics, solving previously impenetrable problems.
New Technologies: Industry 4.0 technologies that rely on large, high-quality data sets such as AI, machine learning, and AR/VR visualization are accessible.
Cost Savings: Expensive software solutions with overlapping functionality are replaced by fewer tools shared across multiple departments.
Rapid Onboarding: New hires get up to speed more quickly when they don't have to learn the quirks of your data environment.
Attract Top Talent: Top talent wants to work for your company.
Scalable: Additional data sources and new software solutions are adopted and integrated quickly.
The Challenges and Pitfalls of Uniting Your Business with Data
While the benefits of integrating people, processes, and systems through data are clear, the path to integration often isn't. There are barriers to overcome, which are identified below. The earlier these challenges are addressed, the smoother the integration process is.
Getting Leadership and Employee Buy-In
Most manufacturers are sitting on a large volume of siloed data that needs to be processed, migrated, and cataloged before it's shared organization-wide. Freeing data from silos presents a time, effort, and expense challenge.
Leadership has to be fully invested in the process to see it through. And employees–often resistant to change–have to be kept in the loop to stop them from feeling frustrated and their productivity from being affected.
Dealing with Low-Quality Digital Manufacturing Data
Is your data clean, connected, and elegant? It needs to be cleansed before combining multiple data sources and trusting the analytics. Cleansing your data involves fixing or deleting corrupted, poorly structured, duplicate, mislabelled, incomplete, and incorrect data. Various software solutions can help automate this otherwise laborious process.
Protecting Data Privacy and Security
To leverage your data most effectively, every stakeholder needs access. But, of course, they mustn't see everything (the HR department needs access to personal information that your sales reps don't, for example.) Carefully crafted role permissions are essential for maintaining privacy without stifling innovation.
At the same time, data security–protecting your data from unauthorized external sources–is paramount. A competitor or hacker can access your entire data store with a single breach. Storing data in a secure, centralized repository is far safer than being scattered across spreadsheets, systems, and servers, but security must be front and center.
Making Data Accessible
Data accessibility is one of the core benefits of having a single source of truth, but having access to raw data isn't enough. Stakeholders need reports and dashboards and a set of agreed-upon standards for evaluation.
The Bottom Line for Digitalization in Manufacturing Industry
Integrating your people, processes, and systems via a seamless data flow connects and augments every stage in the end-to-end digital manufacturing process. It turns a mass of incoherent information into valuable knowledge and makes it accessible organization-wide.
By harnessing the power of the digital thread and enhanced visibility, manufacturers can create more innovative, higher-quality products and launch them faster. They can provide industry-leading customer experiences, attract the best talent, and compete in a digital world.