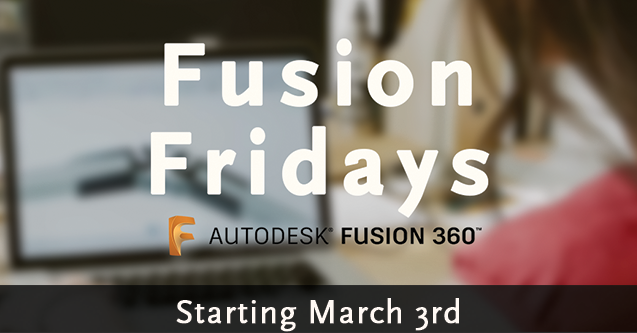 Have you wanted to dive into Fusion 360, but struggle to figure out where to begin?
Fusion Fridays is a series of free 30-minute webinars providing tips and tricks, info on the latest Fusion 360 updates (they have some awesome updates coming!), and guided tours on how to grow your skills. We'll be covering topics such as CAM, Joints, Assemblies, T-Spline Free-Form Modeling, Collaboration, Data Management, and more. Here's what you can expect by signing up for these webinars. 
Why Fusion Fridays?
We are always looking to provide the latest and greatest Autodesk content for the user community. For viewers, dedicating a half-hour each month learning best practices, new features, and growing industry trends can save a ton of time when creating new designs. Fusion Fridays will help you and your team get a jump-start toward utilizing the tools to their fullest potential.
What to Expect
Early sessions are planned to illustrate the power behind Simulation, Manufacturing, and various modeling techniques. However, we're always looking for feedback from users like you letting us know what you'd like to see.
We're also making it a point to discuss industry trends during these webinars. We'll be covering the latest announcements from the Fusion 360 team, upcoming plans, and anything else that will affect how we use Fusion 360.
How to Join
Simply register for Fusion Fridays or watch as we live-stream on YouTube, Facebook, and Twitch! Tune in on the first Friday of each month (the first session is Friday, March 3rd) at 10 a.m. PST.
We will also be hosting Fusion 360 Meetups at the KETIV offices in Brea, CA. The first one is set for Wednesday, March 15th, at 6 p.m. We will be discussing "CAM in Fusion 360."
---
If you can't make it, we got you covered! You can always find the recorded session on our YouTube Playlist.
Feel free to email Alex Alvarez or myself with any questions you have or comment below to keep the conversation going.