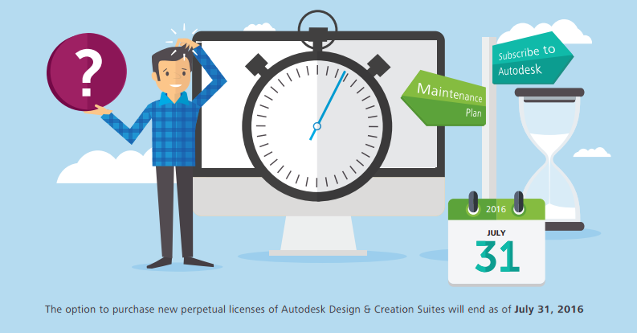 In last week's webcast, Nigel Ambayec and Joe Mouradian explained the upcoming changes to perpetual licenses that are coming at the end of July. In addition, they provided best practices so you can best prepare for the transition.
Overview
Joe and Nigel open up the webcast by jumping into the upcoming licensing changes, reviewing the differences between Maintenance and Subscription Plans. They cover this quarter's promotional offers, including:
Subscriber Exclusive: Renew Now & receive up to 40% off new purchases (select products qualify)

0% Financing for 12 months 
What changes are coming?
As we've been communicating for the past two years, Autodesk has been transitioning from a perpetual license model to a subscription model. Autodesk has even discontinued certain perpetual licenses for non-suite products (AutoCAD, Inventor, etc).
After July 31, 2016, they will no longer offer perpetual licenses for the Suites (Product Design Suite, Factory Design Suite).
August 1, 2016 will indicate the introduction of Industry Collections, their latest collection of tools, which will replace Suites.
How will this affect my pre-existing maintenance plan or subscription?
In short, this change will not affect either plan as long as you keep it current. Autodesk does not plan on making any changes to your existing maintenance plan.  In addition, changes will only affect new purchases made after July 31, 2016.
Anyone that owns a Premium or Ultimate Suite on an annual Subscription can migrate over to the Industry Collections for the remainder of your subscription (up to a year) for free. For more details, please refer to the webcast or contact KETIV.
Why Industry Collections?
There a quite a few reasons for the change:
Simplified packaging – Instead of choosing from 8 different suites with multiple tiers, you'll have the ability to choose from 3 Collections which provide more software than the original suites. This makes it easier for you to get all the tools you need in one comprehensive package:

Architecture, Engineering & Construction Collection
Product Design Collection
Media and Entertainment Collection

Continuous Improvement – Rather than having one big update every year, there will be more frequent updates which will allow you to implement the newest tools. Therefore, simplifying the upgrade process when the new version is available.
More Flexibility and Choice – Because the Industry Collections are a subscription-based license, it provides you with the ability to rent the tool for however long you need and gives access to more tools right away.
Greater Value – You'll receive greater value in terms of software than what you would today with subscription. More tools for similar price compared to suites.
What promotions are you offering?
There are 2 promotions covered in this web cast. Act now since they expire on 7/22/2016.
Subscriber Exclusive: Renew Now & receive up to 40% OFF – on new purchases of certain data management, simulation and collaboration tools.
Existing customers who renew an annual or multi-year maintenance plan or subscription contract between May 7, 2016 & July 22, 2016 are eligible to receive a discount on up to 10 new eligible annual subscriptions.
The discounted product(s) must be purchased at the same time as the renewal.
Cannot be combined with other promotions or discounts
All standard renewal policies apply
Cannot be combined with Volume Purchase Agreements or Major Account discounts
2. 0% Financing for 12 Months, no payments for 120 days!
We offer 0% Financing through U.S. Bank for qualified customers.
0% Financing for 12 Months
0 Down
No payments for 120 days
No penalty for paying off early
Terms:
Purchase must be placed no later than 7/22/2016
$5,000 minimum order
Renewals do not qualify
Cannot be combined with any other KETIV discount
Both offers are only valid till July 22, 2016 so you have to act fast!!
Call 866-465-3848 for details.
Be sure to tune in every Thursday at 10 am to our AVA sessions.