How similar are the B2B and B2C sales experiences? Travel back in time, and you'll probably see a B2B experience that was formal and dry, while the B2C journey tended to be a little more fun and customer-centric. At least, that's the formula every industry followed back then… But things have changed. Today B2B interactions look much more B2Cesque, with digital conveniences and personalized experiences. But while that should include high variance manufacturing, some manufacturers haven't gotten the memo.  
If you're not convinced, consider these statistics from McKinsey. Their study examined how much digital tools and the pandemic have permanently changed B2B sales preferences. Only 20-30% of B2B buyers say they want to interact with sales reps in person (ouch). More than 90% believe remote, digital sales models are here to stay – and 99% are willing to purchase products through a completely digital self-serve model. That includes big-ticket purchases; almost all said they are "very comfortable" completing $50,000 or higher single purchases through self-service.
Those numbers look a lot like B2C customer preferences. This means that if you don't have digital tools to sell complex, highly variable products – you may fall behind.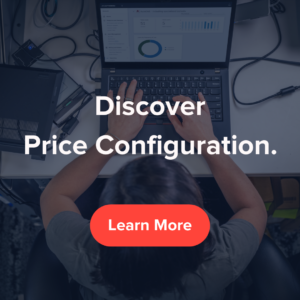 Increasing Customer Satisfaction with Self-Service Portals
Using a customer portal feels close to one-stop shopping. Your B2B customers are already hunting down information online and looking to self-serve in many ways. Now they've transferred their B2C experiences to their B2B expectations. The right response: Creating a friendly and intuitive customer portal to digitize your sales model. Now the customer has persuasive product information and quick ordering and checkout channels at their fingertips. Self-service tools encourage them to complete the purchase. Because you've provided an easily navigated, information-rich experience, you become their preferred resource. 
This doesn't replace your sales team, of course. Instead, it frees them to focus on the kind of selling they enjoy. Instead of investing dozens of work hours collecting drawings, 3D models, and other data to create a quote for a product with hundreds of configurable components, they can focus on building relationships with prospects and customers.
The linchpin of your portal? An online product configurator, which acts as an interface between the prospect and the system by offering:
Visible configurations

Correct pricing information and accurate quotes

Information on other services

A thorough catalog with accessories, spare parts, and consumables

The creation of advanced documentation like CAD documents 

An accelerated production process
Online Product Configurator Benefits
A product configurator offers multiple benefits, documenting a prospect's needs such as performance indicators, the total cost of ownership, and energy consumption. Even as it gives prospects a sense of control, it ensures a configured product is technically correct and based on the most current data. 
What's especially useful: prospects don't need detailed technical expertise to put their products together on their own. There's no need to talk to a sales rep or worry about resolving conflicts because the online product configurator does that for them. Customers choose the parts, design data, and other accompanying documents. They don't have to go through variants or invalid options; the configurator suggests valid alternatives. The result: the customer can independently construct their product and know it's technically correct and able to be produced. 
This doesn't just automate and accelerates business. It overcomes common barriers in high variance manufacturing.
Technical sales support needs:

Instead of requiring a team with deep product knowledge, an online product configurator can take care of cost, discount structures, safety requirements, and technical feasibility. A process that would normally take weeks now takes mere minutes. 

Incoming order mistakes:

Even a small inefficiency can cause cumbersome mistakes and long processing times or an error that drives up warranty costs. Processing and preparing orders take time – but an online product configurator automates many details, eliminating the opportunity for manual mistakes.  

Customer limitations:

Today's customer wants fast and convenient self-service. A product configurator offers that kind of flexible, self-directed experience and helps move them to the next step: logging in with the contact details on the customer portal.
In other words, an online product configurator takes tedious work off your teams' plates, empowering them to focus on high-value work – and satisfies your customer by dramatically accelerating their development cycle.
The Online Product Configurator in Action
Let's say your prospect has a specific product to design in mind – and wants the same experience offered by online retailers. Here's how that might unfold.
The prospect starts by using the online product configurator to design their product. When they attempt a design that isn't safe or technically sound, the software corrects it. 
Next, a sales rep receives the prospect's request. They confirm and adjust the request and then release an offer in the portal. And if the configuration changes? It can be reloaded into the AR app and checked again by scanning the QR code.
Now let's say both the provider and an external party agree with the offer. Once the user approves, the self-service portal sends the order directly to the ERP system for processing. Any status updates are transparent and accessible to the customer. Advice and support are readily available for the customer as well.
As you can see, the internal order process is much more efficient using a self-service portal – and helps the customer feel in control. Sales reps can focus on more meaningful and enjoyable work instead of spending time on manual tasks. The customer success team can provide more in-depth guidance and support for customers, instead of trying to solve high volumes of simple errors and questions.
Bringing New Tools to New Generation of Customers
Yesterday's B2B manufacturing ordering process no longer fits a world where customers want simple experiences when creating complex products. Control, speed, and self-service make customer portals and online product configurators the attractive choice for all prospects dreaming of a high-variance product. By bundling applications and services in one self-service portal, you can create the ultimate new product experience for your prospects – and increase your product pipeline.